2019/20 Highlights from Boosey & Hawkes London
(July 2019)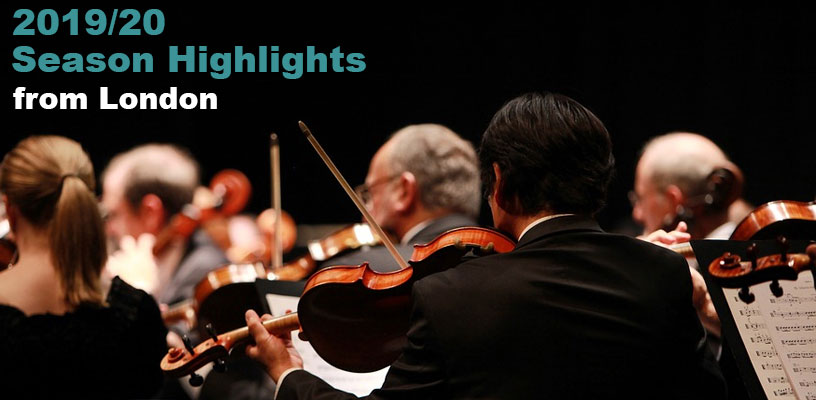 The coming season brings an extensive collection of new and recent works by Boosey & Hawkes composers, together with continuing celebrations this autumn for Karl Jenkins's 75th and James MacMillan's 60th.
Here are highlights selected by Boosey & Hawkes in London taking place in Europe, Asia and Australasia. For season highlights taking place in North, South and Latin America, click here.
2019
6 Sep, Hamburg
Chin Frontispiece for orchestra (world premiere)
Unsuk Chin's new work, under the baton of Alan Gilbert, opens a season-long residency focusing on her music at the Elbphilharmonie in Hamburg. Other highlights featuring the NDR Elbphilharmonie Orchestra include Le Silence des Sirènes (29 Nov) and the German premieres of Mannequin and SPIRA – Concerto for orchestra (14 Feb), together with an Ensemble Musikfabrik portrait with Gougalon, Double Concerto and Cantatrix Sopranica (27 Apr).
> Concert info
19 Sep, Bucharest / 20 Sep, London
Turnage Refugee (world premiere)
Mark-Anthony Turnage's new work for tenor and chamber orchestra, Refugee, receives premiere performances at the Enescu Festival in Bucharest and the Barbican in London. Featuring Allan Clayton and the Britten Sinfonia, the work sets poetry by Benjamin Zephaniah, Emily Dickinson, Brian Bilston and WH Auden. A further new Turnage work, Romanian Rhapsody, for violin and ensemble is given first performances by Vlad Maistorovici and the New European Ensemble in The Hague and Amsterdam (30/31 Oct).
> Concert info (Bucharest)
> Concert info (London)
19 Sep, Paris
Vivier Hiérophanie (French premiere)
The Festival d'Automne presents a second survey of Vivier's works, following the success of last year's feature on the composer. The first French performance of Hiérophanie is presented in a staging by Silvia Costa with the Ensemble Intercontemporain (19 Sep). This is followed by a selection of chamber works and a screening of Kopernikus in the Peter Sellars production filmed last December (7 Oct/18 Nov).
> Festival info
22 Sep, Birmingham / 6 Oct, Hamburg
Birtwistle …when falling asleep (world premiere)
Birmingham Contemporary Music Group celebrates Harrison Birtwistle's 85th with first performances in Birmingham and Hamburg of …when falling asleep. Scored for soprano, reciter and ensemble, like The Woman and the Hare which shares the programme, the new work combines texts by Rilke and Swinburne. The autumn also brings a new production of Birtwistle's magnum opus The Mask Of Orpheus (published by Universal Edition) by English National Opera at the London Coliseum (18 Oct).
> Concert info (Birmingham)
> Concert info (Hamburg)
25 Sep, Gothenburg / 13 Nov, Stockholm
Lindberg Accused (Swedish premiere)
Anu Komsi is soprano soloist in a pair of Swedish performances of Accused, Magnus Lindberg's setting of interrogation texts from Revolutionary France, Cold War Germany and the USA in the era of WikiLeaks. Santtu-Matias Rouvali conducts the Gothenburg Philharmonic and Sakari Oramo the Royal Stockholm Philharmonic. Oramo and Komsi travel for further performances with the Orchestre de Paris (20 Nov) and the Deutsches Symphonie-Orchester Berlin (28 Nov).
> Concert info (Gothenburg)
> Concert info (Stockholm)
4 Oct, Paris
Chen Luan Tan (French premiere)
Qigang Chen's orchestral variations Luan Tan receives its first French performance at the Paris Philharmonie with the Orchestre National de Lyon under Xian Zhang. This autumn brings performances of his violin concerto La joie de la souffrance with soloist Ning Feng in Yerevan, Newark NJ and Hong Kong, and of his trumpet concerto Joie Eternelle at the MiTo Festival in Italy and in Taipei.
> Concert info
10 Oct, Lyon
Debussy/Dean Ariettes oubliées (French premiere)
Siobhan Stagg is soprano soloist in Brett Dean's orchestration of Debussy's Ariettes oubliées, launching the composer's residency with the Orchestre National de Lyon over the coming season. Other highlights include Testament (21 Mar), Amphitheatre (11 Jun) and the French premiere of Shadow Music (13 Jun).
> Concert info
13 Oct, London / 29 Nov, Grayshott
Jenkins Miserere (world premiere)
First performances of Karl Jenkins's new Miserere for soloists, choir and strings, subtitled Songs of Mercy and Redemption, take place this autumn together with a recording released on Decca. Selections from the score are included in the composer's 75th birthday concert at the Royal Albert Hall (13 Oct) and the complete work is unveiled by Polyphony and the Britten Sinfonia under Stephen Layton at Grayshott Concerts (29 Nov) with a broadcast on Classic FM.
> Concert info (London)
> Concert info (Grayshott)
14 Oct, London
MacMillan Symphony No. 5: 'Le grand Inconnu' (London premiere)
MacMillan The Sun Danced (UK premiere)
60th birthday celebrations for James MacMillan continue with a concert featuring his new choral symphony premiered at the Edinburgh International Festival, and The Sun Danced written for the centenary of the Fatima shrine in Portugal. The Sixteen and Britten Sinfonia join forces under Harry Christophers at the Barbican. This autumn also sees the first London performance of MacMillan's Saxophone Concerto with Amy Dickson as soloist at Kings Place (28 Sep).
> Concert info
16-25 Oct, Helsinki
Magnus Lindberg festival
The Finnish Radio Symphony Orchestra presents a festival devoted to Magnus Lindberg including the Finnish premieres of Triumph to Exist in tandem with the Helsinki Music Centre Choir under Hannu Lintu (16 Oct) and Shadow of the Future with the Tapiola Sinfonietta conducted by the composer (18 Oct). Repertoire also includes Violin Concerto No.1 with Pekka Kuusisto as soloist and a selection of Lindberg's earlier orchestral works.
> Festival info
19 Oct, Amsterdam
Holloway Phaeton's Journey: Son of the Sun (Dutch premiere)
Håkan Hardenberger is soloist in the Dutch premiere performance of Holloway's concertante tone poem for trumpet and orchestra, based on a tale from Ovid's Metamorphoses. The concert in the NTR ZaterdagMatinee series is given at Amsterdam's Concertgebouw by the Residentie Orchestra under Nicholas Collon. The German premiere follows with the Bamberg Symphony under John Storgårds (30 Jan), again with Hardenberger as soloist.
> Concert info
23 Oct, London
Reich/Richter (European premiere)
First European performances of the new collaboration between Steve Reich and artist Gerhard Richter begin at the Barbican, with the Britten Sinfonia conducted by Colin Currie. This large-scale music and video work, premiered in the launch season at The Shed in New York, travels with the Ensemble Intercontemporain to Luxembourg (24 Nov) and Paris under Elim Chan (7 Mar), and to Oslo (14 May) conducted by Olari Elts.
> Concert info
25/26 Oct, London
Whitacre The Sacred Veil (European premiere)
Eric Whitacre's large-scale work for chorus, cello and piano, The Sacred Veil, receives its first European performances at St John's Smith Square in London with the composer conducting the Eric Whitacre Singers. The 50-minute work sets texts by Whitacre's frequent poetic collaborator Charles Anthony Silvestri, building a powerful exploration of love, life and loss. A further performance is scheduled by the Netherlands Radio Choir in the NTR ZaterdagMatinee series at Amsterdam's Concertgebouw (28 Mar).
> Concert info
3 Nov, Berlin
Kats-Chernin Jim Knopf and Lukas the Engine Driver (world premiere)
The Komische Oper in Berlin plays host to Elena Kats-Chernin's new children's opera, based on the award-winning book by Michael Ende. Christian von Götz stages the production, following his success with Kats-Chernin's Snow White and the 77 Dwarves. The composer's new operatic version of The Wind in the Willows opens at the Staatstheater Kassel in June 2020.
> Opera info
7 Nov, Amsterdam
Schiphorst Assange - Fragmente einer Unzeit (world premiere)
Iris ter Schiphorst's new work commissioned by Ensemble Modern is premiered at the Muziekgebouw in Amsterdam conducted by Enno Poppe. Scored for the female voice of Sarah Maria Sun, ensemble, sampler, light and video, the 20-minute work explores the current political debate about truth and lies in democracy as revealed by WikiLeaks. Ensemble Modern also gives the German premiere in Frankfurt of Schiphorst's music for the silent film The Fall of the House of Usher (15 Nov).
> Concert info
7 Nov, Edinburgh
Clyne Sound and Fury (world premiere)
Anna Clyne's Associate Composer role with the Scottish Chamber Orchestra is launched in Edinburgh with the premiere of Sound and Fury directed from the violin by Pekka Kuusisto. The 15-minute work was co-commisioned by the SCO and the Orchestre National de Lyon which gives the French premiere this season under Leonard Slatkin (23 Jan). The SCO programme also includes Clyne's double violin concerto Prince of Clouds with Kuusisto joined as twin soloist by Benjamin Marquise Gilmore.
> Concert info
16 Nov, Zürich / 6 Feb, Stockholm
Turnage Coraline (Swiss/Swedish premieres)
Mark-Anthony Turnage's opera for family audiences receives two productions this season. The original Aletta Collins staging, as seen in London, Freiberg and Lille, travels to Folkoperan in Stockholm (6 Feb), while a new production by Nina Russi receives 14 performances at the Opernhaus in Zürich (16 Nov). This season also brings a new staging of Turnage's Anna Nicole in Wiesbaden (15 Feb).
> Opera info (Zurich)
> Opera info (Stockholm)
7 Dec, London
Glanert BBC Total Immersion day
The finale of the BBC Symphony Orchestra's Total Immersion day devoted to Detlev Glanert is the UK premiere of his Requiem for Hieronymus Bosch. Semyon Bychkov, a dedicated supporter of the composer's music, conducts this epic score with soloists, the BBC Singers and the BBC Symphony Chorus. The work is a trial of the Flemish artist accused of the Seven Deadly Sins, with texts from the Carmina Burana collection in dramatic conflict with the Requiem Mass. Bychkov conducts three further performances of the work next spring with the Czech Philharmonic Orchestra in Prague (18-20 Mar).
> Concert info https://www.barbican.org.uk/whats-on/2019/series/bbc-so-total-immersion-detlev-glanert
7 Dec, Porto
Birtwistle Deep Time (Portuguese premiere)
Harrison Birtwistle's composer feature at the Casa da Música in Porto concludes with his recent orchestral work Deep Time with the Orquestra Sinfonica do Porto. Further Birtwistle performances this season conducted by Baldur Bronnimann are given by the Basel Sinfonietta at the Acht Brücken festival in Cologne (8 May) and in Basel (10 May).
> Concert info
2020
16 Jan, London
Turnage Towards Alba (world premiere)
Esa-Pekka Salonen conducts the first performance of Mark-Anthony Turnage's new horn concerto, Towards Alba, for Richard Watkins and the Philharmonia Orchestra in a Southbank Centre programme that celebrates horn playing. Further Turnage premieres in his 60th birthday year includes Owl Songs for Claire Booth and the Nash Ensemble at the Wigmore Hall (24 Mar) and Black Milk, a setting of texts by Paul Celan for jazz singer and ensemble, for Ian Shaw and Psappha in Manchester (30 Apr).
> Concert info
30 Jan, Birmingham
Chin SPIRA – Concerto for Orchestra (UK premiere)
The first UK performance of Chin's recent orchestral work sees the City of Birmingham Symphony Orchestra and Mirga Gražinyte-Tyla, who conducted its premiere in Los Angeles in April. SPIRA, which explores nature's proliferation under mathematical principles, is also performed this season by the Royal Stockholm Philharmonic Orchestra (23 Jan), NDR Elbphilharmonie Orchestra (14 Feb) and Orchestre de Paris (29 Apr).
> Concert info
13/15 Feb, Stockholm
Dean Piano Concerto (Gneixendorfer Musik – Eine Winterreise) (world premiere)
Brett Dean's new piano concerto for Jonathan Biss is premiered by the Swedish Radio Symphony Orchestra in Stockholm under the baton of David Afkham. The new work takes its subtitle from the village near Krems where Beethoven stayed with his brother for three months in 1826 towards the end of his life and is linked to his mighty 'Emperor' Concerto. Further performances in the coming season take place with commissioners the Dresden Philharmonie (14 Mar) and Wroclaw Philharmonic (5 Jun)
> Concert info
6 Mar, Vienna
Deutsch Cello Concerto (world premiere)
Johannes Moser is soloist in Bernd Richard Deutsch's new Cello Concerto premiered by the Tonkünstler Orchestra at the Vienna Musikverein conducted by Yutaka Sado. This follows a series of four works by Deutsch extending concerto form, for organ, brass trio, ensemble, and sheng/accordion. The German premiere of the Cello Concerto is given by the HR Symphony Orchestra in Frankfurt under Lucas Vis (30 Apr)
> Concert info
7 Mar, Amsterdam / 21 Mar, London
Adams I Still Dance (Dutch/UK premieres)
John Adams's new orchestral opener, I Still Dance, written to celebrate Michael Tilson Thomas's 25th season with the San Francisco Symphony, travels to Europe in March. Adams conducts the Dutch premiere with the Netherlands Radio Philharmonic in the NTR ZaterdagMatinee series at the Concertgebouw in Amsterdam, and Tilson Thomas the UK premiere with the San Francisco Symphony on tour at the Southbank Centre. Next season also sees Adams's piano concerto Must the Devil Have All the Good Tunes? travelling to London with Yuja Wang (18 Nov) and to Paris (28 Feb) and Amsterdam with Vikungur Olafssen (7 Mar).
> Concert info (Amsterdam)
> Concert info (London)
24 Mar, Paris
Mackey A Different Drummer (European premiere)
Following its premiere by the Dallas Symphony in November, Steven Mackey's new timpani concerto receives its first European performance at the Paris Philharmonie with soloist Florian Cauquil and the Orchestre national d'Île de France under Case Scaglione.
> Concert info
26 Mar, Leipzig
Gruber Short Stories (world premiere)
Andris Nelsons conducts first performances this season of HK Gruber's new suite from his acclaimed opera Tales from the Vienna Woods, staged in Bregenz, Vienna and Berlin. The 15-minute Short Stories is a co-commission between Nelsons' two orchestras, the Leipzig Gewandhaus and Boston Symphony Orchestra. The first performance in Leipzig is followed by performances in Boston and New York's Carnegie Hall.
> Concert info
1 Apr, Manchester
Gerhard Anniversary Concert
The BBC Philharmonic presents an all-Roberto Gerhard programme at UKMediaCity conducted by Juanjo Mena. This honours the composer in the 50th anniversary year of his death and is linked to a new recording including the complete Don Quixote for the Chandos label.
> Concert info
2 Apr, Glasgow
Chapela Concerto for E-violin and orchestra (world premiere)
Mexican composer Enrico Chapela's new Concerto for E-violin and orchestra receives its first performance by Pekka Kuusisto and the BBC Scottish Symphony Orchestra. The premiere at Glasgow's City Halls under Thomas Dausgaard is in the orchestra's Scottish Inspirations series. The concerto is a co-commission with the Seattle Symphony who will give the US premiere in a future season.
> Concert info
7 May, Cardiff
Jenkins Stravaganza (world premiere)
Jess Gillam is soloist in Karl Jenkins's new saxophone concerto, unveiled by the BBC National Orchestra of Wales under Ryan Bancroft. The concert at St David's Hall in Cardiff is repeated the following day in Swansea and the German premiere is given by the Deutsches Symphonie-Orchester Berlin under Giancarlo Guerrero (15 May). The new work follows a series of virtuosic concertos by Jenkins for euphonium, harp, violin and organ.
> Concert info
28/29 May, Hamburg
Glanert Violin Concerto No.2 (world premiere)
Detlev Glanert's new violin concerto for Midori sees the composer returning to his birth city of Hamburg for the world premiere by the NDR Elbphilharmonie Orchestra conducted by Christoph Eschenbach. Future performances with Midori are planned by Suntory Hall in Tokyo, the Borusan Istanbul Philharmonic and the Royal Scottish National Orchestra.
> Concert info
Also visit our Season Highlights from Boosey & Hawkes in New York for events in North, South and Latin America.

Boosey & Hawkes Composer News