75th celebrations for Karl Jenkins on disc and in concert
(February 2019)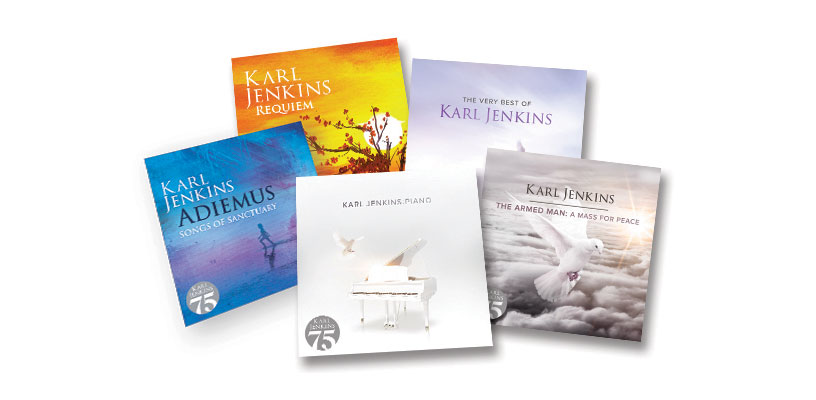 Decca celebrates the 75th birthday of Karl Jenkins this month with his new Piano Album and the re-release of a selection of his greatest recordings including Adiemus and The Armed Man, while the composer embarks on a UK tour.
This month sees 75th birthday celebrations for Karl Jenkins, one of the most successful living classical composers who has created a sequence of chart-topping discs with 17 gold and platinum awards. Decca has released a new celebratory album with the composer at the keyboard and is re-releasing his major recordings. Performances in the birthday year take place on both sides of the Atlantic, from Carnegie Hall to the Royal Albert Hall, and in over 20 countries internationally.
Decca's new Karl Jenkins: Piano includes existing and new keyboard works together with arrangements of perennial classics such as Adiemus, Benedictus from The Armed Man, And the Mother did weep and Ave Verum from Stabat Mater and Palladio (4817817). Boosey & Hawkes is publishing the music of Karl Jenkins: Piano to coincide with the album release.
February also brings a birthday batch of Decca re-releases, including The Armed Man: A Mass for Peace – which was performed over 200 times in the Armistice centenary year – the top-selling Adiemus: Songs of Sanctuary and Requiem together with the Very Best of Karl Jenkins collection. Other recordings, including Stabat Mater and The Peacemakers, will be re-released by Decca later in 2019.
Jenkins launched his 75th year attending a concert of his music at Carnegie Hall presented by Distinguished Concerts International New York with 20 participating choirs from around the world conducted by Jonathan Griffith. The programme included the US premiere of Symphonic Adiemus – the recent arrangement for SATB choir and full orchestra, together with Stabat Mater featuring Baghdadi vocalist Baidar Al Bari.
February and March bring a UK tour of The Armed Man, conducted by the composer, visiting Cardiff, Glasgow, Birmingham and Manchester, also featuring his organ concerto 6000 Pipes and selections from Symphonic Adiemus. A further 75th birthday concert is scheduled for 13 October at the Royal Albert Hall including the premiere of a new choral work centred on the Miserere.
> Further information on Work: The Armed Man: A Mass for Peace (full orchestra version)

Boosey & Hawkes Composer News