Adams and Mackey: GRAMMY Award Winners
(February 2012)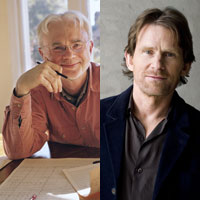 Boosey & Hawkes is pleased to highlight 2012 GRAMMY-winning composers and works at the 54th Annual GRAMMY Awards:
John Adams's opera Doctor Atomic, featuring the composer's probing, penetrating score and Peter Sellars's libretto detailing the creation of the first atomic bomb, received the GRAMMY Award for Best Opera Recording. Released by Sony Classical on DVD, this Metropolitan Opera production features Alan Gilbert, conductor; Meredith Arwady, Sasha Cooke, Richard Paul Fink, Gerald Finley, Thomas Glenn & Eric Owens; Jay David Saks, producer (Metropolitan Opera Orchestra; Metropolitan Opera Chorus).

Steven Mackey's song cycle Lonely Motel: Music from Slide took home the GRAMMY Award for Best Small Ensemble Performance. According to the composer, Slide is about "perception, self-delusion and ultimately about the isolation created by the attachments we develop to our own fuzzy, personal views of reality." The album, from Cedille Records, features the composer on guitar along with librettist Rinde Eckert as vocalist and the contemporary music group eighth blackbird.

Additionally, Boosey & Hawkes would like to congratulate Judith Sherman, who won a GRAMMY Award in the Classical Producer of the Year category. Sherman produced eleven albums in 2011, including those by John Adams (Son of Chamber Symphony and String Quartet, performed by St. Lawrence String Quartet and International Contemporary Ensemble) and Steve Reich (WTC 9/11, Mallet Quartet and Dance Patterns, performed by Kronos Quartet, So Percussion, and Steve Reich and Musicians), both released on the Nonesuch Records label.

> Click here to see the list of all Boosey & Hawkes nominees at the 54th Annual GRAMMY Awards.
Photo Credit: Margaretta Mitchell (Adams) / Jane Richey (Mackey)

Boosey & Hawkes Composer News