Amsterdam celebrates Louis Andriessen at 80
(May 2019)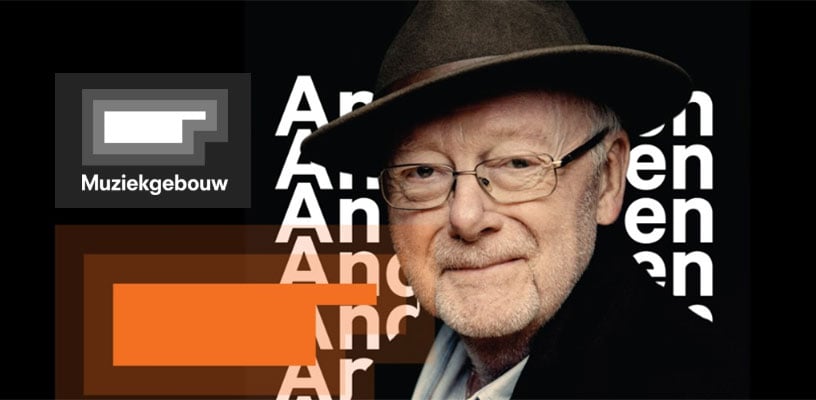 Leading Dutch composer Louis Andriessen celebrates his 80th birthday on 6 June, and Amsterdam's Muziekgebouw leads the festivities with a four-day series of events (23-26 May).
The Muziekgebouw in Amsterdam presents four days of events celebrating Louis Andriessen's 80th birthday, including concerts, dance theatre, films, discussions, foyer performances and a children's workshop. Andriessen's music is in the spotlight, from his classic De Staat through to recent works, performed by leading interpreters including conductor Reinbert de Leeuw, Asko|Schönberg, Niuew Amsterdams Peil, violinist Monica Germino and pianist Ralph van Raat.
Supplementing Andriessen's music are events reflecting the composer's wide musical interests and his influence as a teacher, ranging from Duke Ellington to new music by Michael Gordon, David Lang, Juilia Wolfe, Martijn Padding, Mary Finsterer, Rozalie Hirs and Pete Harden.
Highlights at the Muziekgebouw include:
Asko|Schönberg presents an all-Andriessen programme including Dances with soprano Claron McFadden, his minimalist classic Hoketus and La Passione with violinist Frederieke Saeijs and singer Cristina Zavalloni, conducted by Reinbert de Leeuw (23 May, 8.15 pm).

Ralph van Raat's piano programme includes Andriessen's Trepidus, Image de Moreau and the Dutch premiere of the composer's recent étude Searching for Unison (24 May, 8.15 pm).

Andriessen collaborated with Bang on a Can composers David Lang, Julia Wolfe and Michael Gordon to create MUTED for violinist Monica Germino. It offers the antithesis to the high volume, percussive world for which all four composers tend to be known, exploring the boundaries of the audible (25 May, 3.00 and 5.00 pm).

I Solisti's concert includes music from Andriessen's TV film collaboration with Peter Greenaway M is for Man, Music, Mozart and the composer's breakthrough score from 1976 combining music and Platonic politics De Staat (25 May, 8.15 pm).

A theatrical double bill combines Andriessen's Odysseus' Women for 4 female voices and keyboard with his monodrama Anaïs Nin. The pair of performances are directed by Jorinde Keesmart with Augusta Caso as Anaïs Nin and musicians from Niuew Amsterdams Peil (26 May, 3.00 and 8.15 pm).

A programme of films runs throughout the festival, combining documentaries about Andriessen and film fragments. Highlights include Hans Hulscher's Composing, a lesson (1978), Steve Martland and Peter West's A temporary arrangement with the sea (1992), Frank Scheffer's Tao - The Road (1998) and VPRO's Living and Working (1999) (23-26 May).

Augmenting Andriessen is a free event in the Muziekgebouw's terrace and atrium with an augmented reality presentation of De Materie Part I with a digital artwork by Maria Helena Vieira da Silva visible via an App, and performance artist Vesna Petresin's Unfold based on Andriessen's De Tijd (23-26 May).
For full performance information visit:
www.muziekgebouw.nl
Further festivals featuring Andriessen's music in honour of his 80th birthday year include Musikfest Berlin with the European premiere of The only one featuring Nora Fischer and the BBC Symphony Orchestra under Sakari Oramo, the German premiere of Mysteriën with the Royal Concertgebouw Orchestra under Tugan Sokhiev and De Stijl with Ensemble Modern (2-5 September), and the BBC Proms in London with the UK premiere of The only one (8 September).
> Further information on Work: De Staat
Photo: Marco Borggreve

Boosey & Hawkes Composer News