Andriessen: The Hague Hacking plays "cat and mouse"
(January 2009)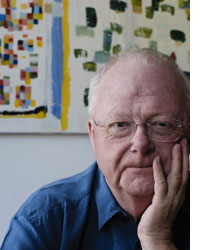 Andriessen: The Hague Hacking plays "cat and mouse" in Los Angeles
Louis Andriessen, whose 70th birthday is celebrated this year, and who has just been appointed to the Debs Composer's Chair at Carnegie Hall for the 2009-10 season, was recently in Los Angeles for the world premiere of his double piano concerto, The Hague Hacking.

Written for sisters Katia and Marielle Labèque, The Hague Hacking alludes in its title to the Dutch slang ("hakkû") for the dance style of a techno-descended hardcore house music, high speed and heavy on the bass.

Press for The Hague Hacking:

"…Andriessen, who has been mentor to many younger American composers and who has created a major stylistic school in Holland, has lately clicked with the L.A. Philharmonic.  His work was a hit during the Minimalist Jukebox festival three years ago, and it looks as though a fruitful relationship with the orchestra has emerged.  Moreover, Andriessen's latest work has taken on a depth of expression that demands more attention in the U.S."
Los Angeles Times

"The Dutch composer admits to a number of influences and in this 18 minute piece he uses two pre-existing melodies, one, 'a once-popular sing-along song about the city of The Hague,' and the other, Liszt's Hungarian Rhapsody No. 2, which entered his conscious not through direct knowledge of the score, but through a Tom and Jerry cartoon called 'The Cat Concerto,' in which our heroes play a cat and mouse game with it.

"Andriessen, too, plays a kind of cat and mouse game with the melodies, deconstructing them, processing them, stretching them. I doubt I would have recognized the Liszt had I not known it was there. Yet, having been informed, there it was clear as day and the fun of the piece became hearing what the composer was doing with it – the procedure of the thing. (Such is the case as well with Stravinsky's famous 'Greeting Prelude,' a Cubist deconstruction of' 'Happy Birthday.') One of Andriessen's procedures here is something called 'hocket,' in which single notes in a phrase or line are rapidly traded between one or more performers. Sisters Katia and Marielle Labèque were the pianists, and they made their hammered hocketing sound easy. The whole piece has a chiseled quality, bright and brittle and sculpted out of rock."
The Orange County Register

The Hague Hacking travels to Carnegie Hall in New York in April 2010 and European performances are planned this summer in the Netherlands and the UK.
> Further information on Work: The Hague Hacking
Photo: Francesca Patella

Boosey & Hawkes Composer News