Andriessen: The Hague Hacking premiere in Los Angeles
(December 2008)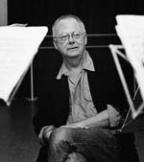 Louis Andriessen: The Hague Hacking Premieres in Los Angeles
Louis Andriessen's first concerto in nearly 40 years will premiere in Los Angeles under the baton of Esa-Pekka Salonen on January 16, 18. Commissioned by the Los Angeles Philharmonic, The Hague Hacking is a double piano concerto written for Katia and Marielle Labèque. While Andriessen has composed works for solo instrument and ensemble as well as several works for solo voice and orchestra, The Hague Hacking marks his first full-scale concerto.

On January 20 Andriessen's De Stijl (1985) will receive a performance as part of the first Green Umbrella concert of the New Year. Conductor Lionel Bringuier will lead soprano Susan Narucki, the Los Angeles New Music Group, and members of the Los Angeles Master Chorale.

Andriessen celebrates his 70th birthday in 2009 and the year's largest festival of his music will take place in Vancouver. Music on Main and Hard Rubber Orchestra launch the international celebrations with a five-day festival running April 3 – 8. The composer will be in attendance throughout the festival, and will be featured in lectures, talks, composition master classes, and performances. The festival will feature thirteen works including Andriessen's complete string quartets.

Elsewhere in North America, Ransom Wilson will lead students of the North Carolina School of the Arts in Andriessen's De Snelheid (1982-83, 84) on January 13, Reed College's Third Angle New Music Ensemble will perform The New Math(s) (2000) on January 23, and Charles Peltz will lead the New England Conservatory Wind Ensemble in M is for Man, Music, Mozart (1991) on April 16. Michael Tilson Thomas will lead the New World Symphony in the U.S. premiere of Andriessen's concert suite, Vermeer Pictures (2005), on April 18.

The composer will spend his birthday (June 6) at home in Amsterdam with a full evening dedicated to his music, including the European premiere of The Hague Hacking performed by the Labèque sisters. DJ Spooky will put his own spin on Andriessen's music with a remix of De Stijl this summer at the Holland Festival and Casa de Musica.
> Further information on Work: The Hague Hacking

Boosey & Hawkes Composer News