Andriessen: reviews of US premiere of La Commedia
(June 2010)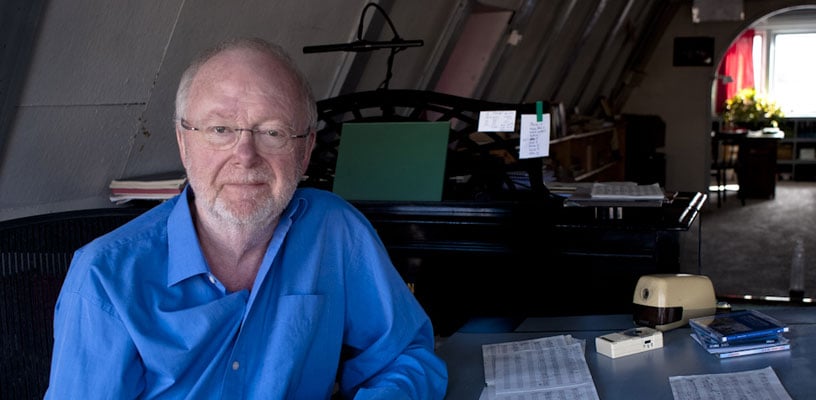 Louis Andriessen, Musical America's Composer of the Year, travelled to hear the US premiere performances of his opera La Commedia.
Louis Andriessen has forged strong cross-Atlantic links, evolving a distinctive European response to American minimalism in the 1970s, and proving to be a highly influential figure for a generation of younger US composers. So his selection as Musical America's Composer of the Year is a fitting tribute, coinciding with high profile events at Carnegie Hall in New York and in Los Angeles.

April brought the first US performances of his latest opera La Commedia, with definitive interpretations guaranteed by Reinbert de Leeuw conducting the Asko/Schoenberg Ensemble and Synergy Vocals, and the opera's original cast including Cristina Zavalloni as Dante, Claron McFadden as Beatrice and Jeroen Willems as Lucifer.

"Andriessen has assembled a spectacularly idiosyncratic libretto that draws not only on Dante's epic tour of hell, purgatory and paradise, but also on the Bible, works by the 17th-century Dutch poet Joost van den Vondel and other sources. He has reconfigured Dante's triptych as five panels, and kept the first three in hell.

 "…a driven, often intensely dark score that brings together starkly contrasting styles and makes the juxtapositions sound natural. Dissonant, sharp-edged woodwind and brass chords are accompanied by almost minimalist arpeggiation… Recorded electronic sounds, used sparingly, suggest the present world, the bubbling cauldrons of hell and the sparkling shimmer of heaven. But the score's most memorable aspect is the pounding, often lurching chord progressions that evoke different corners of the underworld.
New York Times

"Commedia may work best as dramatic oratorio… a spectacularly sung and played concert performance that made a strangely exhilarating encounter with the here-and-now and the beyond all the more meaningful… The instrumental ensemble, a few strings (no violas) and plenty of brass winds and percussion, belted out jazz, aced difficult Stravinskyan and Minimalist rhythms and sounded, when asked, touchingly tender and gloriously glittery… De Leeuw is Virgil to Andriessen's Dante, the perfect guide for his music."
Los Angeles Times

Other highlights of the Carnegie season included the two-piano concerto The Hague Hacking and John Adams conducting De Staat, described in the New York Times as "pugnacious and exhilarating". The US premiere of Andriessen's new work for Bang on a Can, Life, fell foul of volcanic ash disruptions, but the group has successfully toured the work to Milan, Rome, Amsterdam, The Hague and Karlsruhe, with future dates in Stanford and at the Barbican in London.

Andriessen's monodrama Anaïs Nin, for singer Cristina Zavalloni and ensemble, is premiered at the Accademia Musicale Chigiana in Siena on 10 July, with future performances planned in Amsterdam and by the London Sinfonietta.

> Further information on Work: La Commedia
Photo: the original Netherlands Opera production of La Commedia (Hans van den Bogaard)

Boosey & Hawkes Composer News