Andriessen's La Passione premiered at South Bank Centre festival
(December 2002)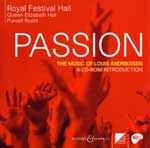 Andriessen's La Passione premiered at South Bank Centre festival
The South Bank Centre's Andriessen festival in October 2002, entitled Passion, presented the composer in multiple guises, from his roots in Stravinskian modernism and jazz, through hard-hitting experiments in musical process such as De Snelheid, via cabaret performance, to the serene pictures of domestic life in his opera Writing to Vermeer. These diverse facets of his creative make-up combined to reaffirm the significance and achievement of the composer and his ongoing influence, as summed up by the Daily Telegraph: "Louis Andriessen's intelligent, impassioned and omnivorous form of minimalism has been an inspiration to a generation of composers".





New works unveiled at the festival included a seductive second string quartet, Garden of Eros, written for the Arditti Quartet, plus Andriessen's major work from 2002, La Passione, co-commissioned by the London Sinfonietta, BBC and Royal Festival Hall. This song-cycle, setting poetry by Dino Campana, was premiered by singer Christina Zavalloni, violinist Monica Germino, and Oliver Knussen conducting the London Sinfonietta. While Andriessen has often sought to distance himself from his texts, in a manner akin to Stravinsky's neo-classicism, La Passione revealed a more direct engagement with poetry and psychology, developing beyond that heard in Writing to Vermeer. Lyrical elements served to heighten the emotional charge of Campana's Canti Orfici, written during the first world war and teetering on the edge of extreme mental collapse, while the violin part shadowed the vocal line in disturbing, diabolic fashion.


"Andriessen's inventiveness allows him to create a distinctively sharp-edged, yet dusky, desolate sonority that seems to convey the sufferings or 'passion' of the sectioned Campana… Everything is available for creative use, nothing taken for granted, except a fiercely disciplined musicianship…Knussen's authoritative account completed a concise Andriessen survey that showed us just how imaginatively he is building on his minimalist style. And how securely founded that was anyway." Sunday Times


"La Passione is a substantial, important new work." Independent on Sunday


"The settings, full of bleakly terrifying imagery that is both surreal and apocalyptic, are woven into a continuous sequence. It is as if painful visions were being dragged to the surface of music, which moves between brassy ritornellos, spidery lyricism and instrument doublings that lend the text a genderless detachment." The Guardian


 La Passione received its German premiere in Berlin in October from Ensemble musikFabrik NRW under the baton of Stefan Asbury, and Reinbert de Leeuw conducted the Dutch premiere with the ASKO & Schoenberg Ensembles at a VARA Matinee concert in Amsterdam on 3 May 2003.


Read an interview with the composer on La Passione.


A CD-ROM exploring Andriessen, his music and his influences through video, audio, text and games, created in collaboration between the South Bank Centre and Boosey & Hawkes, is available free of charge. Please email us to request a copy.
> Further information on Work: La Passione

Boosey & Hawkes Composer News