Anna Clyne: interview about The Nico Project
(May 2019)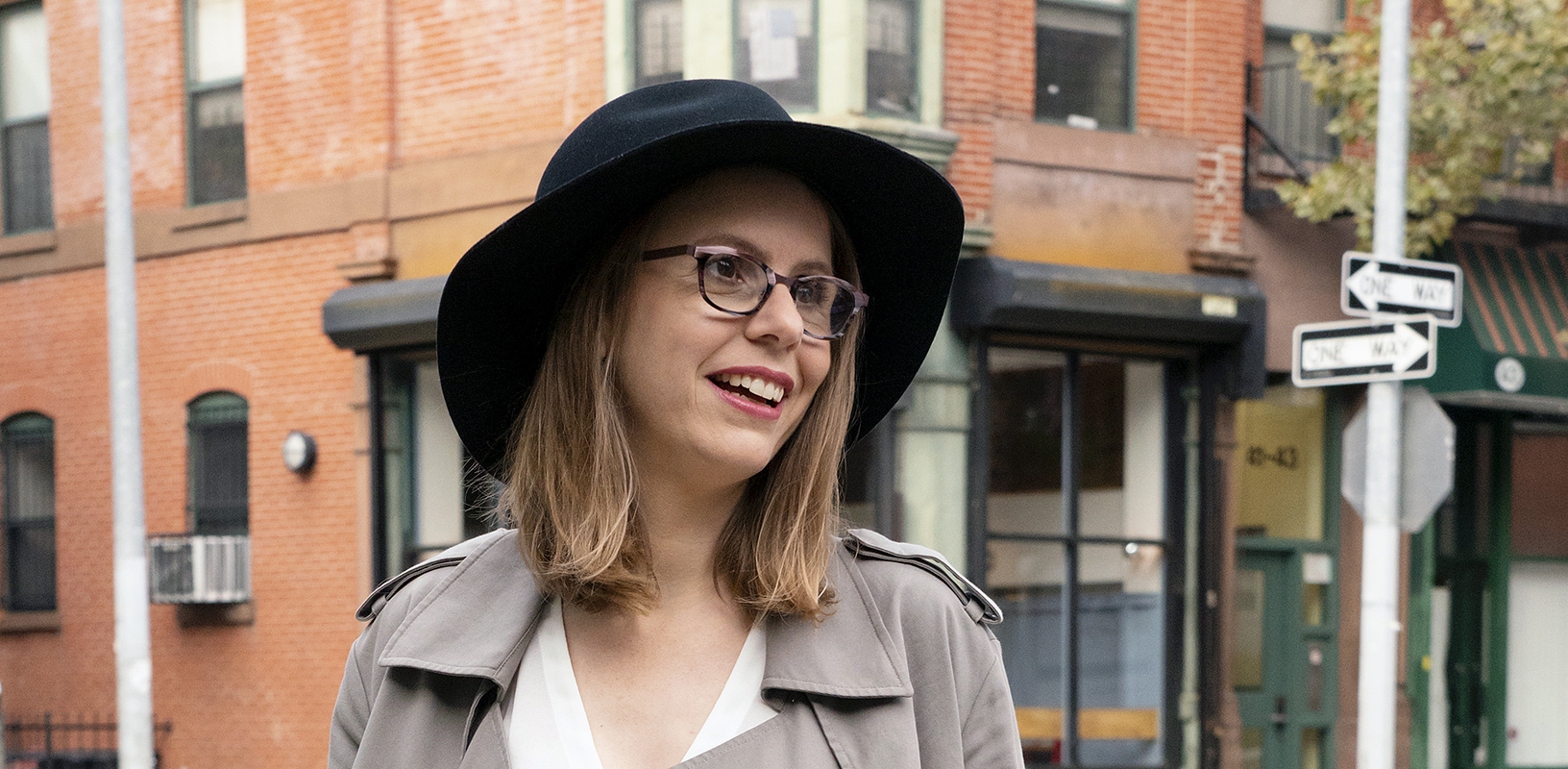 Composer Anna Clyne discusses her collaboration on The Nico Project, premiered at the Manchester International Festival in July. One of pop culture's most enigmatic figures, Nico is conjured up from the shadows with a stirring theatrical immersion into her sound, her identity and the world in which she fought to be heard.
What attracted you to composing for The Nico Project?
The very first time I listened to Nico's The Marble Index I was immediately captivated by the soundworld and felt there was something really exciting and unusual about this project. It's also an amazing creative team – and a lot of us: a director, producer, writer, choreographer, lighting designer, sound designer, and myself – all in the process, shaping the piece together, from the very beginning.
The original music of The Marble Index has a very organic quality, comprised of layers of multi-tracked viola, harmoniums, vocals and other instruments – it stands in contrast to so much of the carefully produced albums we hear today. It's a pleasure to take on the challenge of bringing this album from 50 years ago into a contemporary context. We are reimagining the original material for this new setting, writing for the strengths of modern musicians. The all-female orchestra includes students of the Royal Northern College of Music as well as selected professionals. We will be exploring live processing, such as looping and distortion, to attempt to re-create some of the sonorities of the original album.
How did you shape your score?
We have structured The Nico Project according to the song order of the album. For the selected songs that we are incorporating, I have transcribed the music and arranged it for an ensemble of 15 musicians and two singers. I have also developed some of the music through my own lens - expanding some harmonic and melodic material to take it in a new direction and filtering the original material through the sound world of a chamber orchestra.
What kind of specific challenges faced you when composing this music?
One of the exciting aspects of this project is that the musicians will be choreographed – they will physically move within the space throughout the performance. With this in mind, I have modified the relevant sections of music so that they are easily memorized. A characteristic of The Marble Index is that the sense of time and rhythm is quite free. As a result, I have explored ways to recreate this elasticity within a notated framework. It's been a challenge to translate what was a very intimate creative process – Nico creating demos which John Cale expanded upon in the studio – to the canvas of a more structured chamber ensemble.
Do you have a favourite track on the album?
I like No one is there as it has a Baroque quality to it. It was originally recorded as Nico singing, with multi-tracked viola played by John Cale. This has become the opening song for The Nico Project and it will be performed as an arrangement for string ensemble with Maxine singing or speaking the lyrics. The translation from the original to a string arrangement was very natural and maintains the same quality of sound and fluidity of time.
Evening of Light is also an interesting track – although it wasn't written for orchestra, its basic textures lend themselves well to an orchestral arrangement. This is the arrangement that I am most excited to hear as it is the one for which I was able to take the most liberties and to really develop. It will also be the most heavily processed arrangement, which comes to a dramatic end with heavy distortion on the orchestra, and some interesting processing on the vocals. Here the music reflects the dramatic peak of the work.
What kind of musical decisions do you make while you are arranging and transcribing somebody else's music?
It was important to maintain the skeleton of the original material, and then it was a matter of deciding which of the key elements to develop and take in my own direction. I wanted to stay true to Nico's voice – to her melodic lines. The transcription process was quite challenging as she sings quite freely, but it's this elasticity of time in her vocals that gives it a quirky and unique character. For example – there could be a measure of 9/8, then 11/8, then a 4/4 and then a 5/8, but it feels very organic – not jarring at all. So, I kept the melodic lines absolutely intact and developed and spiralled the orchestration around these lines, which are sometimes sung by Maxine, the two vocalists in the ensemble, or are set as instrumental lines in, for example, the woodwinds.
Another element I tried to preserve from the original recording is Nico's playing of the harmonium, which has its own natural kind of fluidity and sense of rhythm that's not always in accordance with what she's singing. So, whilst on paper these transcriptions look a little strange, they are truly and uniquely her own and I wanted to maintain that. The next step was to develop these transcriptions through my own lens.
Did you feel like your own writing style was particularly well suited for this project?
Essentially whilst The Marble Index is an avant-garde pop record, it also has a strong folk-like quality – the harmonium especially contributes a great drone quality, which I can relate to in my own music, which often incorporates folk elements, like having open fifths providing a harmonic root and moving around. I chose to exaggerate these elements a little more in my arrangements.
I also enjoyed the challenge of reimagining the tracks for chamber orchestra. There are some very distinctive sounds and uses of musical instruments in the original recordings that I had to adapt. For example, harpsichord and processed piano – two instruments that are not in our instrumentation but sounds that I recreated using different combinations of strings, winds and percussion. We are also using the harmonium sparingly and so I have chosen to translate that sound of the harmonium to the string section at times – re-creating the sound of the bellows expanding and contracting. One of the things that I love about composing music for orchestra is that it opens up new and interesting sounds through combining the different colours of the various instruments. We've also added some interesting instruments, such as a wind machine and a melodica, and we're expanding the soundworld through the use of electronics and live processing to create a very contemporary aesthetic.
Interviewed by Carol Ann Cheung, 2019
The Nico Project
Co-created by Maxine Peake and Sarah Frankcom
10-21 July 2019
The Stoller Hall, Hunts Bank, Manchester
Manchester International Festival
www.mif.co.uk
Anna Clyne – Music
EV Crowe – Text
Imogen Knight – Movement
Lizzie Clachan – Design
Paule Constable – Lighting Design
Helen Atkinson – Sound Design
With musicians from the Royal Northern College of Music
Commissioned by Manchester International Festival and the Royal Court Theatre, London.
Produced by Manchester International Festival.
The Marble Index
Words & music by Christa Paeffgen
© 1968 Warner-Tamerlane Publishing Corp (BMI), all rights reserved.
Used with kind permission from Warner/Chappell Music Ltd.
Photo: Jennifer Taylor

Boosey & Hawkes Composer News