Anna Clyne named CSO Mead Composer-in-Residence
(October 2009)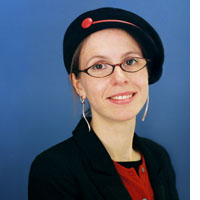 Anna Clyne named Chicago Symphony Orchestra Mead Composer-in-Residence
Anna Clyne has been named Chicago Symphony Orchestra Mead Composer-in-Residence by Riccardo Muti. Clyne, who joined Boosey & Hawkes as part of the Emerging Composers program in 2008, will begin her residency with the CSO in September 2010 and continue for two seasons.

Clyne will share this role with co-Composer-in-Residence Mason Bates, curating the CSO's contemporary music series, MusicNOW, and acting as an advocate within the Chicago community to further the understanding and appreciation of all music. Clyne was chosen for her shared interest in reaching and establishing roots and partnerships in the Chicago community, and for her commitment to extending the art of composition to be inclusive of other art forms such as film, dance, and the visual arts.

"Both Mason Bates and Anna Clyne are artists who write from the heart, who defy categorization and who reach across all barriers and boundaries," commented CSO Music Director Designate Riccardo Muti. "Their compositions are meant to be played by great musicians and listened to by enthusiastic audiences no matter what their background.  I know that we will do very important work, not only by deepening a connection to those who already know the Chicago Symphony Orchestra, but by bringing music to those who have not had many opportunities to experience it firsthand."     

The Mead Composers-in-Residence are generously supported by Cindy Sargent and the late Sally Hands. 

Anna Clyne has recently completed blue hour for violin duet and tape, to receive its world premiere on November 29 in New York. Two of her pieces,  fits + starts for cello and tape and Rapture for clarinet and tape received UK Premieres on October 29. For a complete list of upcoming performances visit www.boosey.com/performances.
Photo credit: Denise Anderson

Boosey & Hawkes Composer News