B&H Presents: Reimagining Opera as Film During the Pandemic
(April 2021)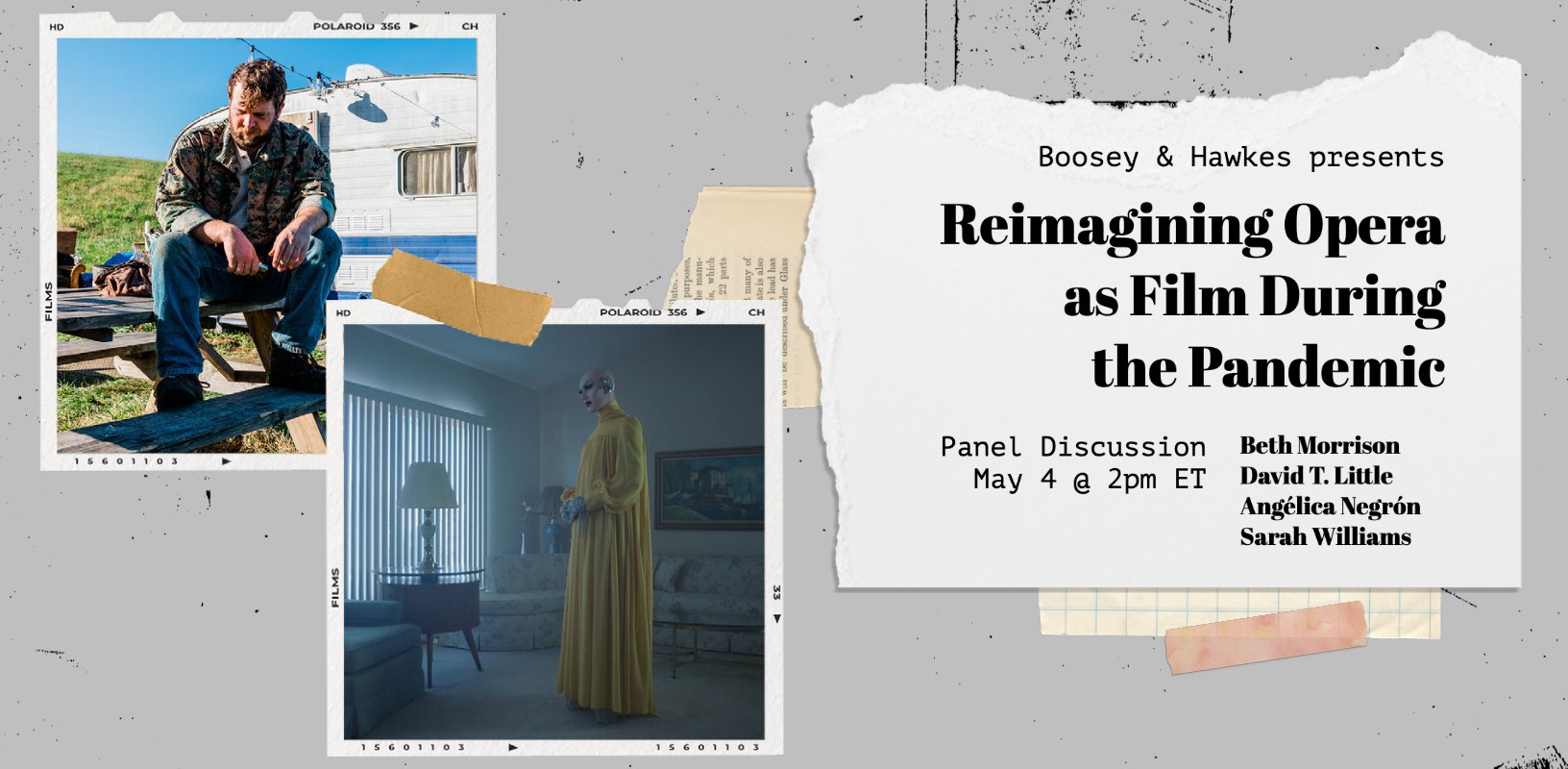 Boosey & Hawkes presents a panel discussion on turning opera into film, joined by some of the most forward-thinking minds in the field today: composers David T. Little and Angélica Negrón, Opera Philadelphia creative producer Sarah Williams, and Beth Morrison, creative producer and president of Beth Morrison Projects.
Boosey & Hawkes is partnering with the NYC Mayor's Office of Media and Entertainment to present a panel discussion about rethinking opera and music performance within the film medium, one of the many creative solutions to emerge during the pandemic this past year. The event is presented on Tuesday, May 4 from 2-3pm ET, part of New York Music Month Extended Play series.
"Reimagining Opera as Film During the Pandemic" will discuss how music creators and producers were able to pivot from a traditionally live medium to producing visually dynamic, made-for-film productions of stage works with proper film sets, soundtrack recording sessions, and directors. The panel will cover the nuts and bolts of producing opera in a film context, as well as the creative possibilities that emerge in this new medium.
Panelists includes several of the most brilliant, forward-thinking minds in the American opera scene today: B&H composer David T. Little, whose rock-infused monodrama Soldier Songs was recently turned into a deeply moving film for the Opera Philadelphia Channel; Angélica Negrón, composer of The Island We Made featuring drag queen superstar Sasha Velour and an ethereal electronic music score; Sarah Williams, Director of New Works and Creative Producer at Opera Philadelphia; and Beth Morrison, the visionary creative producer of many celebrated cutting-edge opera projects, and the host for the panel discussion.
Watch David T. Little and Angélica Negrón's new film operas on the Opera Philadelphia Channel (use promo code NYMM to save $10 on the Digital Commissions Bundle).
> Further information on Work: Soldier Songs

Boosey & Hawkes Composer News