Bernd Richard Deutsch: Concertos for Brass and for Organ
(January 2015)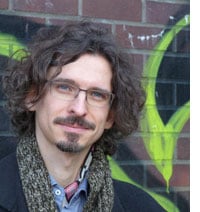 The new Triple Concerto by Bernd Richard Deutsch, for trumpet, trombone, tuba and orchestra, was premiered in October in Vienna.
Austrian composer Bernd Richard Deutsch, who recently signed with Boosey & Hawkes, is best known for a sequence of dramatic ensemble works including Mad Dog. He has recently been casting his music onto larger canvases and his Triple Concerto for three brass soloists and orchestra was premiered in October in Vienna.

The 20-minute work was performed twice at the Musikverein with three brass soloists drawn from the Tonkünstler Orchestra, conducted by Andrés Orozco-Estrada, and the score then travelled for a performance at the Festspielhaus in St Pölten.

"As might be expected in such a work, Deutsch often starts with the familiar but revs it up passionately and intelligently, demanding crazy virtuosity from his soloists."
Der Standard

Deutsch is intrigued with turning the spotlight onto instruments that might not always enjoy the full glare of publicity, and he is next writing an Organ Concerto for premiere in November by the Vienna Radio Symphony Orchestra with Wolfgang Kogert as soloist. Deutsch recently won the prestigious Hindemith Prize and his commissioned work will be for two pianos and percussion to be premiered at the Schleswig-Holstein Festival this summer.

A new portrait disc of Deutsch's music has just been released on the Kairos label with Klangforum Wien conducted by Enno Poppe (KAI 0013352). The repertoire includes Mad Dog and Dr Futurity, which together won the composer the Erste Bank Composition Prize in 2013, and String Quartet No.2 which receives its US premiere at the Austrian Cultural Forum in New York on 2 March.
> Further information on Work: Triple Concerto
Photo: Boosey & Hawkes

Boosey & Hawkes Composer News