Bernstein's A Quiet Place Receives First Performance in 22 Years
(October 2010)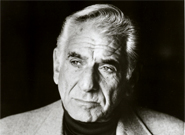 New York City Opera presents the New York premiere of Leonard Bernstein's A Quiet Place
The final opera by Leonard Bernstein, A Quiet Place (1983, 1984), will receive its first full professional performance in 22 years with a New York premiere by New York City Opera. The new production, directed by Christopher Alden, will run October 27, 30; November 4, 6, 12, 14, 16, 21 at Lincoln Center's David H. Koch Theater.

The opera premiered on June 17, 1983 at Houston Grand Opera with director Mark Schifter and conductor John DeMain, and was presented again in a revised version by Bernstein on June 19, 1984 at Teatro Alla Scala in Milan, directed by Stephen Wadsworth and conducted by John Mauceri. A Quiet Place has not been performed professionally since Bernstein's death in 1990.

A Quiet Place's inception dates to 1980, when Bernstein discovered that a 30-year old writer named Stephen Wadsworth was interested in writing a sequel opera to Trouble in Tahiti, Bernstein's jazz-inflected satirical one-act opera from 1952. Artistically, both wanted to write an "American" opera—a through-sung work that would use vernacular speech and music to explore middle-class problems, and which would draw upon the musical theater tradition as well as contemporary opera.

Building from the musical and dramatic motifs found in Trouble in Tahiti, and picking up the story after three decades have passed, A Quiet Place tells the story of a contemporary family struggling to connect, forgive, and accept one another's differences after the death of a loved one. They all yearn for and remember moments of intimacy, but struggle desperately to achieve it in the present. Though often dark and emotionally searing, A Quiet Place is interspersed with moments of communion, and ultimately ends on a hopeful note with a promise of reconciliation.

Presented as one opera, the work reflects the vast changes in the American cultural landscape between the 1950s and the 1980s. Trouble in Tahiti takes a satirical look at 1950s American suburban life, gently exposing the illusion of contentment through its candid portrait of a couple's failing marriage. A Quiet Place offers a darker and more emotionally wrought examination of the same family thirty years later. What was satirical, melodic and jazz-inflected in the earlier chamber opera becomes deeply psychological and percussive.

A Quiet Place is performed in English with English supertitles and runs 3 hours with 2 intermissions.

For more information, please visit the Leonard Bernstein website here.
Photo Credit: Deutsche Grammophon, Susesch Bayat

Boosey & Hawkes Composer News