Bernstein's Candide dazzles at Komische Oper in Berlin
(January 2019)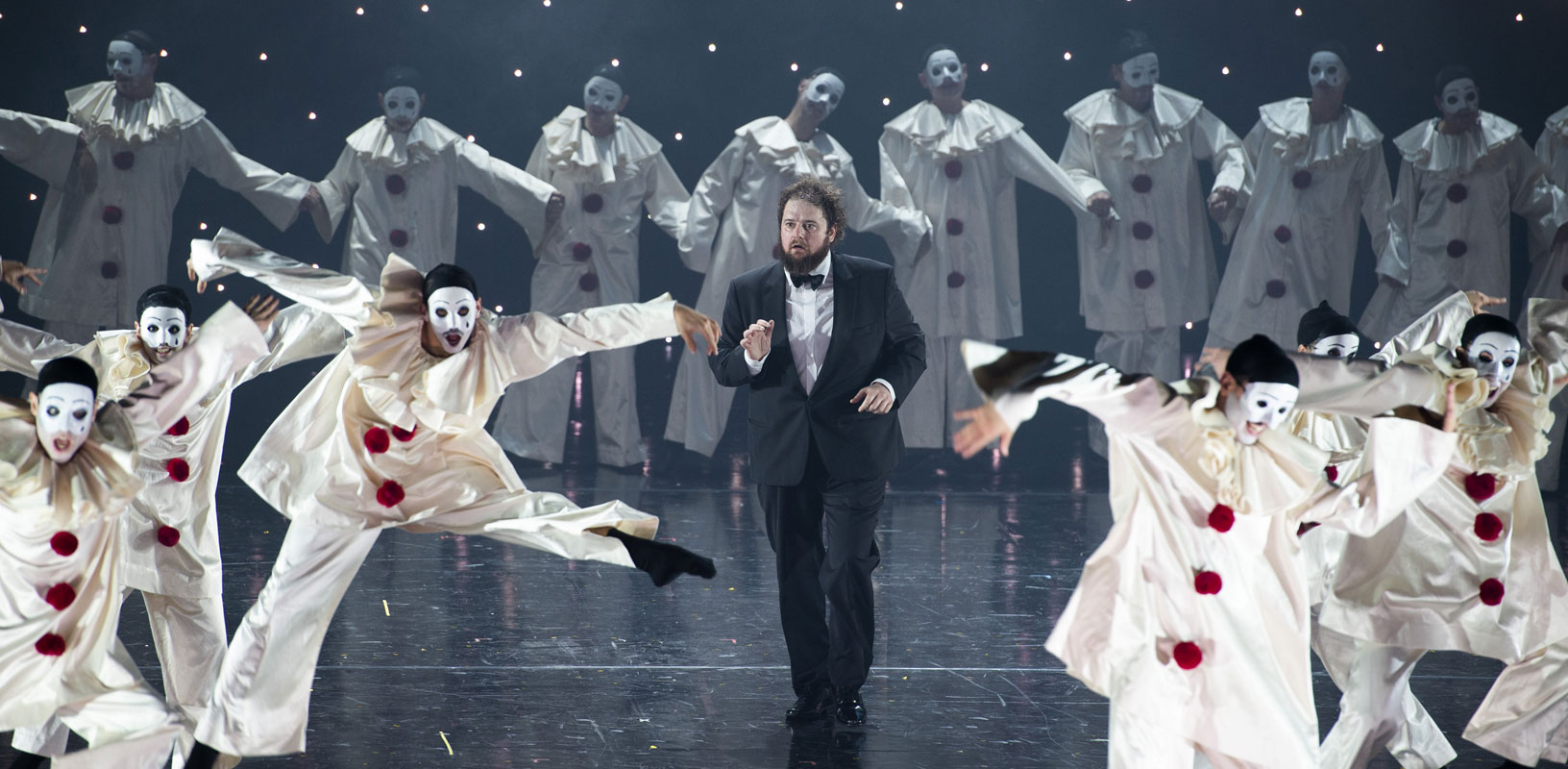 Leonard Bernstein's centennial was celebrated in Berlin with a festive new staging of Candide by Barrie Kosky at the Komische Oper.
The Komische Oper's autumn festival in Berlin honouring the Leonard Bernstein centennial was centred around a spectacular new production of Candide by the company's artistic director Barrie Kosky. The all-singing, all-dancing staging, reputedly running to over 900 costumes, continues in repertory through to June. Musical forces were marshalled from the pit by Jordan de Sousa, with a starry cast including Allan Clayton in the title role, Nicole Chevalier as Cunegonde, Anne Sofie von Otter as the Old Lady, and Franz Hawlata bringing the arch Viennese tradition to bear on the twin roles of Voltaire and Doctor Pangloss.
The chosen edition was the Royal National Theatre version with full orchestra, navigating an effective route through the picaresque adventures befalling the hero as the shine on his optimism is progressively worn away. The multi-author text was sung in German and, as The Observer noted, "Auf Deutsch it takes on the air of an Austro-Hungarian operetta, revealing anew the hidden nuances of Bernstein's rampant score."
"Just as Voltaire had explored the world's falling apart in his novel, so Bernstein used the template to test himself as a composer in multiple parallel universes… Rarely has one seen the spirit of the Friedrichstadtpalast enter with such verve into an opera house."
Frankfurter Allgemeine Zeitung
"Barrie Kosky introduces – as he puts it – a German audience to the singular qualities of Aussie-British pantomime. It's witty, caustic and tender… It all made manic, dazzling sense in the best of all possible worlds."
The Observer
The centennial burst of Bernstein stagings in the German-speaking world continues with On the Town in Leipzig and Munich, Wonderful Town in Vienna, A Quiet Place in Aachen and Lübeck and Candide in Wiesbaden.
> Further information on Work: Candide (Royal National Theatre Version for full orchestra)
Komische Oper Berlin in Barrie Kosky's new staging of Candide (Photo: Monika Rittershaus)

Boosey & Hawkes Composer News