Beth Gibbons of Portishead Records Górecki's Symphony No. 3
(April 2019)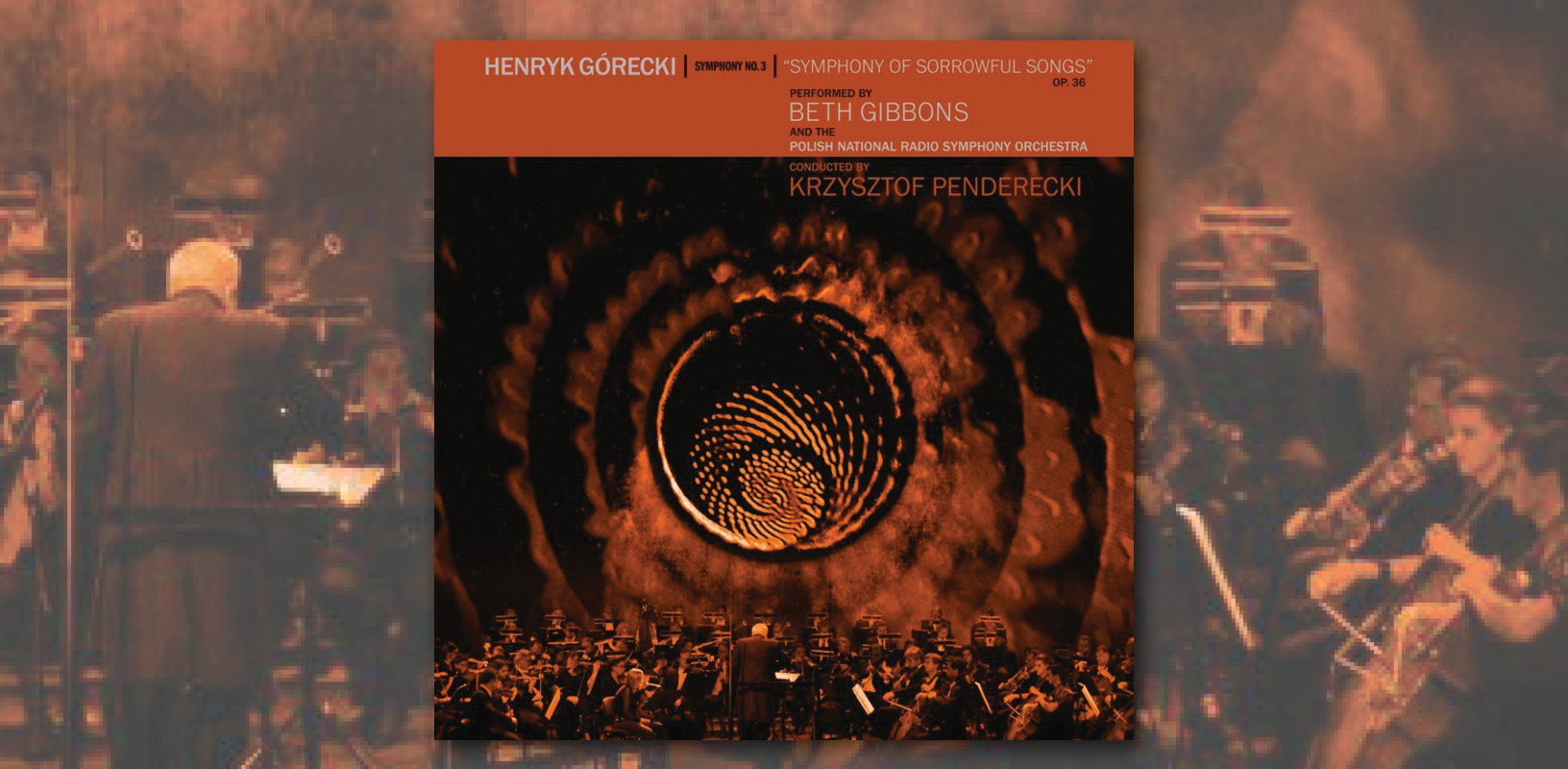 A new album and film has been released of Portishead singer Beth Gibbons performing Górecki's Symphony No. 3 with the Polish National Radio Symphony Orchestra, conducted by Krysztof Penderecki.
Henryk Górecki's beloved Symphony No. 3, "Symphony of Sorrowful Songs," has a new interpreter: Beth Gibbons, singer of the band Portishead. Gibbons performed the soprano solo on stage in 2014 with the Polish National Radio Symphony Orchestra Krysztof Penderecki at the National Opera Grand Theater in Warsaw. A live recording—as well as a film produced by the National Audiovisual Institute, Poland, and directed by Michal Merczynski—of this performance was released on March 29 on Domino Records.
> View the trailer here.
> More Info about the album
Gibbons, who is not classically trained and neither speaks Polish nor reads music, undertook intense preparation to learn this three-movement, hourlong work, seeking vocal coaching for singing and pronunciation. The symphony, which Górecki wrote in 1976, centers on three texts: a 15th-century Polish lament of Mary, mother of Jesus; a prayer inscribed by a teenager on a cell wall of a Gestapo headquarters during World War II; and a Silesian folk song of a mother searching for her son killed by the Germans in the Silesian uprisings.
Critics thus far have welcomed a fresh new interpretation of a classic by an non-classical musician, praising the authenticity and vulnerability of Gibbons's singing and powerful connection to the music's message.
Pitchfork writes:
"Her voice, from the moment it arrives over the breath-bated haze of strings in the first movement, is arresting and close to your ear. Symphony No. 3 has a nightmarish undertone that tends to get smoothed out in dulcet recordings—one of the texts is meant to be the sound of a woman calling out for her murdered child—and Gibbons brings that squirming danger right to the surface."
The Guardian also comments on the novelty of this recording:
"Beth Gibbons makes an unusual addition to the Górecki hall of fame. Her wracked, whispery voice – pitched somewhere between Billie Holiday and Shirley Collins – seems about as far as one can get from the disciplined world of the opera singer, a world of precise diction, intense volume and Olympian levels of breath control … Where previous versions have been eerily transcendent, Gibbons's quiet, demotic vulnerability makes this both more harrowing and emotionally engaging."
> Further information on Work: Symphony No.3 'Symphony of Sorrowful Songs'

Boosey & Hawkes Composer News