Birtwistle: The Moth Requiem premiere in Amsterdam
(December 2012)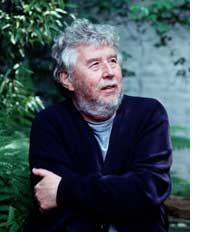 Harrison Birtwistle's new Moth Requiem explores the loss of childhood dreams and the evanescence of life 
Harrison Birtwistle's new work for twelve female singers, three harps and alto flute, The Moth Requiem, was premiered in Amsterdam in October conducted by Reinbert de Leeuw. The 20-minute work was written to celebrate the 75th anniversary of the Netherlands Chamber Choir and was co-commissioned by the Danish National Vocal Ensemble and BBC Radio 3. The BBC Singers and Nash Ensemble have recorded the work for future release on the Signum label along with The Ring Dance of the Nazarene and other Birtwistle choral music.

Birtwistle's interest in moths dates back to his teenager years when he was fascinated by their mysterious existence and understated beauty. The Moth Requiem explores a loss of childhood dreams and the evanescence of life. As well as a list of moth names – Scopula Immorata, Depressaria Discipunctella etc – the text includes at its centre The Moth Poem by Robin Blaser, librettist for Birtwistle's opera The Last Supper. This poem was prompted by Blaser tracing eerie nighttime sounds in his house to a moth caught under the lid of a piano, touching the strings in its efforts to escape.

Birtwistle's vocal scoring recalls the multi-stranded female chorus in The Last Supper, with the voices split into two six-voiced choirs, while the moth's nervous agitation is realised through the distinctive scoring for alto flute and harps. The fragmented Latin texts evoke memories of distant hieratic rites, at key points coming into focus with fierce outbursts, combining to conjure up an unusual and highly individual Requiem.


The Japanese premieres of Birtwistle's Concerto for Violin and Orchestra and Exody take place in May within the Composium festival at Tokyo Opera City, where he is judge for the Toru Takemitsu Composition Award. This summer's Salzburg Festival presents Birtwistle as featured composer, with six concerts including the Austrian premiere of the violin concerto and a new staging of Gawain conducted by Ingo Metzmacher.


Plans are underway for celebrations of Birtwistle's 80th birthday in 2014 including international opera stagings and concert series.
> Further information on Work: The Moth Requiem
Photo Hanya Chlala

Boosey & Hawkes Composer News