Boosey & Hawkes Announces Acquisition of Osvaldo Golijov Copyrights
(November 2011)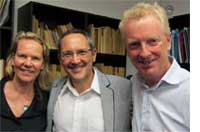 Boosey & Hawkes Announces Acquisition of Osvaldo Golijov Copyrights
Boosey & Hawkes, an Imagem Company, is proud to announce it has purchased Ytalianna Music Publishing LLC, including the acquisition of worldwide copyrights to all published works by the celebrated Argentine composer Osvaldo Golijov. The new core publishing and copyright acquisition places Golijov alongside Boosey & Hawkes' remarkable roster of distinguished composers: modern masters such as Bartók, Copland, and Stravinsky, as well as leading contemporary figures such as John Adams, Louis Andriessen, Elliott Carter, and Steve Reich. The relationship between Golijov and Boosey & Hawkes began in July 2009, when Golijov signed an exclusive agreement for representation of his existing catalog and future works.

Says Zizi Mueller, Senior Vice President, Boosey & Hawkes, Inc.: "Boosey & Hawkes is delighted to welcome Osvaldo Golijov as a core house composer. We are honored that he values our representation of his brilliant work, and has now entrusted us to take care of his catalogue both in the present and the future life of these great musical works. We look forward to a continued and rich collaboration."

Golijov's upcoming projects include a Metropolitan Opera commission and a new violin concerto for Leonidas Kavakos commissioned by the Berlin Philharmonic, London's Barbican Centre, and New York's Carnegie Hall, receiving its world premiere in Berlin in April 2012. He has also recently completed the soundtrack for the new feature film Twixt, his third collaboration with esteemed director and producer Francis Ford Coppola. Future highlight performances include his Latin America-influenced oratorio rendition of the Easter story, La Pasión según San Marcos, in January 2012 at Colombia's Cartagena Festival; and his evocative chamber opera Ainadamar, featuring flamenco, jazz, klezmer, and salsa musical styles, which will receive ten performances at Madrid's Teatro Real in June 2012.

Osvaldo Golijov has become one of the most prominent and frequently performed living composers of our time. Born in 1960 to an Eastern European Jewish household in La Plata, Argentina, Golijov was surrounded by classical chamber music, Jewish liturgical and klezmer music, and the "new tango" of Astor Piazzolla. This amalgam of influences features significantly in Golijov's work, and the originality and creativity of his voice has earned him a unique place in contemporary repertoire as well as numerous accolades, including a MacArthur "Genius Grant" Fellowship in 2003.

Golijov's "seductive way with melody" (Washington Post) is on display in his orchestral overture Sidereus (2010), which was commissioned by a consortium of 35 U.S. orchestras, and receives performances in Los Angeles, Washington, DC, St. Louis, Atlanta, Detroit, and Louisville during the 2011–2012 concert season. His string quartet Qohelet was recently commissioned and premiered by the St. Lawrence String Quartet, a long-time champion of Golijov's music, who also premiered and recorded the Grammy-nominated Yiddishbuk (1992). Other recent compositions include Azul (2006), a cello concerto for Yo-Yo Ma and the Boston Symphony Orchestra; Rose of the Winds (2007), premiered by the Silk Road Ensemble and the Chicago Symphony Orchestra under Miguel Harth-Bedoya; and She Was Here (2008), a work based on Schubert lieder premiered by Dawn Upshaw and the St. Paul Chamber Orchestra.

La Pasión según San Marcos (2000), a telling of St. Mark's passion from the Latin American perspective written to mark the 250th anniversary of J.S. Bach's death, was hailed by the New York Times as "a millennial work of genius. A magnificent triumph." The commercial recording of the premiere of this work received both Grammy and Latin Grammy nominations in 2002. Golijov's "ecstatically beautiful...but also radical and disorienting" (The New Yorker) song cycle for Dawn Upshaw, Ayre (2004), received a Grammy nomination in 2005. Ainadamar (2003), Golijov's opera based on the life of Federico García Lorca, won the GRAMMY for Best Classical Composition in 2006. Since its premiere, this opera has been performed nearly 60 times, a striking number for any new work. Golijov's impact on the concert world was evident in 2006, when Lincoln Center for the Performing Arts presented a sold out festival entitled "The Passion of Osvaldo Golijov," featuring multiple performances of his works over the course of two months. He also enjoys an ongoing relationship with Deutsche Grammophon, who released all three of the afore-mentioned albums. The composer's output extends even beyond the traditional concert forms: he has completed two film soundtracks for Francis Ford Coppola, Youth Without Youth (2007) and Tetro (2009).

> For further biographical materials and catalogue information, click here.
> To watch and listen to excerpts of works, click here.
> To view scores of works by Golijov, click here.
Photo caption: (left to right) Zizi Mueller (Senior Vice President, Boosey & Hawkes), Osvaldo Golijov, and John Minch (Chief Executive, Boosey & Hawkes)

Boosey & Hawkes Composer News