Boosey & Hawkes wins three Paul Revere Awards for Graphic Excellence
(April 2021)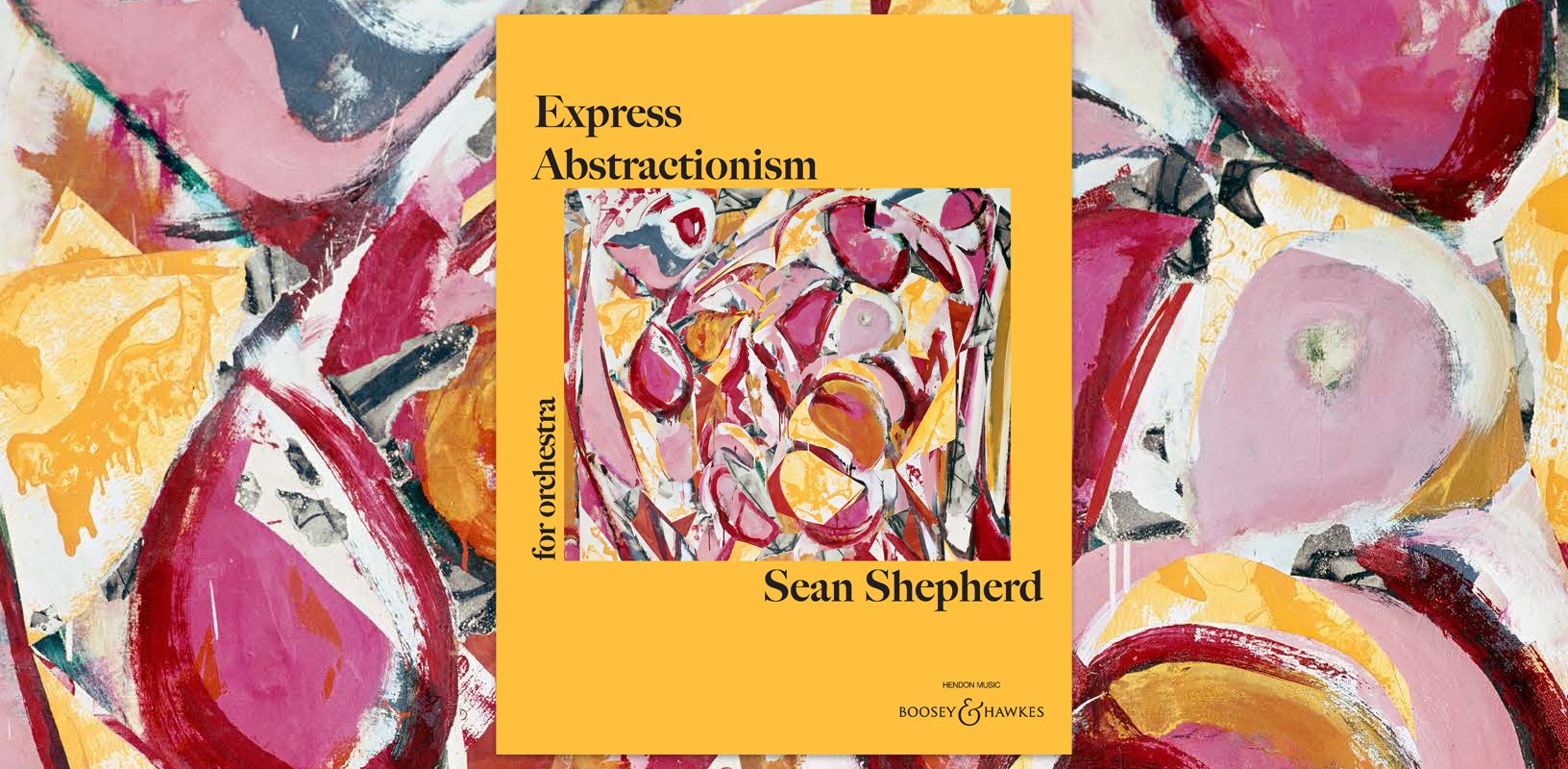 Boosey & Hawkes won three awards at the Music Publishers Association's annual Paul Revere Awards, taking home First Prize in Cover Design, First Prize in Full Scores Notesetting, and Third Prize in Notesetting for Solos without accompaniment.
On April 1, the Music Publishers Association announced the winners of 2020's postponed Paul Revere Awards for Graphic Excellence, including three wins for the Boosey & Hawkes New York editorial team. Boosey won First Prize in Cover Design for the artful design of Sean Shepherd's Express Abstractionism, as well as two awards for Notesetting: First Prize in the Full Scores category for Elliott Carter's Luimen, and Third Prize in Solos without Accompaniment for Alberto Ginastera's Sonatina for harp.
Inspired by abstract art, the movements of Sean Shepherd's orchestral work, Express Abstractionism, reference pioneers of the artistic style, Alexander Calder, Piet Mondrian, Gerhard Richter, Wassily Kandinsky, and Lee Krasner. Krasner's 1980 abstract expressionist painting Vernal Yellow is featured on the eye-catching cover, designed by Boosey editor Kyle Tieman-Strauss.
Elliott Carter's ensemble piece, Luimen took home first prize for Full Scores Notesetting, engraved by Tom Brodhead, production coordinator Kyle Tieman-Strauss. Notesetter David Nadal and Senior Director of Editorial Maggie Heskin won third prize in the Solos without accompaniment Notesetting category for Alberto Ginastera's Sonatina for harp. The beloved Sonatina was officially made available in print for the first time in 2020, 82 years after the piece's composition.
The Paul Revere Awards were established in 1964 in honor of America's first music engraver and American Revolution patriot Paul Revere and are presented to music publishers annually by the MPA in recognition of publications that best exemplify high standards in music engraving, design, and utility. Publications are eligible to win prizes in 13 separate award categories, ranging from educational folios to piano and guitar solos to choral and full orchestra scores. The awards have historically been given at a ceremonial luncheon, but this year's awards ceremony took place online, with awards presented by composer and music journalist Frank J. Oteri.
> Watch the ceremony on YouTube
Cover Design
First Prize
Sean Shepherd, Express Abstractionism
Orchestral Score
Production Coordinator: Kyle Tieman-Strauss
Notesetting: Full Scores
First Prize
Elliott Carter, Luimen
Notesetter: Tom Brodhead
Production Coordinator: Kyle Tieman-Strauss
Notesetting: Solos without accompaniment
Third Prize
Alberto Ginastera, Sonatina for harp
Notesetter: David Nadal
Production Coordinator: Maggie Heskin

Boosey & Hawkes Composer News