Brett Dean: Håkan Hardenberger tours Dramatis personae
(September 2013)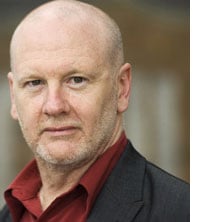 Brett Dean's new trumpet concerto for Håkan Hardenberger, Dramatis personae, was a highlight at the Grafenegg Music Festival and is set to travel widely.
A highlight of Brett Dean's residency at the Grafenegg Music Festival in Austria this summer was the world premiere of his new trumpet concerto for Håkan Hardenberger, Dramatis personae. The Tonkünstler Orchestra conducted by John Storgårds gave the first performance and those by the co-commissioners follow, with the Danish National Radio Symphony Orchestra and Storgårds (3 October), City of Birmingham Symphony Orchestra and Andris Nelsons (29 May 2014) and Leipzig Gewandhaus Orchestra and Nelsons (3 July 2014). The Australian premiere is planned by the Sydney Symphony Orchestra next October, again with Hardenberger as soloist.

The trumpet concerto's title, Dramatis personae, refers to the different characters the composer associates with the solo instrument. Cast in three movements, the concerto opens with a depiction of the Fall of a Superhero, drawing equally upon comic strip scenarios and classical tales of heroism. The trumpet is the mythical leader struggling against the antagonistic proletariat. The second movement, Soliloquy, has the hero alone with his thoughts, offering a more mellow, reflective interlude. The final movement, The Accidental Revolutionary, sees the composer focusing on the coincidental aspects of heroism. The comic model is Charlie Chaplin's film Modern Times, in which the protagonist finds himself unexpectedly leading a band of striking workers.


"Dean sees the relationship between soloist and orchestra as similar to that of the hero and the world; the conflict and collaboration between a leading figure and the masses characterises the classic, three-part work. After a rhythmically trenchant first movement and a monologue-like second, Dean pulls out all the stops in the final part, cross-fading from quotations to his own material, in a manner akin to Gustav Mahler, to create a collage-like clash of sounds and times."
Der Standard


Dean's Grawemeyer Award-winning violin concerto The Lost Art of Letter Writing is released on disc by BIS in the coming weeks, performed by Frank Peter Zimmermann with the Sydney Symphony Orchestra conducted by Jonathan Nott. Also on the disc are Testament and Vexations and Devotions with Gondwana Voices and the BBC Symphony Orchestra and Chorus conducted by Martyn Brabbins and David Robertson (BIS 2016).


Dean is composing a new work scored for string quartet and soprano to be toured by the Britten Sinfonia next May. Emanuel Ax premieres the latest in Dean's cycle of 'homage etudes' for piano at Walt Disney Concert Hall in Los Angeles on 25 February, a tribute to Brahms.

> Further information on Work: Dramatis personae
Photo: Mark Coulsen

Boosey & Hawkes Composer News