Britten's Gloriana returns to the stage in Madrid
(May 2018)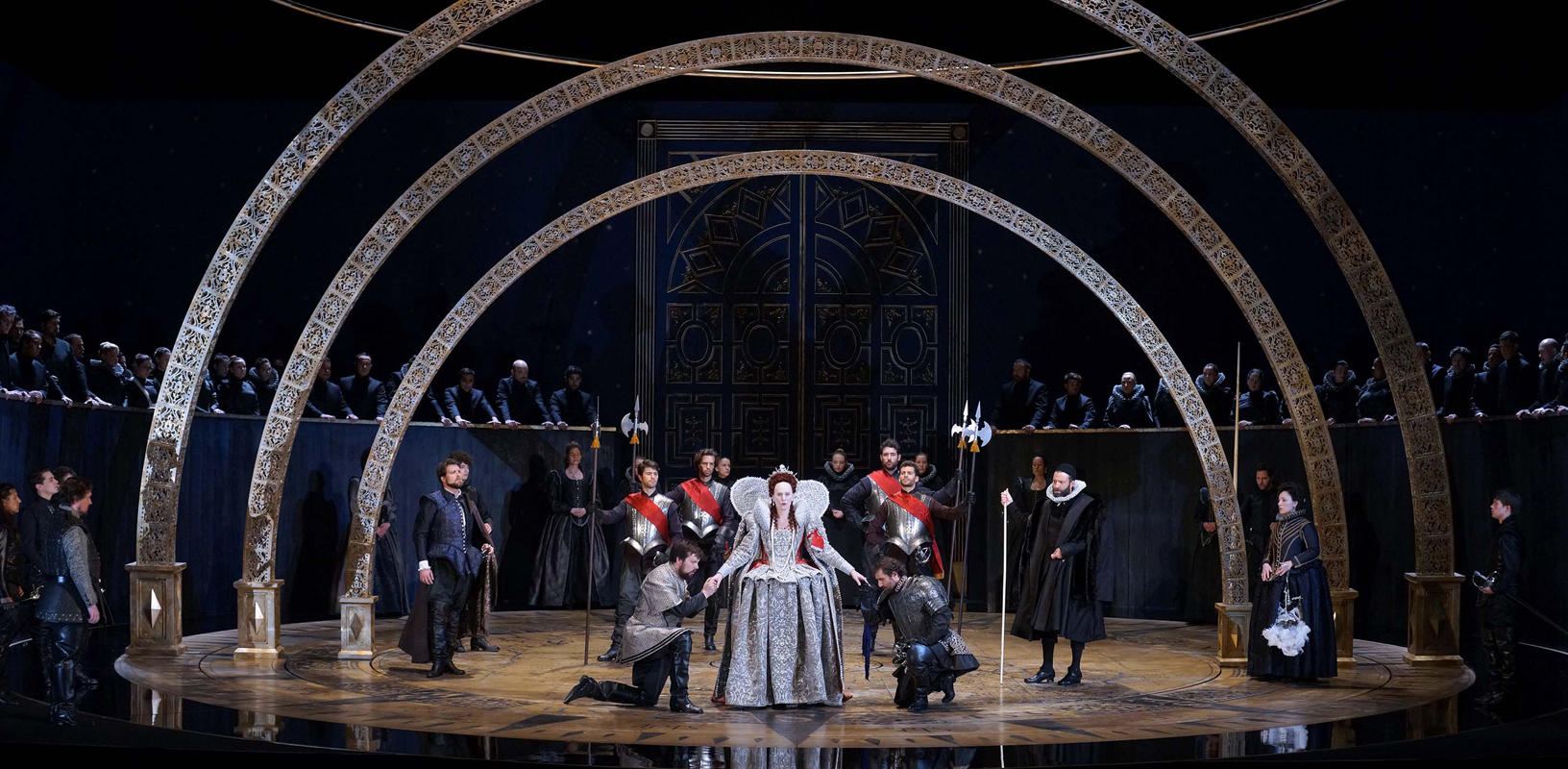 Benjamin Britten's operatic exploration of Queen Elizabeth I received a major new staging at the Teatro Real in Madrid, in a production by David McVicar that is set to travel around Europe.
The Teatro Real in Madrid won praise in April for its new production of Benjamin Britten's opera Gloriana, directed by David McVicar. This was the first major staging of the work since the Britten Centenary in 2013, and the production is set to travel on to English National Opera, Flemish Opera, the Teatro San Carlo in Naples and the Palau de les Arts in Valencia in future seasons. The Teatro Real's Music Director Ivor Bolton conducted twin casts for Gloriana, including Anna Caterina Antonacci and Alexandra Deshorties in the title role, and David Butt Philip, Duncan Rock, Sophie Bevan, and Leigh Melrose among the courtiers.

Gloriana's opening night acted as prelude to the first World Opera Forum, where discussions inevitably focused on ways to refresh the repertoire. As Operawire noted, the Teatro Real led "a charge at bringing the opera back to the forefront… And it was a sensation."

"All the protagonists in Britten's theatrical world are bearers of a stigma and, in that sense, the character of Elizabeth I does not escape the norm: her sin, her curse, is power. The parable of Gloriana is, in the final analysis, the solitude of power…The music is top quality, the composer reconstructing the Elizabethan setting without resorting to stylistic pastiche."
ABC

"Britten, with his unparalleled dramatic genius, knew how to create a constant transfer between the twin worlds of the Renaissance and the modern, alternating occasional music (ceremonial, courtesan) and dramatic music, archaic music and modern music, external music and intimate music, harmony and discord, using resources already learned and tested in Peter Grimes and Billy Budd to reinforce the dramaturgy…"
El Pais

Gloriana was the second in a planned series of Britten productions at the Teatro Real conducted by Ivor Bolton. It followed the success of Deborah Warner's Billy Budd last season, in an award-winning staging shared with the Opéra national de Paris, Opera di Roma, Finnish National Opera and The Royal Opera in London.
> Further information on Work: Gloriana
Photo: Edward Mandinian

Boosey & Hawkes Composer News