Britten's Peter Grimes is Gramophone Recording of the Year
(October 2021)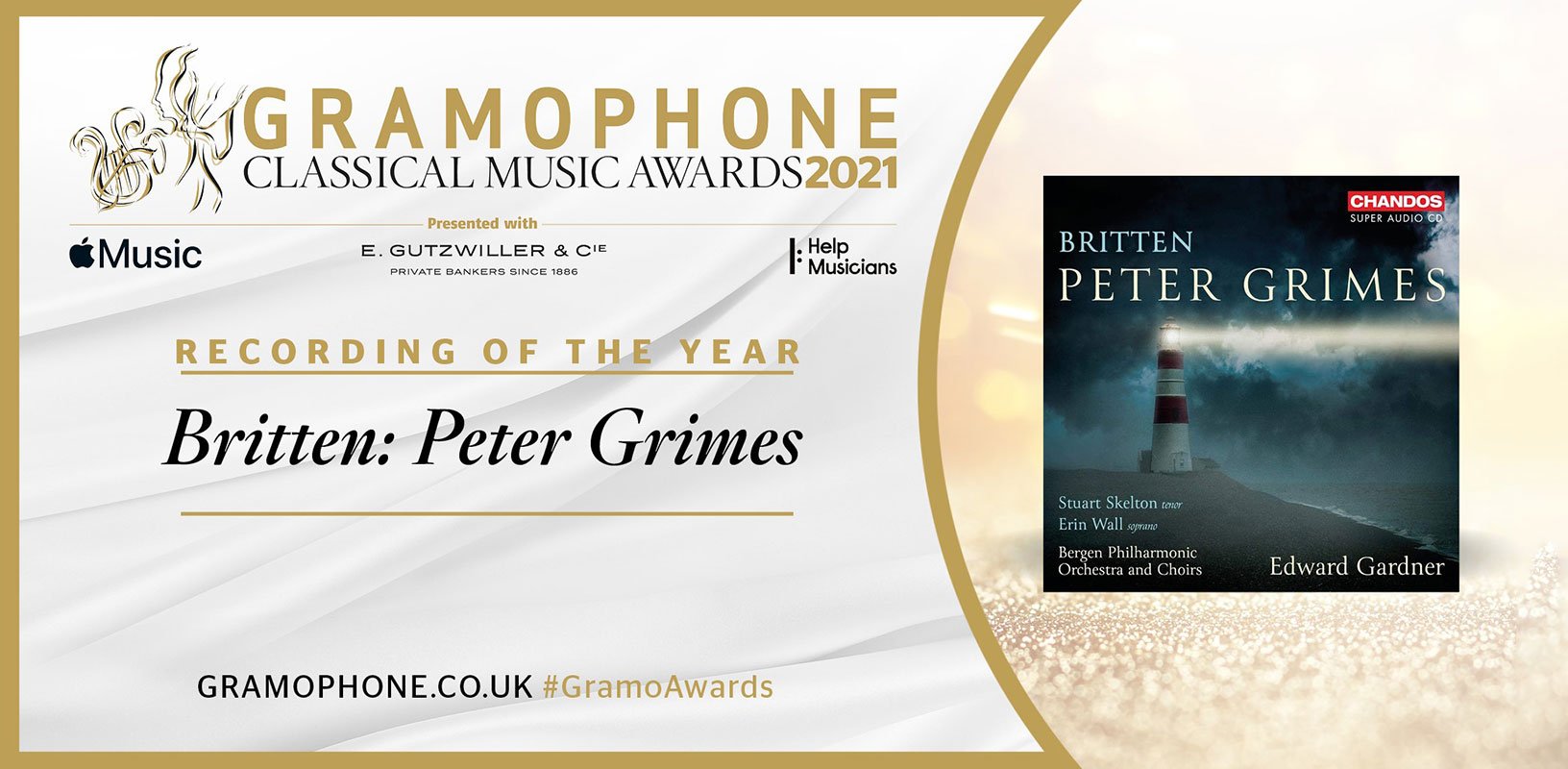 The acclaimed Chandos recording of Benjamin Britten's opera Peter Grimes, starring Stuart Skelton and conducted by Edward Gardner, not only won Gramophone's Opera Recording of the Year Award but also the Recording of the Year Award across all categories.
"Britten's haunting masterpiece finds natural allies in Edward Gardner and a superb cast headed by Stuart Skelton." So wrote Gramophone summing up its Recording of the Year announced in the special Gramophone Awards 2021 issue. Across all award categories, the Chandos recording of Peter Grimes was selected as the stand-out release of the year.
As Richard Fairman wrote in his Gramophone citation article: "The team of Edward Gardner, conductor, and Stuart Skelton, tenor, have lived with Peter Grimes as long as any pair since Britten and Pears. Gardner and Skelton were paired at English National Opera as long ago as 2009, when Skelton's Peter Grimes was already hailed as a 'towering' portrayal. They came together again for a BBC Proms performance, a revival at ENO, and crucially for concert performances in Bergen, where Gardner by that time was Chief Conductor, before heading into the recording studio.
"Here is the ideal situation. Two artists, long steeped in their understanding of the opera, are caught on the wing from live performances. The air is charged with electricity as the storm approaches, Gardner whipping up the speed to gale force… Vividly captured by the Chandos engineers, the Bergen Philharmonic Orchestra and Choir are in their element, the North Sea gales as fierce and elating on the coast of Norway as they are in Britten's Aldeburgh. His opera has found a new home."
> Buy the award-winning Peter Grimes from our Online Shop
> Stream the recording on Spotify
This summer brought new versions of two Britten song cycles to Aldeburgh, providing welcome alternative performing possibilities. Robin Holloway scored Winter Words for high voice and chamber orchestra, as an act of homage to "his favourite of Britten's song-cycles with piano: he and Hardy seem made for each other: the affinity with nature and the feeling for humanity." The new orchestration was premiered at Snape Maltings by Nicky Spence and the London Philharmonic Orchestra under Edward Gardner. The Times praised "the restrained brilliance in Holloway's treatment of Britten's piano part. Aqueous ripples, a glare of frost, a creaking table, a beggar boy's violin, exuberant birds: all were deftly conjured from the usual forces neatly flecked with the unexpected (a marimba!)."
Joseph Phibbs arranged Britten's early orchestral song cycle Our Hunting Fathers for a reduced chamber ensemble, performed in Aldeburgh by soprano Elizabeth Llewellyn and the Hebrides Ensemble. At the work's premiere in 1936, the pacifist slant of the text written and compiled by Auden puzzled audiences, while Britten's music was his most demanding to date, particularly for the solo voice above the large orchestra. Phibbs succeeded in his aim to offer "a distillation of the composer's orchestral pallete into a smaller instrumental form… I'd like to think that, despite some initial misgivings, Britten would be delighted to see one of his most original and neglected early works take on a new lease of life."
> Further information on Work: Peter Grimes

Boosey & Hawkes Composer News