CMA Conference Wrap-up
(February 2013)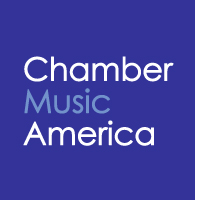 Boosey & Hawkes Composers Abound at Chamber Music America's 35th Annual Conference
Artists, ensembles, and industry professionals gathered this January for Chamber Music America's 35th Annual Conference, one of the nation's key events highlighting both up-and-coming and staple artists and organizations. Of the various talks, performances, ceremonies, and other events, composers published by Boosey & Hawkes made a strong showing at this year's conference.
CMA Keynote Speaker Tod Machover gave an engaging and well-received speech about technology and music, focusing on his work at the MIT Media Lab, as well as an in-depth talk about A Toronto Symphony (a piece composed for the Toronto Symphony using the aid of crowdsourcing) and his robotic opera, Death and the Powers.
> Click here to see more about A Toronto Symphony.
Each year, CMA and the American Society of Composers, Authors and Publishers (ASCAP) come together to recognize presenters and ensembles for their dedication to programming engaging and forward-thinking concerts. An awards ceremony held over breakfast at New York's Westin Hotel at Times Square recognized the 2013 CMA/ASCAP Adventurous Programming Award recipients in areas designated contemporary, jazz, and mixed repertory. This year, awards were given to SOLI, a chamber ensemble that premiered Steven Mackey's Prelude to the End; Musiqa, a contemporary music group that premiered Sebastian Currier's Deep-Sky Objects; and Yellow Barn, the Putney, Vermont presenter where Brett Dean served as Composer-in-Residence in 2012.
> Click here to view a trailer to Prelude to the End.

Taking place at the DiMenna Center, this year's "New Music From CMA" concert featured the Dorian Wind Quintet's presentation of David Del Tredici's Belgian Bliss, a 20-minute exuberant fantasy on Mendelssohn's Wedding March. The well-received piece opened a concert that also featured performances by the Alexis Cuadrado Quintet, Rez Abbasi's Invocation, and Brooklyn Rider.

Boosey & Hawkes Composer News