Chapela Composes Radioaxial for Cincinnati Symphony Orchestra
(March 2018)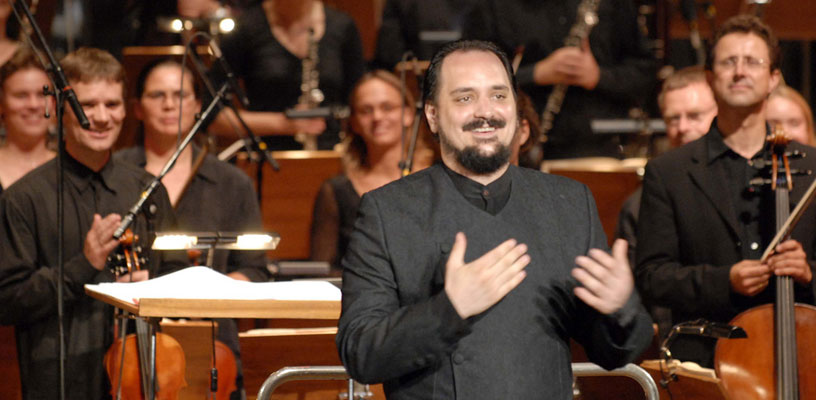 Enrico Chapela's latest work for orchestra was commissioned by the Cincinnati Symphony Orchestra in celebration of its newly renovated concert hall. The work, which premieres on April 6, plays with musical patterns and symmetry.
On April 6–7, the Cincinnati Symphony Orchestra and conductor James Gaffigan give the world premiere performances of Enrico Chapela's latest orchestral work, Radioaxial. The piece was commissioned by the orchestra to celebrate the grand re-opening of its Music Hall, which recently underwent significant repairs to improve acoustics and seating.

Radioaxial, which is approximately 10 minutes in duration, opens the concert program and is celebratory in spirit. For this piece, Chapela developed multiple ways to count and classify musical patterns in order to explore the depth of memorable and emotional musical possibilities. He explains his methods:

In music we find two different types of symmetry. The first one is called radial symmetry, and it's found in scales that when rotated over their radius end up matching themselves without completing an entire revolution. The second type is called axial symmetry, and it's found in scales that have an axis that divides them in two identical halves. Radioaxial was composed using both radial and axial symmetric scales and chords.

Chapela is known for often drawing on scientific, mathematical, or historical sources of inspiration for his works. Recent orchestral premieres include Antikythera (premiered in 2016 by the Orquesta Filarmónica Boca del Río), about an ancient mechanical device designed to calculate the position of the stars and planets; and Lunática (premiered in 2016 by the Orquesta Filarmónica de la UNAM), based on the moons of our solar system.
> Further information on Work: Radioaxial
Photo: Frank Hohler

Boosey & Hawkes Composer News