Chin's Double Concerto: piano and percussion fuse
(May 2003)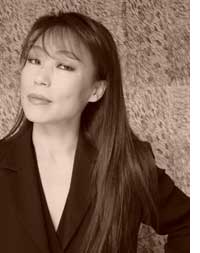 Unsuk Chin's third commission from the Ensemble Intercontemporain, a Double Concerto for piano, percussion and ensemble, received a highly successful premiere in Paris on 2 February. The new 20-minute work, conducted by Stefan Asbury, was selected by Le Monde's reviewer as one of the highlights of Radio France's Présences Festival.
The remarkable aural world of the Double Concerto is a culmination of Chin's exploration of piano and percussion sonorities in such works as the Piano Concerto, Fantaisie mécanique and the percussion and tape version of Allegro ma non troppo. Rather than contrasting the two solo instruments, she explores the meeting point between their timbres, with the 'struck' sound of the keyboard emphasised by the employment of prepared piano techniques, and the percussion part's ostinatos creating the impression of 'sustained' sounds.
This fusion is taken a step further by the soloists not being conventionally contrasted with the tutti, as might be expected in a concerto. The string and wind instruments rather explore the resonances of the soloists in a spectral manner, instead of providing independent lines or tutti material. The ensemble's blended role is fixed by its own percussionist underpinning the action, and pulling the instruments into the world of the two soloists. There is no sense of monochrome, however, as the concerto constantly splinters and sparks with colour, as if caught in a volatile summer storm. Unsuk Chin's description of her aims in the work can be used to sum up her output as a whole: "I've tried to write a music of highly coloured bearing and expression, free-flowing and agile, unfolding sometimes in completely unexpected directions."
Chin's recent Violin Concerto continues to travel, with its UK premiere scheduled at the Barbican in London on 20 February 2004, with Viviane Hagner as soloist, and the BBC Symphony Orchestra conducted by Martyn Brabbins. Her whimsical fairy-tale scenes for soprano and ensemble, Acrostic-Wordplay, can be heard in Hamburg on 20 June, are featured at the Edinburgh Festival on 14 August as part of a Far East focus, and are performed by the Ensemble Intercontemporain in Paris on 7 February 2004. Chin's compositional plans include a stagework and a London Sinfonietta commission for two sopranos, counter-tenor and ensemble.
> Further information on Work: Double Concerto
Photo: © Woenki Kim

Boosey & Hawkes Composer News