Complete Panufnik symphonic works boxed on CPO
(April 2018)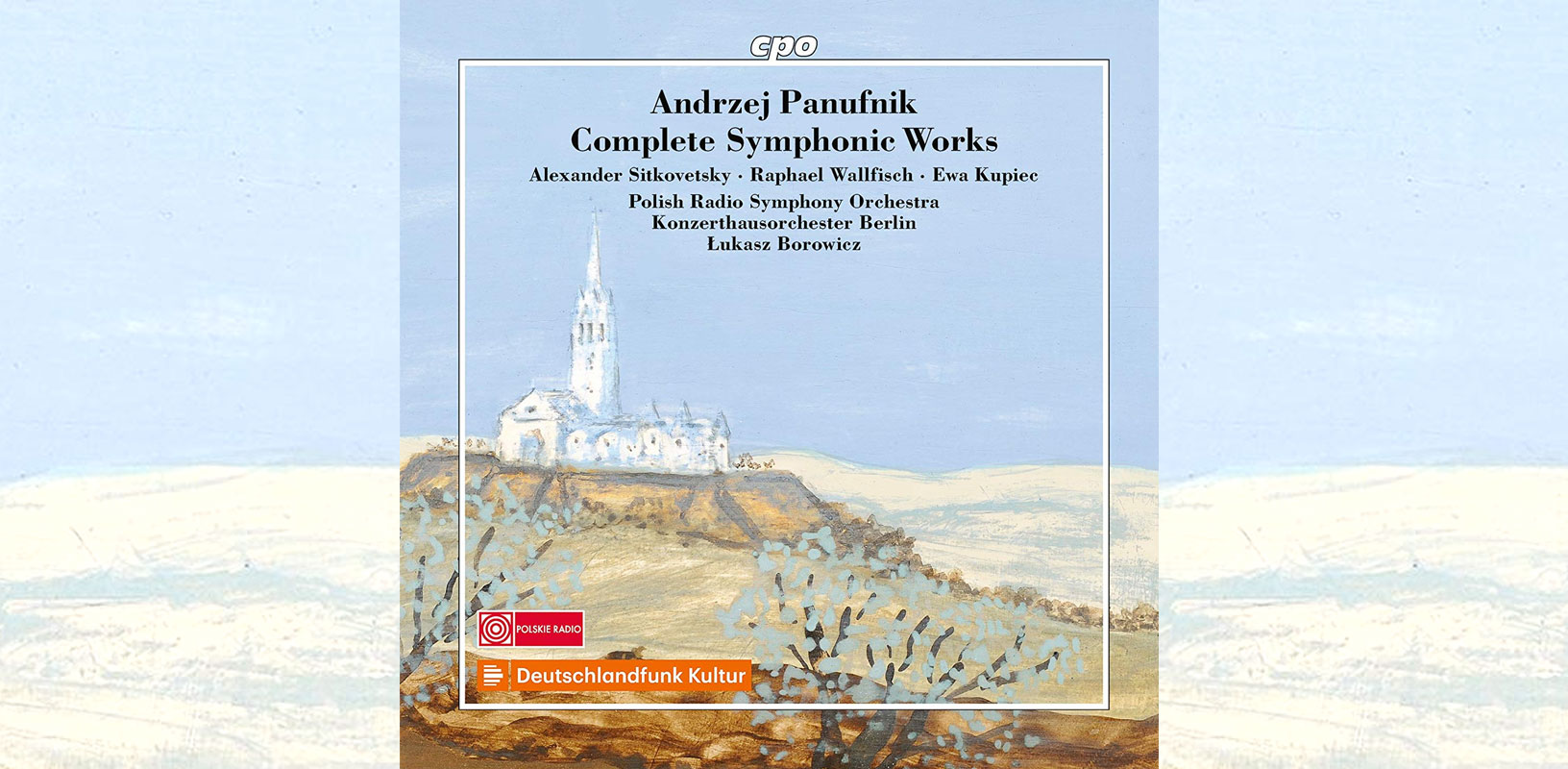 The acclaimed recent series of recordings of Andrzej Panufnik's symphonic works has been collected together by CPO into an 8-CD box set.
CPO has collected its eight recent CDs of Andrzej Panufnik's symphonic works into a box set (CPO 5551182). The acclaimed series, conducted by Lukasz Borowicz, shares the orchestral honours between the Polish Radio Symphony Orchestra and the Berlin Konzerthaus Orchestra. All ten Panufnik symphonies are covered, plus 14 of his orchestral works, and four concertos with soloists Alexander Sitkovetsky (violin), Raphael Wallfisch (cello), Ewa Kupiec (piano) and Michael von Schonermark (bassoon).

The CPO series was a major project leading up to the composer's centenary year in 2014, providing a comprehensive survey in modern sound quality, and offering strong interpretations from Lukasz Borowicz and his soloists. The collection offers the full range of Panufnik's music, from pioneering early scores written in Poland such as the Lullaby, complete with quartertones, through works penned following his escape to the UK as a political exile, to his later works which refine the composer's blend of Apollonian beauty and austere geometical patterning.

"...conductor Lukasz Borowicz recently completed an impressive survey of Panufnik's ten symphonies for the German label CPO... Listeners are likely to return most often to the Third, 'Sinfonia Sacra', in which Panufnik applies his habitual terseness, his obsessive concentration on small strands of material, to a heart-tugging subject: the old Polish religious 'Bogurodzica', or 'Mother of God'. When the full melody rises majestically out of the orchestra at the end, the effect is not merely sentimental; it feels like the proof of a theorem."
Alex Ross, The New Yorker


"Borowicz clearly has the expressive geometry of Panufnik's thinking under his fingers..."
Gramophone


"They all reveal the careful craftsmanship and sharp-honed form that characterised Panufnik's works."
The Guardian

"Conductor Lukasz Borowicz shows himself to be an ideal interpreter of this music... [an] outstanding Panufnik shapshot"
BBC Music Magazine

"Those yet to encounter Panufnik's music could not have hoped for a more representative introduction."
International Record Review

> Buy the new box set 


Andrzej Panufnik was born in Warsaw in 1914 and rapidly developed his career as a conductor and composer, before the Communists decried him as an alleged formalist and decadent artist. In 1954 he fled to England, where he was granted political asylum and with this status ceased to exist in official Poland. His international reputation steadily grew; he was awarded lucrative compositional commissions, principally from the United States, and increasingly felt at home in England. Leading conductors like Stokowski, Horenstein, and Solti performed his works. Panufnik always stood out in the compositional landscape of the 'Free World' of the West because he never associated himself with the methods of serial composition then both current and dominant. "For me music is always the expression of the deepest human feeling and genuine emotion. The spiritual and poetic content is therefore very essential and has a decided influence on the construction. In all my works I attempt to form a real balance between emotion and intellect – an equilibrium of heart and mind, of motivation and construction."

An English translation of Beata Boleslawska's Panufnik biography was recently released by Ashgate Publishing and a new edition of the composer's autobiography Composing Myself, in the context of Panufnik's other writings on music, will be published soon by Toccata Press.
> Further information on Work: Sinfonia Sacra (Symphony No.3)

Boosey & Hawkes Composer News