Composer Dominick Argento dies at age 91
(February 2019)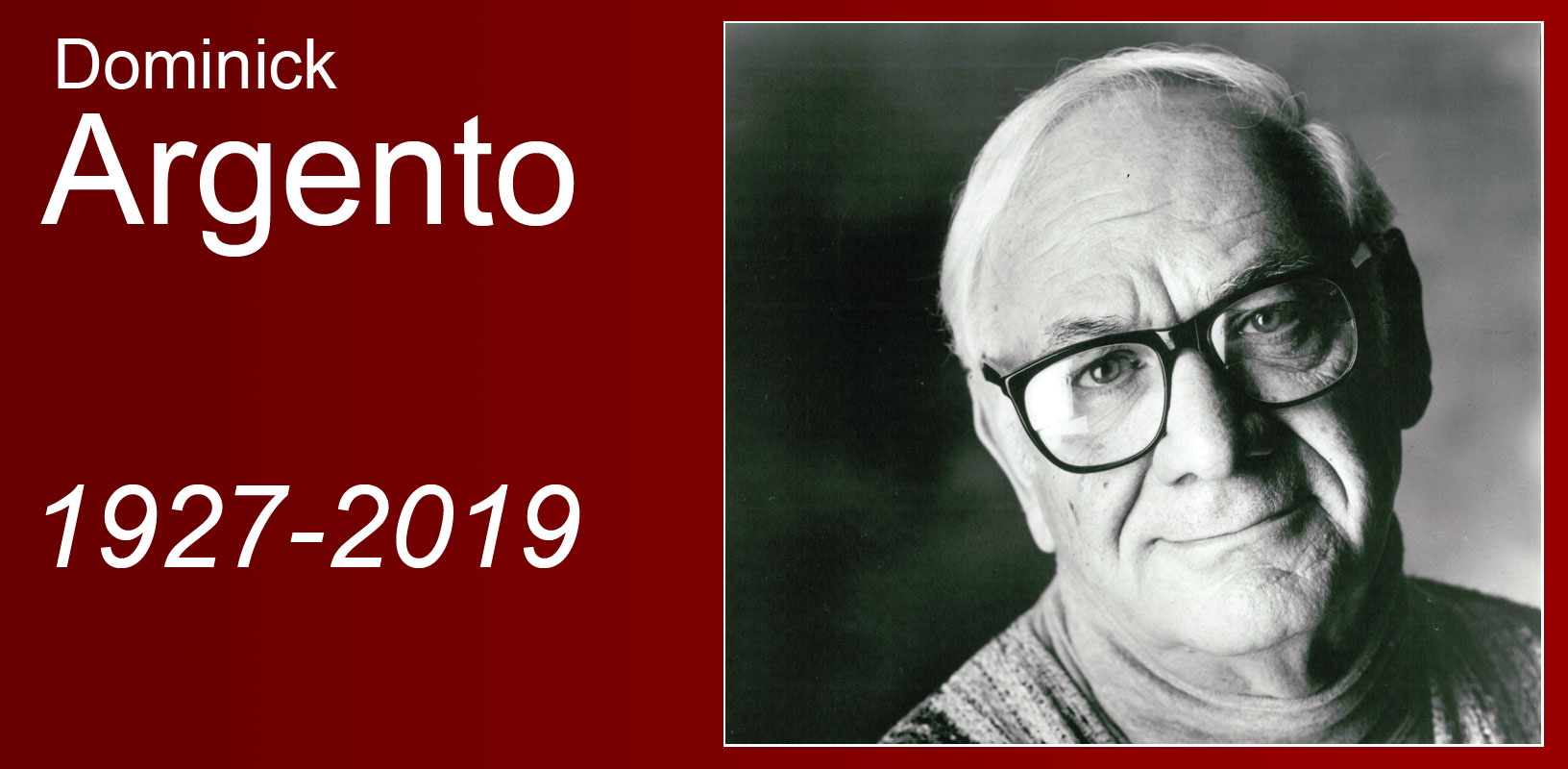 Boosey & Hawkes is sad to announce the death of leading opera and art song composer Dominick Argento, who passed away aged 91 on February 20, 2019, in Minneapolis, Minnesota.
Remembered today as one of America's preeminent composer of lyric opera, Dominick Argento passed away on February 20, 2019, in Minneapolis, Minnesota, as announced by his family.
Born in York, Pennsylvania, in 1927, Argento was lionized for his rich catalog of vocal writing, including 13 operas published by Boosey, as well as extensive music for choral and solo contexts. His music is marked by its strong dramatic impulse, sharp wit, and colorful lyrical lines, which has made his works favorites among singers. Among honors and awards, Dominick Argento received the Pulitzer Prize for Music in 1975 for his song cycle From the Diary of Virginia Woolf. He was elected to the American Academy of Arts and Letters in 1979.
Companies across the US and in Europe have performed Argento's renowned operas, which include The Voyage of Edgar Allan Poe (1976), Miss Havisham's Wedding Night (1981), Postcard from Morocco (1971), Casanova's Homecoming (1984), and The Aspern Papers (1987). His last opera, The Dream of Valentino, examined fame and the immigrant experience, set in the early days of Hollywood. It premiered at Washington Opera in January 1994. Among his major song cycles are Letters from Composers (1968), To Be Sung Upon the Water (1973), From the Diary of Virginia Woolf (1975), the choral I Hate and I Love (1982), The Andree Expedition (1983), and Casa Guidi (1983).
Recent productions of Argento's operas include The Dallas Opera's 2013 staging of The Aspern Papers (commissioned by Dallas Opera, and originally premiered in 1988), starring mezzo-soprano Susan Graham, soprano Alexandra Deshorties, and baritone Nathan Gunn; and Minnesota Opera's 2014 staging of The Dream of Valentino, featuring tenor James Valenti in the leading role.
Argento earned his Bachelor's and Master's degrees at Peabody Conservatory—where he studied with Nicholas Nabokov, Henry Cowell, and Hugo Weisgall—and his Ph.D. from the Eastman School of Music, where he studied with Alan Hovhaness and Howard Hanson. Fulbright and Guggenheim Fellowships allowed him to study in Italy; following his Fulbright, Argento became music director of Hilltop Opera in Baltimore, and taught theory and composition at the Eastman School. In 1958, he joined the faculty of the Department of Music at the University of Minnesota, where he taught until 1997 and later held the rank of Professor Emeritus.
Argento became one of the most significant forces in Minnesota's classical music community over the past 60-plus years. Minnesota Opera's roots were planted when the Walker Art Center commissioned Argento to compose The Masque of Angels for its performing arts program, Center Opera in 1963. In 1997, he was honored with the title of Composer Laureate to the Minnesota Orchestra, a lifetime appointment. Minnesota Governor Mark Dayton officially declared August 8, 2016, to be Dominick Argento Day in the state of Minnesota, recognizing Argento as a master composer, revered educator and beloved Minnesotan.
Read tributes to Dominick Argento's life and work in the following publications:
Opera News
AP News
Washington Post
NPR
New York Times
New Yorker
Le Monde
Musical America
Dallas Morning News
MPR News
Minnesota Star Tribune
York Daily Record
Atlanta Journal Constitution
MinnPost
Photo: Tom Berthiaume

Boosey & Hawkes Composer News