Composer Sean Shepherd wins $200,000 Charles Ives Living Award
(October 2023)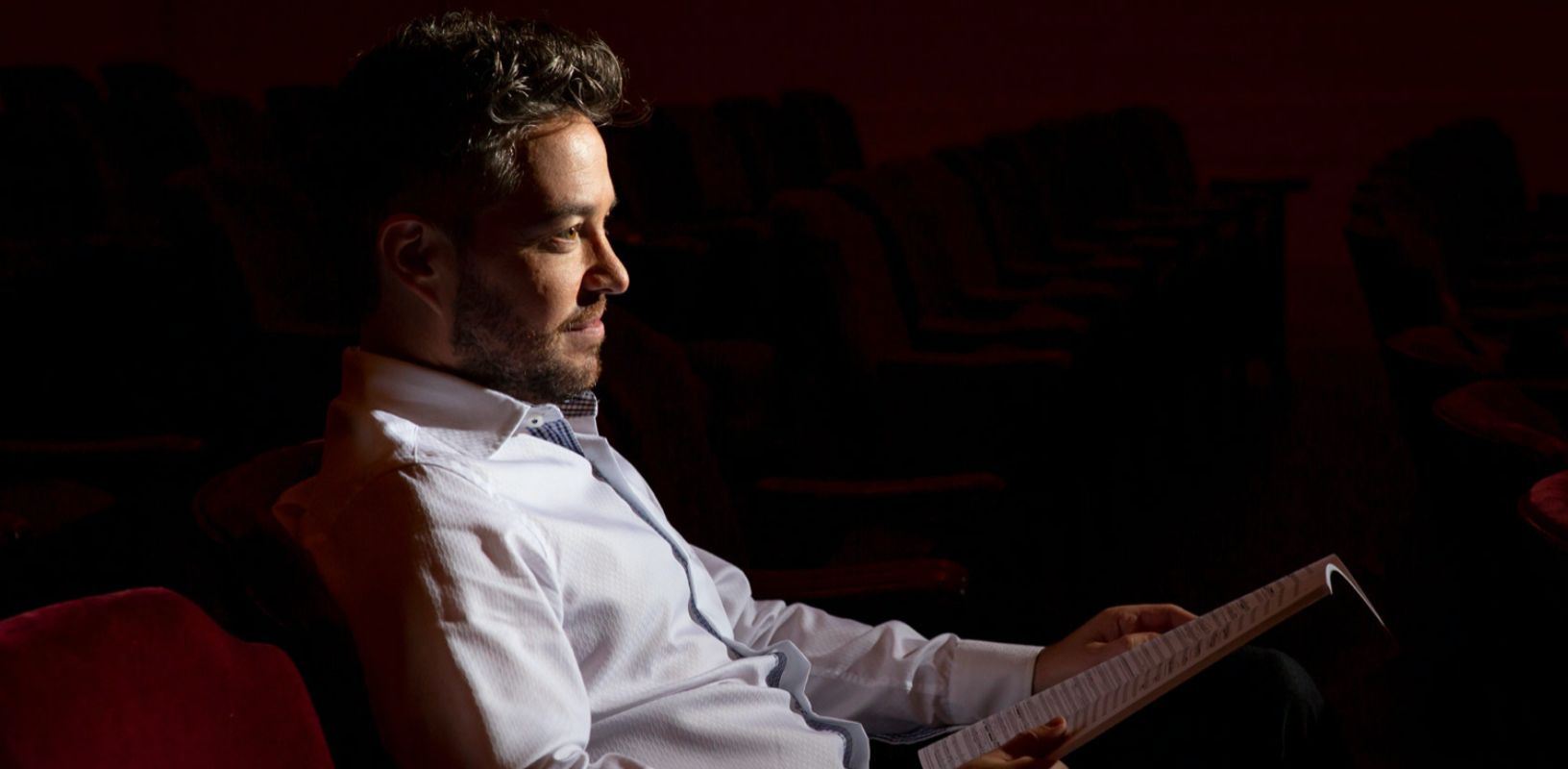 Sean Shepherd is the recipient of the 2024 Charles Ives Living Award, presented by the American Academy of Arts and Letters.
Press Release from the American Academy of Arts and Letters
Sean Shepherd has been chosen to receive the 2024 Charles Ives Living Award, which will provide him with an income of $100,000 a year for two years so that he may devote himself to composing music. The announcement was made by Chen Yi, chair of the selection committee and member of the American Academy of Arts and Letters, who said, "Sean's curiosity and hard-searching musical imagination, tremendous energy for realizing dreams and plans, and solid practical experience in music making have shaped his unique musical voice."
Upon learning that he was to receive the 2024 Charles Ives Living, Shepherd stated, "The opportunity that the Charles Ives Living provides—space and time for real creative immersion and work—is the rarest and most precious of honors. Charles and Harmony Ives's legacy and Arts and Letters's continuing commitment to artists fill me with gratitude, and together they amount to no less than a mandate, which I intend to honor. In getting lost, confused, frustrated, hopeful, inspired, elated, all perhaps on a daily basis on projects great and small, and by consistently going as deep as I possibly can, I'll get to be a composer. It's a true privilege."
Augusta Read Thomas, who serves as one of Arts and Letters's Vice-Presidents for Music and is the founder and director of the Chicago Center for Contemporary Composition, said, "Sean Shepherd is a naturally musical composer who has consistently followed his own personal artistic vision. Each intelligent and well-etched creation presents another facet of his kaleidoscopic, luminous craft. In his musical compositions, such as On a clear day, multi-layered, highly-detailed, sonic landscapes of shimmering density reveal tremendous breadth and somber depth."
The award will begin in July 2024. The other members of the selection committee, who studied scores and recordings for four months to arrive at their choice, were Martin Bresnick, Anthony Davis, Stephen Hartke, and Jennifer Higdon. Candidate nominations came from the architect, artist, writer, and composer members of Arts and Letters. Although the Ives Living recipient agrees to forgo all salaried employment during the award period, there is no restriction on accepting composition commissions.
Jury Comments
Chen Yi, 2001 recipient of the Ives Living: "As a composer, I spent my most creative period while I was the recipient of the Ives Living Award twenty years ago. I'm sure that we will celebrate new discoveries and achievements obtained by Sean Shepherd in his creative journey with the prestigious Ives Living Award."
Martin Bresnick, 1998 recipient of the Ives Living: "The Charles Ives Living Award was an amazing opportunity for me to evaluate and re-evaluate the trajectories and horizons of my musical imagination. Congratulations to Sean Shepherd as he embarks on his own unique path!"
Stephen Hartke, 2004 recipient of the Ives Living: "Charles Ives has proved to be—though he never would have imagined it—a musical grandfather to several generations of American composers. It is hard for me to express how deeply honored I felt to find myself benefiting in so meaningful, helpful, and tangible a way from his legacy. My heartfelt congratulations to Sean for this special acknowledgment and recognition of his extraordinary artistic gifts and achievements as a composer."
Jennifer Higdon: "What a joyous thing it is to give Sean the chance to have two solid years of creating music and growing as an artist. Though Charles Ives always felt as if he wouldn't be able to support his own family while writing music, his generosity has enabled a legacy that gives composers that very opportunity to make art in the way that benefits them the most."
Charles Ives Living Award
Harmony Ives, widow of composer and member Charles Ives, left Arts and Letters the royalties from her husband's music to establish a fund for prizes in music composition. Since 1970, Arts and Letters has given 304 Ives scholarships, 67 Ives fellowships, 3 Ives Opera Prizes, and 45 Ives grants. The Charles Ives Living was inaugurated in 1998 with the selection of Martin Bresnick, and has since been awarded to Chen Yi (2001), Stephen Hartke (2004), George Tsontakis (2007), James Mattheson (2012), and Huck Hodge (2018).
The American Academy of Arts and Letters is an honor society of artists, architects, composers, and writers who foster and sustain interest in the arts. Our 300 members distribute over $1.2 million in awards annually; fund concerts and new works of musical theater; purchase and commission contemporary art for donation to museums across the country; and present exhibitions, talks, and events for the public at our historic buildings in the Washington Heights neighborhood of New York City.
Photo: Jennifer Taylor

Boosey & Hawkes Composer News