Conversations with Currier & D'Rivera
(January 2010)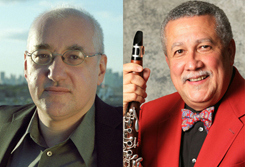 Conversations with Sebastian Currier & Paquito D'Rivera: Premieres by American Composers Orchestra
Works by Sebastian Currier and Paquito D'Rivera premiere together on Friday, January 29 at 7:30 PM at Carnegie's Zankel Hall as part of American Composers Orchestra (ACO)'s concert, Orchestra Underground: Conversations. The program features the world premiere of Sebastian Currier's Next Atlantis and the New York premiere of Paquito D'Rivera's Conversations with Cachao. The ACO will travel to Philadelphia and repeat the program on Saturday, January 30 at 7:30 PM at the Annenberg Center for the Performing Arts.

Paquito D'Rivera's Conversations with Cachao serves as the centerpiece of the program, and receives its New York City and Philadelphia premieres in these performances. A tribute to Israel "Cachao" López, the Havana bass player who made Cuban Mambo a worldwide phenomenon, the piece is a double concerto featuring D'Rivera's clarinet and alto sax in dialogue with the double bass, played by Robert Black, recalling the style and personality of the man who served as friend and mentor to D'Rivera and many Cuban musicians.

 Says D'Rivera: "Conversations with Cachao…is comprised of three movements: Israel (which is Cachao's first name), Guajira (a Cuban countryside type of music) and The Return (a fantasy on the mind of every exiled). The main theme of the work developed from the simple 4-note figure at the beginning of the first and final movements, which is Cachao's best known and popular lick: G-C-Bb-C. …Cadenzas are not written at all (like in the good old times!), so the two soloists have to improvise them, even as a duet if they want."

 View a score sample.

Sebastian Currier's Next Atlantis is a multimedia collaboration with video-artist Pawel Wojtasik. A meditation on an imagined future when New Orleans is but a collective memory, the piece is scored for string orchestra and enhanced with four-channel sampled and electronically altered sounds of water.

 Says Currier: "Sounds of water, both above and below the surface, pervade the piece.  The water is an idealized water, often electronically sculpted into melodies and chords. The string ensemble maintains a dialogue with these liquid sounds. The instruments imitate the sounds of water and the water itself takes on vestiges of the players' harmonies. Intertwined with these sounds is the faint, ghostly echo of fragments from 'Bourbon Street Parade,' here subdued into quiet disembodied strains that rise to the surface like bubbles from a sunken shipwreck."

View a score sample.

Looking ahead, Miller Theatre will present a composer portrait concert of all-Currier works on March 5 in New York City, including a newly commissioned work ("Bodymusic") which examines how music ultimately comes from the body, but also how the body can be coordinated, enlivened, calmed and focused by it. D'Rivera maintains an active tour schedule and is composing a piece for The Young People's Chorus of New York City's annual Transient Glory concert, April 24. 

For scores, recordings, or photos contact jessica.schmitz@boosey.com.

> Further information on Work: Next Atlantis
Photo Credit: Jeffrey Herman (Currier) and R. Andrew Lepley (D'Rivera)

Boosey & Hawkes Composer News