Courtney Bryan: Her Life and Music
(March 2023)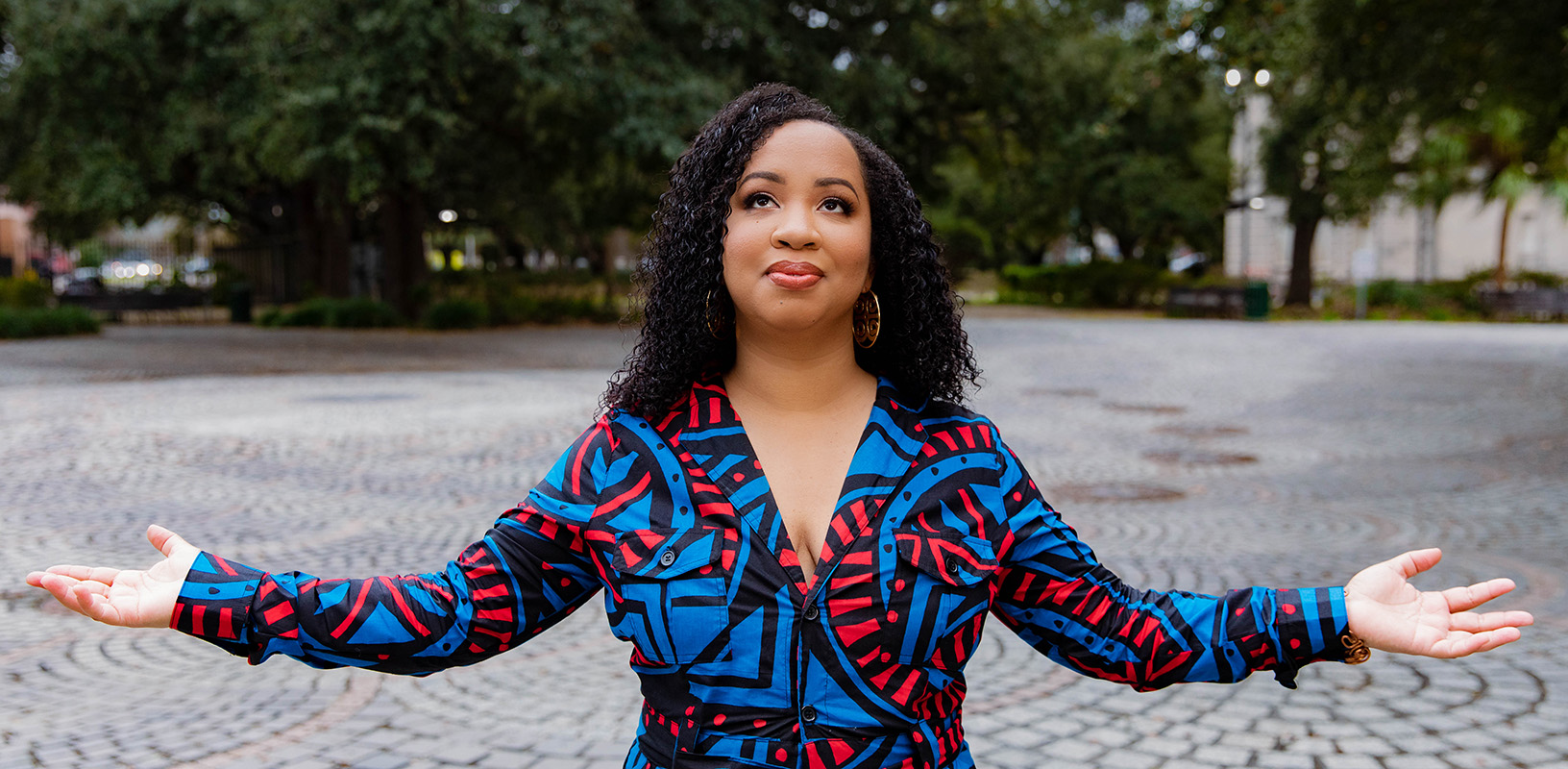 New Orleans-based composer Courtney Bryan composes music that draws on a wide range of traditions. Part of a profile series throughout March—Women's History Month—in which we explore the lives, music, and inspirations of extraordinary composers from around the world.
Watch our video introduction to Courtney Bryan and her music.
Her Story
As soon as Courtney Bryan was tall enough to climb onto a piano bench, she was hooked, playing and composing music. She recalls: "I went into another world when I was at the piano." Growing up in musically rich New Orleans, Bryan was surrounded by the sounds of Jelly Roll Morton, Louis Armstrong, and brass bands, while also singing Anglican hymns, Gregorian chant, and spirituals in her church, St. Luke's Episcopal Church, an important gathering space for the Caribbean community in the city. This combination of different cultural elements would become fundamental to the way Bryan conceives music today.
In high school, Bryan studied at the renowned Louis Armstrong Summer Jazz Camp and the New Orleans Center for Creative Arts (where Terence Blanchard, Wynton Marsalis, and Moses Hogan are among the alumni). When she went on to Oberlin Conservatory, Bryan majored in classical piano, jazz piano, and composition. Eventually, composition became the clear path forward, as Bryan explains: "I asked myself, 'What is the one thing that if you didn't do it, it wouldn't happen'—for me that's composing music."
While at Columbia University getting her doctorate (where she studied with George Lewis), Bryan composed her first major orchestral work, Shedding Skin, for the American Composers Orchestra's Jazz Composers Orchestra Institute. This in turn led to her first orchestral commission from ACO, Sanctum, a 2015 work for orchestra and recorded sound that would become a calling card for Bryan. Sanctum was also Bryan's first piece about police brutality, followed by a series of works about racial injustice, including Elegy for Ensemble p (based off of the song "Strange Fruit) and Yet Unheard for choir (a tribute to Sandra Bland).
Bryan's orchestral career developed rapidly as more commissions followed, including Requiem for the Chicago Symphony Orchestra, which premiered early during the pandemic, and her violin concerto Syzygy for soloist Jennifer Koh. Bryan has now been commissioned by prominent orchestras from around the country, with recent works including her piano concerto House of Pianos for the LA Phil and Cincinnati Symphony Orchestra, and Gathering Song for the New York Philharmonic, premiered with bass-baritone Ryan Speedo Greene.
Her Sound
Music by piano greats is of great importance to Bryan, who definitively states, "Chopin is home for me." She frequently includes references to music of many different genres, from classical and gospel to jazz. Bryan explains, "I naturally bring styles together when I compose. I like to take things that are perceived as separate and put them together in my music." Her work Gathering Song, recently premiered by bass-baritone soloist Ryan Speedo Green and the New York Philharmonic, was praised as "thrilling in its polish and expressive range" by the New York Times: "There are fillips of Afro-Cuban rhythm and moments of thick orchestral modernism, as well as traces of stentorian, post-Minimalist American opera … Though prismatic, it feels carefully woven as it touches on gospel and jazz traditions."
Her Collaborators
Bryan is currently the composer-in-residence with Opera Philadelphia and Creative Partner with the Louisiana Philharmonic Orchestra. LPO's music director Carlos Miguel Prieto recently said of Bryan's music: "Her music speaks to us with urgency and honesty." She has also written works for many prominent soloists, including Branford Marsalis, Jennifer Koh, Ryan Speedo Green, Helga Davis, Brandee Younger, and Damian Norfleet.
Bryan's wide-ranging interests extend to multiple artforms and have led to collaborations with visual artists Tiona Nekkia McClodden, Steffani Jemison, Abigail DeVille, Kara Lynch, Lake Simons, Amy Bryan, and Alma Bryan Powell; director Patricia McGregor; and writers Sharan Strange, Matthew D. Morrison, and Ashon Crawley.
Photo: Taylor Hunter

Boosey & Hawkes Composer News