David Schotzko Appointed Director, Promotion and Steven Lankenau Associate Director, Promotion
(January 2010)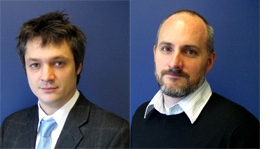 Boosey & Hawkes is pleased to appoint David Schotzko as Director, Promotion and pleased to welcome Steven Lankenau as Associate Director, Promotion for the New York office. In addition to developing promotion strategy for the company's North and South American composers and activities, David Schotzko will continue to represent the Universal Music Publishing Classical catalogues in North America as Manager, UMPC. Lankenau joins the promotion team, with Trudy Chan, Senior Manager, Promotion, Adina Williams, Director, Jazz and Standards, and Joe Rubinstein, Promotion Assistant.

Says Senior Vice President Zizi Mueller, "The promotion team at Boosey & Hawkes represents an impressive range of musical background and experience. With the addition of Steven Lankenau to the group, I look forward to building our already strong reputation as sincere and dedicated advocates for our composers and catalogues, and as a great resource to the field at large."

A native of northern Minnesota, David Schotzko holds degrees from the Oberlin Conservatory of Music and Yale University, and joined the Promotion Department at Boosey & Hawkes in 2006. Since 2007 he has managed the UMPC catalogues in North America, working to promote the legendary Ricordi, Durand, Salabert, Eschig, and EMB catalogs in the USA, Mexico, and Canada. From 2003-2006 he produced and curated the Sound/Image Events, a groundbreaking initiative of the International Contemporary Ensemble (ICE) which paired contemporary chamber music with visual art. He is the founding percussionist of ICE and was the ensemble's Program Director from 2004-2007. As a performing percussionist, David has premiered over 300 new works by composers from across the globe with groups such as ICE, Alarm Will Sound, So Percussion, Trio V, Ensemble Breekbaar, and as a soloist. Having frequently been a close collaborator with many of the composers whose music he now represents through Boosey & Hawkes, David is thrilled to be able to bring this hands-on experience to his work as Director, Promotion.


From 2006-2009, Steven Lankenau worked at the Brooklyn Philharmonic, first as the Manager of Community Programming, creating chamber concerts for diverse communities, and later as the Director of Programming. During his time in Brooklyn, Steven focused on premieres and collaborative efforts with non-traditional musicians, bands, theatrical directors, and dance companies. Highlights include collaborations with the band Grizzly Bear and the performers Joanna Newsom and Owen Pallett, the 2008 John Corigliano Festival, and the 2009 Nuevo Latino Festival, part of an orchestral season which earned an ASCAP award for Adventurous Programming. From 2003-2006 Steven worked in the Programming Department at Lincoln Center for the Performing Arts. He received a Masters in Music Composition in 2003 from the University of Massachusetts, Amherst, where he also taught music theory and history. Steven's writing on music and other arts has been published around the country and online. Steven is proud to join Boosey & Hawkes as Associate Director, Promotion.



Boosey & Hawkes Composer News