David T. Little: European premiere of JFK opera in Augsburg
(June 2019)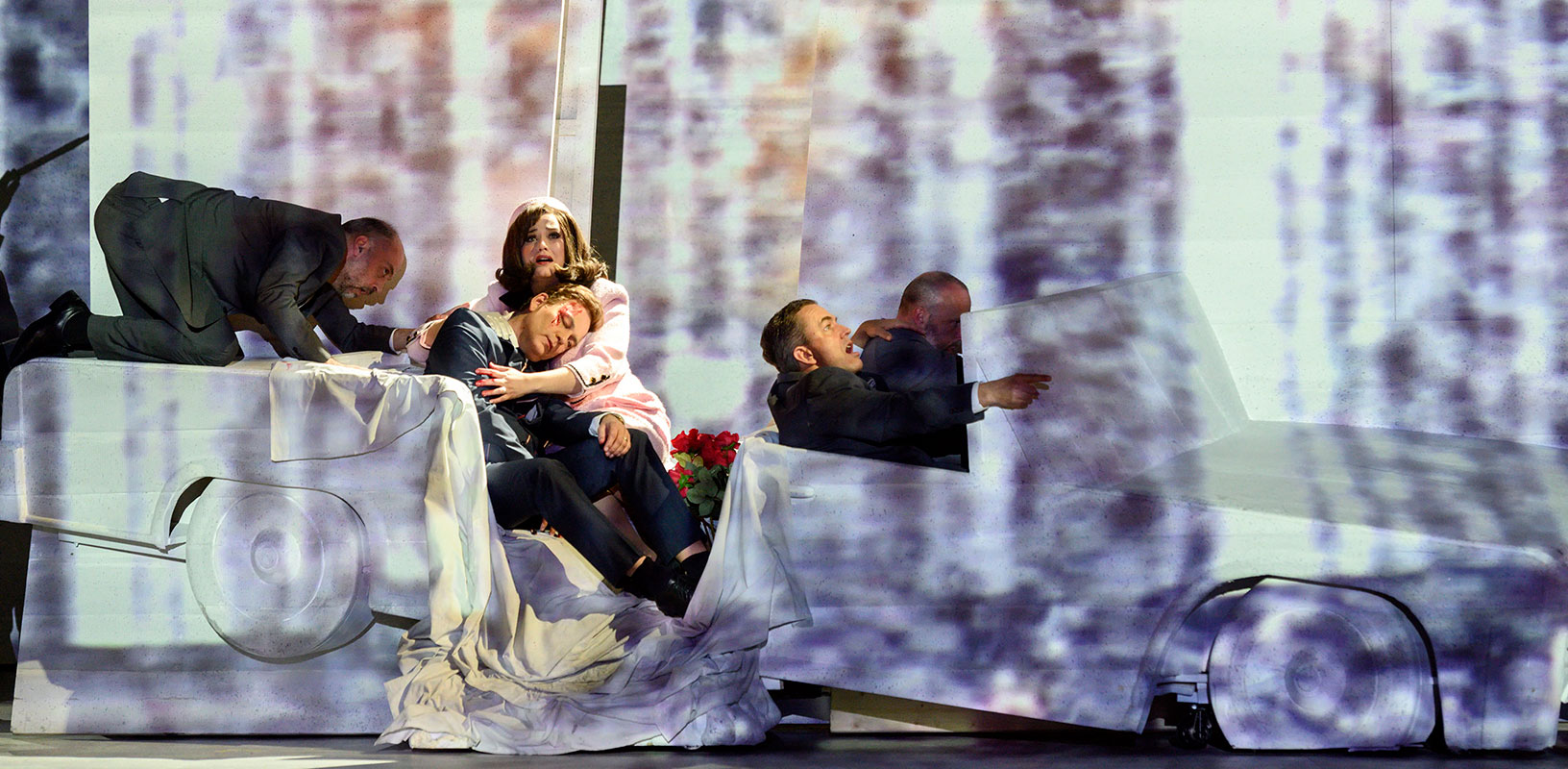 The first European staging of David T. Little and Royce Vavrek's JFK, exploring the President's final hours in Fort Worth, enjoyed an enthusiastic reception at Theater Augsburg in March.
The successful European premiere of David T. Little's opera JFK, presented at the Theater Augsburg in March, demonstrated the expanding German interest in the young American composer's stageworks. As reported by Neue Musikzeitung, "the unanimous final jubilation for the composer, librettist Royce Vavrek and the entire stage team signalled: Bravo!" The new Augsburg staging by Roman Hovenbitzer followed on from recent productions of Dog Days in Bielefeld and Schwerin and Soldier Songs in Saarbrücken.
Jointly commissioned by Fort Worth Opera, American Lyric Theater, and Opéra de Montréal, Little's three-act opera has been celebrated for its complex and intimate portrayal of President John F. Kennedy and First Lady Jacqueline Kennedy in the twelve hours leading up to the president's infamous assassination in November 1963.
"The scenes change quickly: the white limousine becomes a hotel bath, a bed, a tombstone, because Little's opera is not made up of acts, but a total of 31 moments that fold together a commemorative collage of the historic presidential couple into a dazzling kaleidoscope. Jackie's nightmares and John's morphine delirium mix. Family members of the Kennedy clan emerge, Marylin Monroe, Nikita Khrushchev and John's adversary Lyndon B. Johnson surrounded by cowboys in glittering trousers."
Deutschlandfunk
Little's music received a New York profile recently with a concert closing the Miller Theatre's Composer Portrait season. The powerful double bill combined performances of Haunt of Last Nightfall by Third Coast Percussion and AGENCY by American Contemporary Music Ensemble, demonstrating Little's acute instinct for dramatic storytelling and his deep curiosity surrounding the darker corners of our humanity and society.
Next season sees stage productions of Dog Days at Northwestern University in November and Soldier Songs with Nathan Gunn and Chicago Opera Theater in May 2020, plus the German premiere of Haunt of Last Nightfall in Gelsenkirchen in April 2020.
> Further information on Work: JFK
Photo: Theater Augsburg/Jan Pieter Fuhr

Boosey & Hawkes Composer News