Detlev Glanert: Megaris hears the siren's last lament
(January 2016)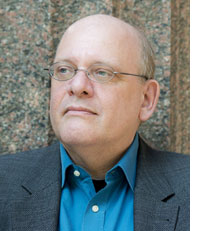 Stuttgart's composer focus on Detlev Glanert this season opened with the world premiere of his Megaris, a seascape for orchestra and wordless chorus calling up a siren's last lament, while his recent Brahms-Fantasie is travelling internationally.
<DIR=LTR align="left">Detlev Glanert launched his composer focus in Stuttgart with the world premiere in December of Megaris for orchestra and wordless chorus. Commissioned by SWR to celebrate the 70th anniversary of the Stuttgart Radio Symphony Orchestra, the new score was conducted by Stephane Denève with the SWR Vokalensemble joining the orchestra.

The 20-minute work bears the subtitle Seascape with Siren's Last Lament and Glanert's writing for the chorus follows a tradition from Debussy and Ravel, reaching beyond words to summon an other-worldly song. Myths relate how Odysseus betrayed Parthenope so she cast herself into the sea and drowned. Currents carried her body away from the siren's rock Anthemoessa to be washed ashore on the island of Megaris, off the coast of what we know today as Naples, previously named Parthenope in her honour.

"The colourful seascape was received by the audience with enthusiasm. Once again, Glanert revealed his skills as a composer in deathly-subtle sounds which congenially portray the fate of the sirens, who are outwitted by Odysseus and must therefore perish… with yearningly descriptive shades of nuance the performers demonstrated with audible virtuosity how dying can be beautifully illustrated in music."
Stuttgarter Nachrichten

Further Glanert performances in Stuttgart conducted by Denève this season include Shoreless River last month, Four Preludes and Serious Songs in April and Frenesia in June, which also receives its UK premiere in February from the BBC Symphony Orchestra under Markus Stenz.

Following his intriguing extrapolation of Brahms in the Serious Songs, Glanert has demonstrated his fascination with the composer further in his Brahms-Fantasie, which has been travelling widely with performances conducted by Semyon Bychkov, Donald Runnicles and Edward Gardner.

"Subtitled "heliogravure for orchestra", the fantasy is a tightly packed 12-minute tribute, which is fuelled more by allusions to Brahms than by direct quotations… the integration of what is borrowed from Brahms with what is Glanert's own creative property seems natural and seamless."
The Guardian

"Heliogravure was an early form of photography, where an etched plate was touched up with paint or ink... It movingly evoked Brahms's central place in the great Germanic tradition, which extended after him as well as before. And though Brahms's own music was hard to glimpse, the subtly dark clarinet-and-bassoon colours made sure his presence was always felt. When Brahms's First Symphony came along after the interval, it felt as if something previously seen at dusk was now in full daylight."
Daily Telegraph

Glanert continues his ten-year residency with the Royal Concertgebouw Orchestra and is currently composing a Bosch Requiem for soloists, choir and orchestra. The commission celebrates the 500th anniversary of Hieronymus Bosch and the premiere is appropriately in the artist's native city of 's-Hertogenbosch on All Souls Day, 4 November, with the RCO, Netherlands Radio Choir and Markus Stenz.
> Further information on Work: Megaris
Photo: Bettina Stoess

Boosey & Hawkes Composer News