Detlev Glanert's Oceane premiered in Berlin
(May 2019)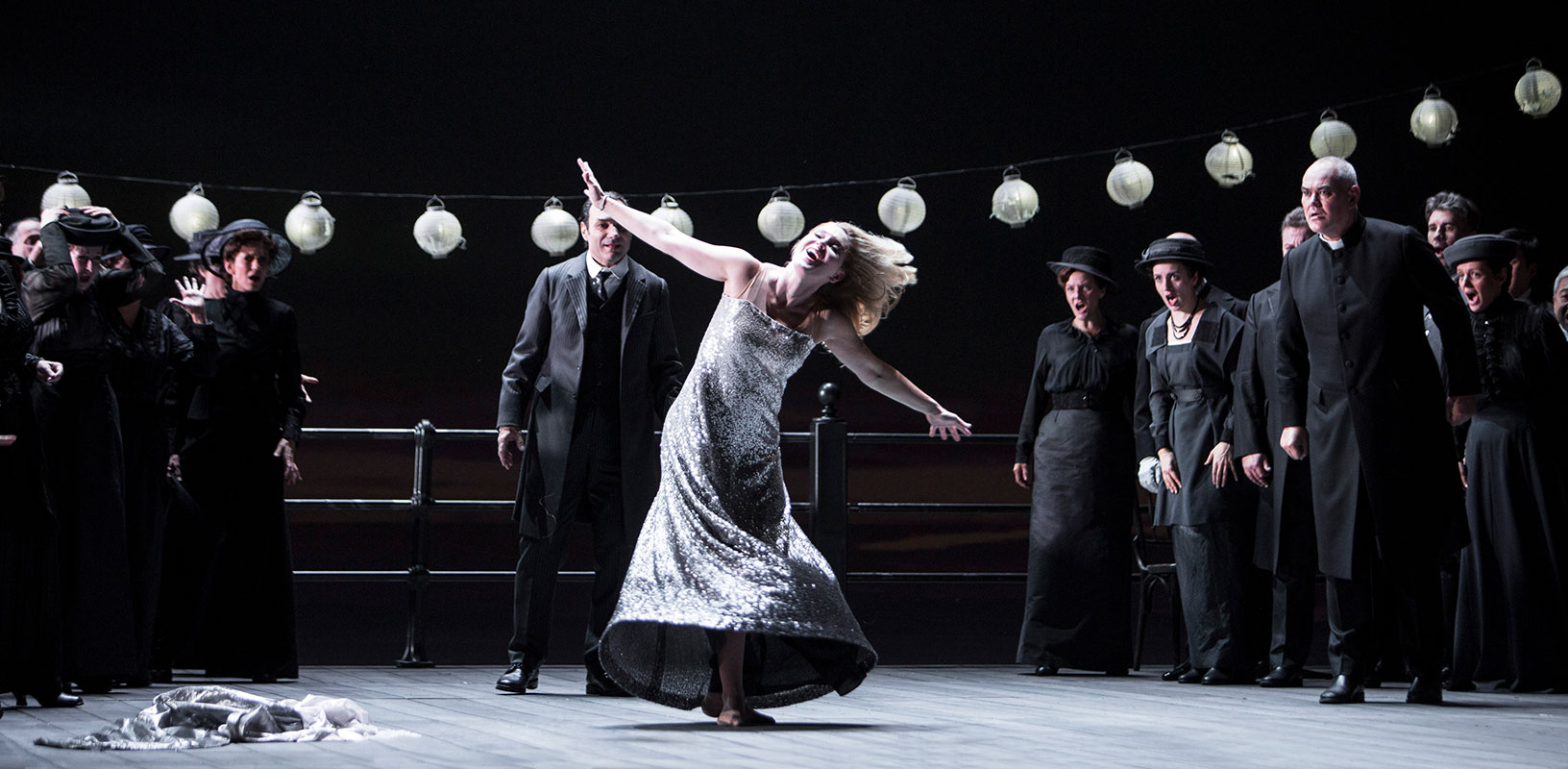 Oceane, a mysterious woman from the sea, is the central character and disruptive force in the new opera by Detlev Glanert, which enjoyed a triumphant stage premiere at the Deutsche Oper in Berlin.
Detlev Glanert's new opera, Oceane, was premiered to public and critical acclaim at the Deutsche Oper in Berlin in April, in a production by Robert Carsen conducted by Donald Runnicles. Drawing upon novella fragments by Theodor Fontane, whose bicentenary is celebrated this year, the libretto by Hans-Ulrich Treichel tells of a mysterious woman from the sea, whose appearance at a fading beach resort disrupts bourgeois social conventions.
The dark, brooding sea is omnipresent in Carsen's staging, providing a backdrop to the Baltic summer holiday setting and mirroring the psychological disjunction between Oceane and the other guests. Der Tagespiegel praised the opera's "magically atmospheric" music, "precisely composed" and described how "Glanert and Treichel received the enthusiastic cheers of the audience. Here are two who may feel that they have just produced one of the most successful new operas of recent times."
"A great beginning, at first only the textless singing of a woman, the voice of the sea… something unspeakable, enticing, intense… a siren call that promises salvation in destruction… And so the opera will also end."
Frankfurter Allgemeine Zeitung
"Glanert knows how to set maritime themes to music: water is his element, so to speak, and here he plays to his strengths... At last a world premiere which will surely be replayed soon."
Bavarian Radio Klassik
"…well-crafted vocal lines, superb orchestration, clear dramatic shape and descriptive sound-painting… It looks and sounds gorgeous."
Financial Times
"Glanert's music transports the darkness into something profoundly human."
Die Deutsche Buhne
"The role of Oceane was written by Glanert for Maria Bengtsson, who is able to express the peculiarity of this character – condemned to silence due to social barriers – in a vocally and dramatically moving way... At its opening night Oceane was emphatically celebrated as a completely successful new opera."
Neue Musikzeitung
"Glanert is adept at both creating and sustaining arresting sonic effects—a wailing offstage heroine buffeted by a clarinet; the fusion of the wordless chorus and orchestra; the lapping and bubbling of the ocean, evoked by jagged passages; the tranquil surface and fathomless depths, suggested with nods to the musical seascapes of Britten and Debussy."
Opera News
This summer brings the world premiere of Glanert's new trumpet concerto at the Tanglewood Festival on 8 July, featuring soloist Thomas Rolfs and dedicated to the memory of Oliver Knussen. This year has seen Semyon Bychkov conducting Glanert's music internationally, with Weites Land performed by the Czech Philharmonic, Cleveland Orchestra and Royal Concertgebouw Orchestra. The BBC presents a Total Immersion day exploring the composer's music at the Barbican on 7 December, including the UK premiere of his Requiem for Hieronymus Bosch, conducted by Bychkov.
> Further information on Work: Oceane
Photo: Deutsche Oper Berlin/Bernd Uhlig

Boosey & Hawkes Composer News