Donghoon Shin: Konzertpremieren im April/Mai
(April 2023)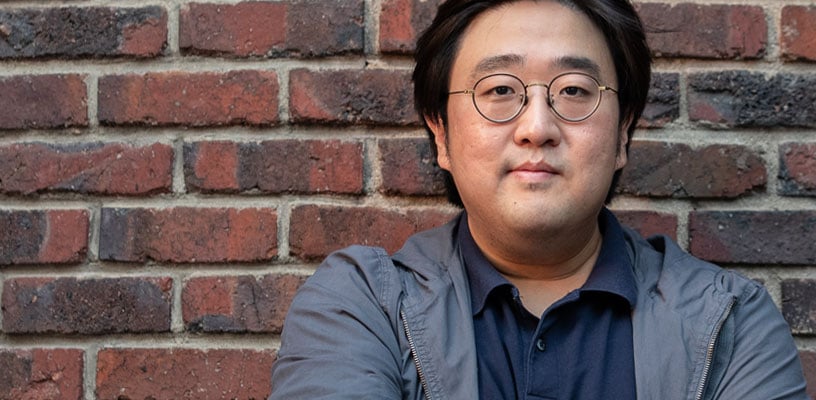 Vor einem Jahr konnten wir ihn als Komponisten im Verlag von Boosey & Hawkes begrüßen. Im April 2023 präsentiert sich der 1983 in Südkorea geborene Donghoon Shin dem internationalen Publikum mit mehreren neuen Werken.
Am 7. und 8. April wird Upon His Ghostly Solitude vom Los Angeles Philharmonic uraufgeführt, entstanden im Auftrag des Klangkörpers zusammen mit dem Seoul Philharmonic Orchestra und den Bamberger Symphonikern. Die Uraufführung dirigiert Osmo Vänskä, seit längerem ein Förderer von Shins Musik. Angeregt ist das ca. 17-minütige Orchesterwerk von W. B. Yeats' "Nineteen Hundred and Nineteen" – einer Meditation über die zyklische Natur der Geschichte.
Shin begegnete dem vollständigem Gedicht in London zu Beginn der Corona-Pandemie: "Bei der Lektüre war ich ziemlich schockiert, dass die verkrüppelte Welt, die Verzweiflung und der Schrecken, die Yeats 1919 beschrieb, genau mit der Welt und der Zeit übereinstimmen, in der wir heute leben. Der Titel meines Stücks ist ein Zitat aus dem ersten Abschnitt. Es gab mir die Inspiration ein, überwältigend stark und lebendig, ein Orchesterstück zu schreiben, das kontinuierlich kontrastierende Atmosphären durchquert – vom Wahnsinn der Gewalt und Raserei bis hin zu einer äußerst romantischen, nahezu naiven Poesie." So der Komponist, der in Yeats' Dichtung auch Ähnlichkeiten zur Musik Alban Bergs entdeckte, konkret zu dessen Drei Orchesterstücken, die etwa zur gleichen Zeit (1915) entstanden. "Als Hommage an Berg und an Mahler habe ich für den zweiten und den letzten Satz Walzer- und Marschmusik komponiert ... Mein Stück ist ein Liebesbrief an Yeats und Berg, die in der verwundeten Welt litten, aber versuchten ihre Stimme und ihre Ideen zu bewahren, auch wenn alles 'auseinanderfällt und die Mitte nichts mehr zusammenhält' (falls apart, and the centre cannot hold)."
Die deutsche Erstaufführung, gleichfalls dirigiert von Osmo Vänskä, findet Anfang Mai bei den Bamberger Symphonikern statt. Am 21. und 22. Dezember werden Jaap van Zweden und das Seoul Philharmonic Orchestra das Werk erstmalig in Asien aufführen.
Als Asien-Premiere erklingt beim Tongyeong International Music Festival am 5. April 2023 Donghoon Shins Double Act, ein Doppelkonzert für Shen, Akkordeon und Orchester. Interpreten sind Wu Wei, Pascal Contet und das Busan Philharmonic Orchestra unter Soo-Yeoul Choi. Das Werk verdankt sich einem Auftrag mehrerer internationaler Institutionen und wurde im November 2022 von den Bochumer Symphonikern unter Tung-Chieh Chuang aus der Taufe gehoben. Inspiriert wurde es vom Manzai, einer altjapanischen Entsprechung der Stand-Up-Comedy für zwei Protagonisten. "Ironie und Humor prägten Shins Werk", beschrieb die Westdeutsche Allgemeine Zeitung den Eindruck der Uraufführung, "Passagen freier Tonalität standen dabei in Kontrast zu melodiösen, tänzerischen Elementen".
Das diesjährige Festivalprogramm in Tongyeong wird von Unsuk Chin verantwortet. Residenz-Komponist ist Ondrej Adámek, und aus dem Verlag von Boosey & Hawkes erklingen unter anderem weitere Werke von Chin, von Michel van der Aa sowie Isang Yun.
> timf.org
 
> Further information on Performance: Upon His Ghostly Solitude
> Further information on Work: Double Act
Foto: Donghoon Shin (© Lee Tae Kyung, the Chosunilbo)

Boosey & Hawkes Composer News