Doreen Rao honoured with Robert Shaw Choral Award
(March 2019)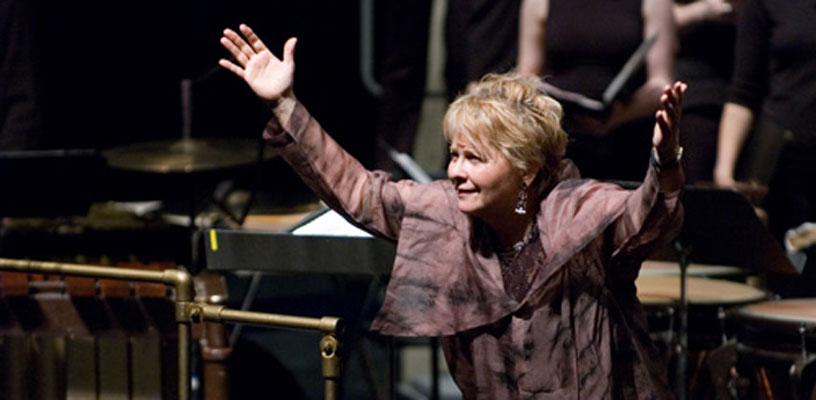 Doreen Rao, Founder and Editor Emeritus of the Boosey & Hawkes series Choral Music Experience, has been awarded the 2019 Robert Shaw Choral Award
Doreen Rao is recipient of the 2019 Robert Shaw Choral Award, American Choral Directors Association's lifetime achievement award, which recognizes extraordinary contributions to the art of choral music. Rao received the award on 1 March at the Robert Shaw Reception as part of the ACDA 2019 national conference in Kansas City. The conference also saw Rao honoured by Boosey & Hawkes with a plaque celebrating her 30 years collaboration on the award-winning Choral Music Experience series.
Drawing on her performance experience, teaching expertise, and research efforts Doreen Rao's Choral Music Experience concept of music performance as music education served as the theoretical foundation of her influential publications including her choral textbooks and her extensive choral music series which she advised and edited for Boosey & Hawkes from 1987 until 2018. Doreen Rao also founded the CME Institute for Choral Teacher Education, an international professional development and research center for teachers, conductors, scholars, and composers.
Dedicated to the intersections of choral artistry and music education, Doreen Rao's career as conductor, choral teacher, university professor, symphonic chorus master, and author spans decades of enduring leadership. Her seminal work teaching children to sing spearheaded the profoundly important children's chorus movement in America. In a 1988 tribute to her by ACDA, the eminent conductor Robert Shaw wrote, "The world of choral music owes her special thanks. She is preparing our future."
Upon learning of the Robert Shaw Choral Award, Rao reflected, "In the footsteps of my beloved university teachers Harold Decker and Colleen Kirk, and in the spirit of my brilliant mentors Margaret Hillis and Robert Shaw, I realize now more than ever before the essential value of musical lineage."
During her pioneering career Rao founded and chaired the ACDA National Committee for Children's Choirs; she organized the inaugural ACDA National Honors Choir; she established and edited Choral Journal's first focus issue; and she served as the first subject of ACDA's video publication, On Location with Doreen Rao and The Glen Ellyn Children's Chorus. In 1986 Rao created Boosey & Hawkes' award-winning choral series featuring a new generation of American and Canadian composers writing for young choirs.
During Rao's long association with the Chicago Symphony Orchestra and Chorus, she prepared the Glen Ellyn Children's Chorus for concerts and recorded performances, winning four Grammy Awards and a Grand Prix du Disque with Sir George Solti, Margaret Hillis, Claudio Abbado, and James Levine. During Rao's twenty-two year tenure as Director of Choral Programs at the University of Toronto, she regularly conducted the University Symphony Orchestra in a wide range of choral masterworks. She founded the award-winning MacMillan Singers and collaborated regularly with the Toronto Symphony Orchestra. Rao holds the Elmer Iseler Chair in Conducting and is Professor Emeritus at the University of Toronto.
Rao is a member of the Zen Peacemakers Order and the author of Circle of Sound Voice Education, a book that serves as the philosophical and practical foundation for her mindfulness approach to conducting and choral teaching. In 2012, she returned home to Chicago where she continues to conduct, write and mentor young artists in hopes of becoming what Carl Jung called "meaningfully useless."
Links:
ACDA
Choral Music Experience
Doreen Rao website

Boosey & Hawkes Composer News