Elena Kats-Chernin im Fokus
(October 2022)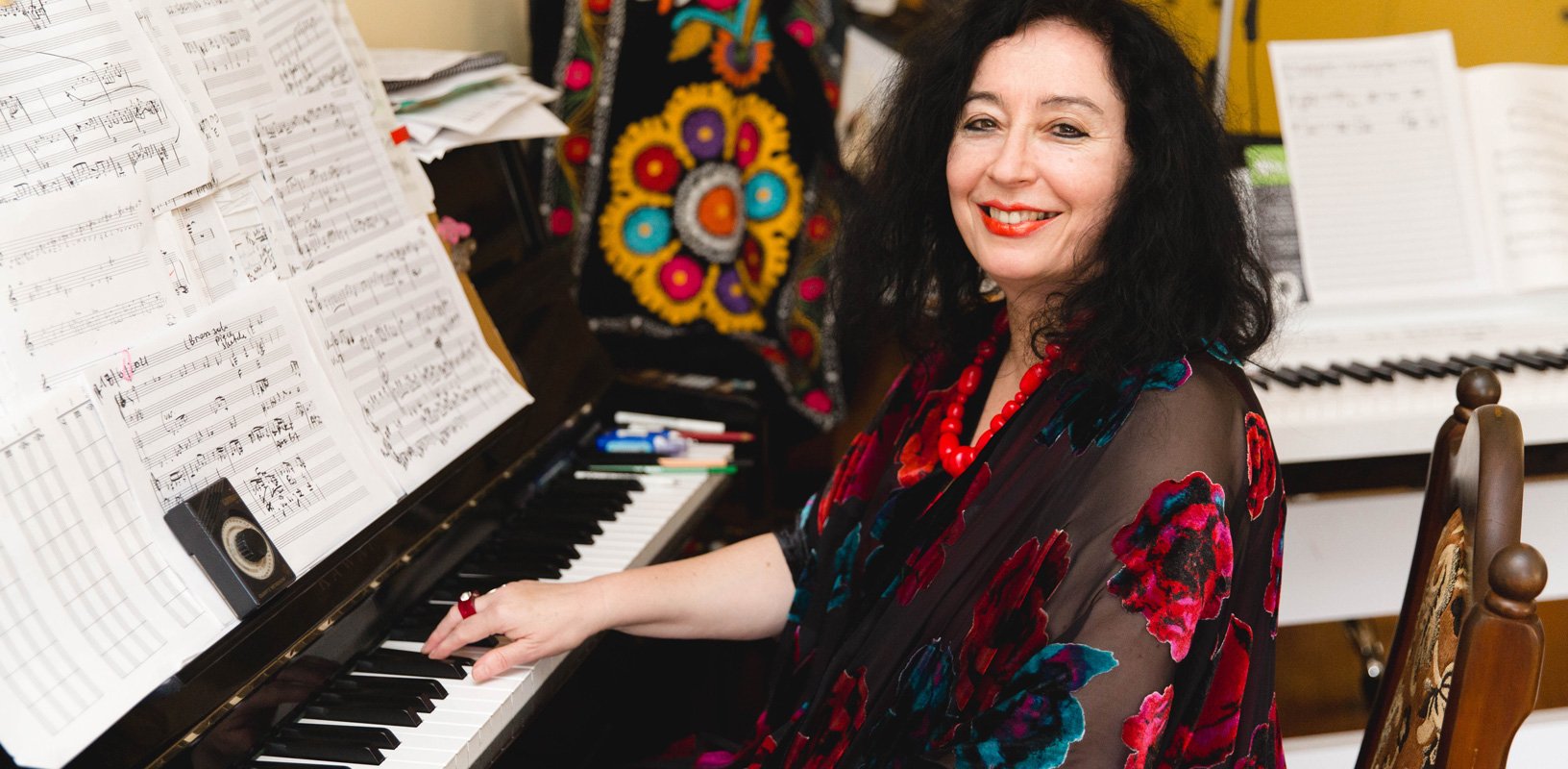 Mit ihren keine Epochengrenzen kennenden Kompositionen zählt Elena Kats-Chernin zu den einflussreichsten Künstlerinnen der Gegenwart. Am 4. November feiert die kosmopolitische Australierin mit usbekischen Wurzeln ihren 65. Geburtstag und prägt in der aktuellen Saison als Composer in Residence das Programm des Göttinger Symphonieorchesters.
Am liebsten komponiere sie für Kinder, hat die australische Komponistin Elena Kats-Chernin einmal gesagt. Für sie sei dies eine schöne Welt, eine unschuldige, fröhliche, reine, die einfach glücklich mache. Und wer ihre Werke hört, der wird schnell von Kats-Chernins unbefangener Herangehensweise an die Musik in den Bann gezogen. Mit ihrem einzigartigen Personalstil hat sich die in Usbekistan geborene, seit Jahrzehnten in Australien lebende Musikerin einen festen Platz auf Podien und in Konzertsälen rund um den Globus erobert. Dabei bewegt sie sich in ihren Werken ganz natürlich zwischen großen Bühnenwerken und intimer Kammermusik, verwebt völlig unbeeindruckt von Genrezuordnungen oder vermeintlichen Stilgrenzen Folklore mit Kunstmusik. Grund genug für das Göttinger Symphonieorchester, Kats-Chernin in der gerade begonnenen Spielzeit ein umfängliches Porträt zu widmen.
Nicht weniger als sieben Orchesterwerke präsentiert das Ensemble aus Göttingen in den kommenden Monaten: Den Auftakt machten die deutsche Erstaufführung der musikalischen Miniatur Moon Feather Magic und das Werk Zoom and Zip für Streicher. In letzterem spürt Kats-Chernin laut eigener Aussage ihren slawischen Wurzeln nach, indem sie sich bei harmonischen und melodischen Wendungen bedient, die sie als Reminiszenzen an ihre Kindheit in Russland ins Heute befördert. Mit Dance of the Paper Umbrellas und Mythic stehen im November und Januar zwei Kompositionen auf dem Programm, die die musikalischen Pole in Kats-Chernins Schaffen exemplarisch aufzeigen: Helle Klangfarben, spielerische, von der Minimal Music geprägte Motivpartikel und eine kleine Besetzung einerseits stehen orchestraler Klangfülle und großen Linien gegenüber.
29.01.2023 | Göttingen
Elena Kats-Chernin: Mythic (Deutsche Erstaufführung)
Göttinger Symphonieorchester
Nicholas Milton, Leitung
Beschlossen wird die Werkschau in Göttingen von drei weiteren Erstaufführungen in Deutschland, die allesamt in Verbindung zu bekannten Komponisten stehen: Mit From Anna Magdalena's Notebook erklingt Kats-Chernins ursprünglich für Streichquartett komponierte Reverenz an Johann Sebastian Bach in der Orchesterfassung. In Re-Collecting ASTORoids, ursprünglich als Auftragswerk des Melbourne Symphony Orchestra entstanden, wandelt sie auf den Spuren Astor Piazzollas und für Big Rhap ließ sich die Komponistin von Franz Liszts Ungarischer Rhapsody Nr. 2 und eigenen Kindheitserinnerungen inspirieren, in welchen ihre Mutter dieses Werk auf dem Klavier spielte.
30.04.2023 | Göttingen
Elena Kats-Chernin: Re-Collecting ASTORoids (Deutsche Erstaufführung)
Göttinger Symphonieorchester
Nicholas Milton, Leitung
Auch außerhalb Göttingens erhält die Musik von Elena Kats-Chernin in der Saison 2022/23 immer wieder eine Bühne: Erst kürzlich wurde das neue Werk Times of Rain and Sun in München durch die Geigerin Viktoria Elisabeth Kaunzner und ihr Ensemble uraufgeführt. Im Januar wird Ancient Letters, Kats-Chernins Hommage an ihr Geburtsland Usbekistan, seine deutsche Erstaufführung in Magdeburg erleben, während Ornamental Air in Koblenz zum ersten Mal in Deutschland zu hören sein wird und die Bassettklarinette (Solist: Michael Collins) eindrucksvoll in den Fokus stellt. Und gleich vier Mal standen und stehen Uraufführungen auf der anderen Seite des Globus auf dem Programm: In Sydney erklang zuletzt die Premiere von Momentum, in Perth von Ave Maria. Im November wird das neue Klavierkonzert Force Majeure von Lisa Moore und Sydney Symphony Orchestra aus der Taufe gehoben, und in Adelaide steht im kommenden April ein neues Violinkonzert auf dem Programm, in dem Kats-Chernin sicherlich in gewohnter Weise zum unbefangenen Entdecken musikalischer Welten einladen wird.
26.01.2023 | Magdeburg
Elena Kats-Chernin: Ancient Letters. Konzert für verstärktes Cembalo und Orchester (Deutsche Erstaufführung)
Olga Watts, Cembalo
Magdeburgische Philharmonie
Anna Skryleva, Leitung
> Further information on Work: Ancient Letters
Foto: Elena Kats-Chernin (© Vicki Lauren)

Boosey & Hawkes Composer News