Enrico Chapela: reviews of Radioaxial premiere
(May 2018)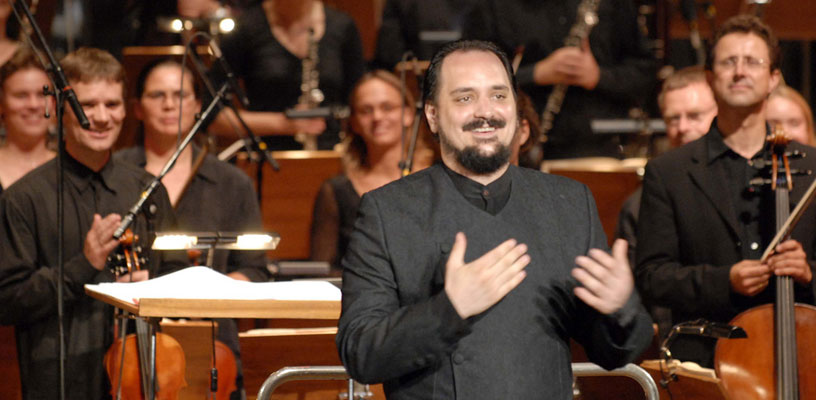 Musical symmetry plays its part in Enrico Chapela's new orchestral concert opener Radioaxial, premiered in Cincinnati in April.
Mexican composer Enrico Chapela has long held a fascination with scientific and mathematical concepts, incorporating them as a source of expression in his music. His latest orchestral concert opener, Radioaxial, was commissioned by the Cincinnati Symphony Orchestra in celebration of its newly renovated concert hall and was premiered under the baton of James Gaffigan in April.

The composer describes how "in music we find two different types of symmetry. The first one is called radial symmetry, and it's found in scales that when rotated over their radius end up matching themselves without completing an entire revolution. The second type is called axial symmetry, and it's found in scales that have an axis that divides them in two identical halves. Radioaxial was composed using both radial and axial symmetric scales and chords."

"The evening opened with the premiere of Chapela's 10-minute Radioaxial, which was accessible and colourful, calling for large orchestra and a battery of percussion… Its hallmarks included thumping rhythms, chromatic themes and heavy repeating motives, especially in the tuba and trombones… The audience gave it an enthusiastic reception."
Cincinnati Business Journal

"Chapela's work alternates moments of aural density with occasional pockets of streamlined lyricism. The string players are at times asked to provide percussive sounds, and the percussion players respond with the xylophone and glockenspiel in passages of ethereal sweetness and clarity... Chapela's intriguingly inventive composition demands attention, and received an enthusiastic ovation..."
Seen and Heard

Other recent Chapela orchestral works on scientific themes include Antikythera, premiered in 2016 by the Orquesta Filarmónica Boca del Río. The title refers to the 2000-year-old mechanical device designed to calculate the position of the stars and planets found near the Greek island of Antikythera, now regarded as an early analog computer. Lunática, premiered the same year by the Orquesta Filarmónica de la UNAM in Mexico City, is based on the 184 moons of our solar system, whose spectral data can predict the chemical conditions for organic life.

In complete contrast is Chapela's mini-concerto for two clarinets and orchestra, Espresso Doppio, premiered by the Cottbus Philhamonic Orchestra earlier this year. This is the coffee that starts the composer's day, providing an energising kick - short and intense. The first performance featured Alexander and Daniel Gurfinkel, who coupled the Chapela with Bruch's Double Concerto.
> Further information on Work: Radioaxial
Photo: Frank Hohler

Boosey & Hawkes Composer News