Eric Whitacre: The Sacred Veil recording released
(August 2020)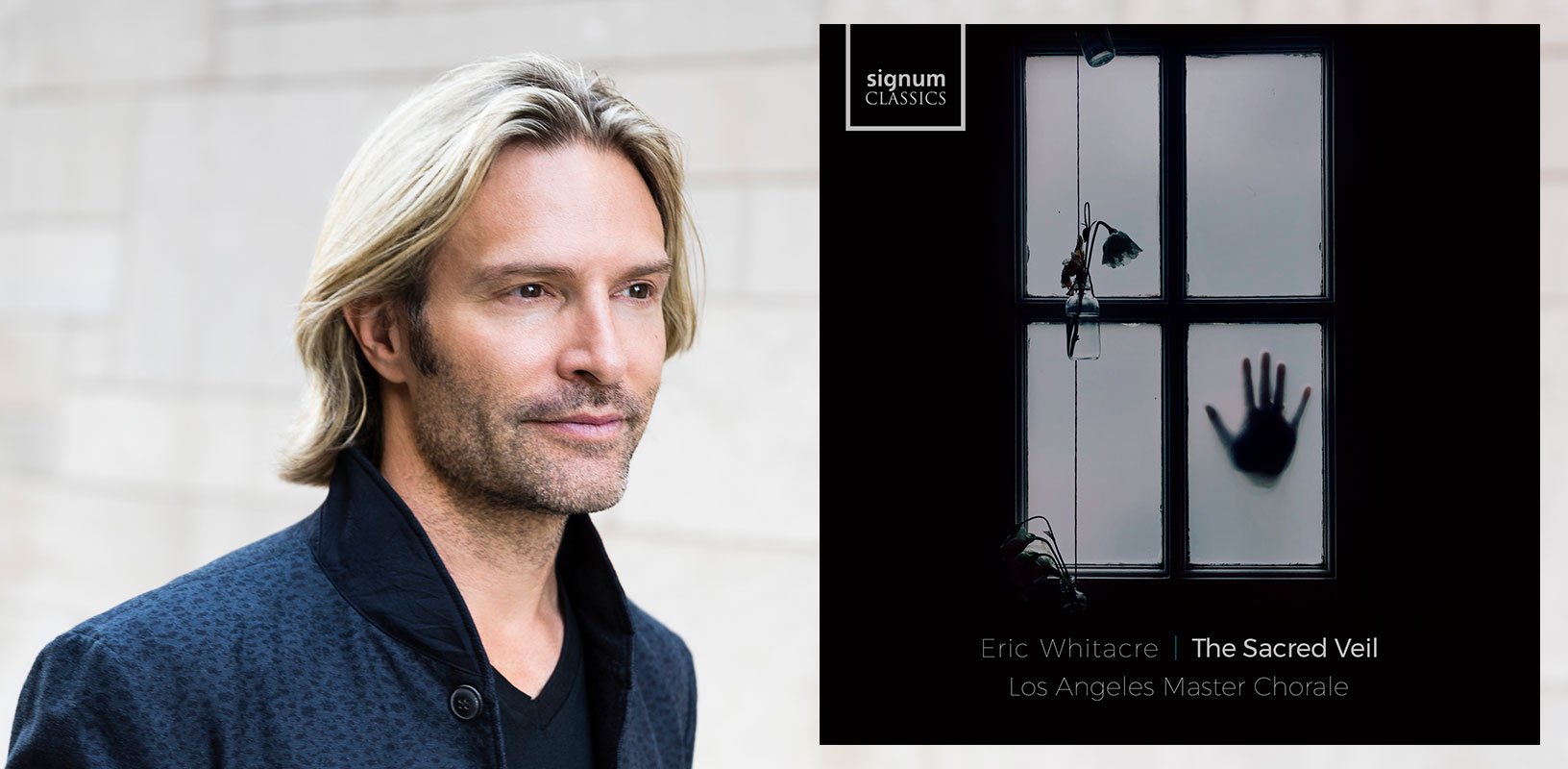 The premiere recording of Eric Whitacre's The Sacred Veil, setting texts on love, life and death by Charles Anthony Silvestri, is released this month on Signum Classics. Performed as at its premiere by the Los Angeles Master Chorale, the 53-minute score is Whitacre's largest-scale work to date.
Signum Classics releases on 28 August the premiere recording of Eric Whitacre's The Sacred Veil, at once the composer's largest-scale and most intimate work to date. Setting texts by Charles Anthony Silvestri, his close friend and frequent collaborator, the score explores themes of love, life and death. Written for choir, cello and piano, the 12-movement work received its premiere in February 2019 at the Walt Disney Concert Hall with the Los Angeles Master Chorale, as heard on the new recording, joined by cellist Jeffrey Zeigler and pianist Lisa Edward, conducted by the composer (SIGCD630).
"Whitacre and the Master Chorale memorably celebrate the precarious beauty of life, offering the welcome consolation of art and a momentary stay against our collective fate."
Los Angeles Times
The Sacred Veil received its European premiere at St John's Smith Square in London last autumn with the Eric Whitacre Singers, when it was described by The Times as "music of incredible, searing intensity". Further planned performances in Amsterdam and Melbourne, cancelled this spring due to the COVID pandemic, are to be rescheduled by co-commissioners the NTR Zaterdag Matinee series and the Monash Academy of Performing Arts.
> Listen to the new recording and pre-order
> Buy the recording from Signum Classics
Four years ago, after a visit from his closest friend and longtime collaborator - lyricist, poet and historian Charles Anthony Silvestri (Tony) - composer Eric Whitacre found a poem that Tony had left for him sitting on his piano. Tony had lost his wife to cancer 12 years previously, losing his soulmate and leaving him to bring up their two young children. He hadn't felt able to talk about her loss but encouraged by Eric, he started to share his experience through poetry. Evolving into one of Eric Whitacre's most significant and longest works to date, the resulting piece is based on Tony's lyrics, words written by his late wife Julie (Julia Lawrence Silvestri) and poetry written by Whitacre himself, addressing all stages of love, life and death, The Sacred Veil.
"On reading the poem I immediately realized that this could be the foundation of a much larger work," recalls Eric Whitacre. "Tony and I spent many hours talking through a structure for this new piece we called The Sacred Veil and how we could use choral music to explore the journey of a soul across the threshold between finitude and eternity into and, ultimately, out of this life."
"This is by far the most difficult, most personal, and most rewarding set of poems I have ever attempted," says Charles Anthony Silvestri. "I learned so much about myself through the long grief process, and the healing this work has brought is powerful. I hope it becomes a canvas onto which others might paint their own journeys."
Described by several of the performers and audience alike as "Eric's Requiem" The Sacred Veil represents a journey towards the answer for many questions, including whether departed loved ones are truly gone, and how can we mourn those we have lost whilst still moving forward? The Signum recording includes an interview where Eric Whitacre and Charles Anthony Silvestri explore these themes.
Eric Whitacre: Grammy award-winning composer and conductor Eric Whitacre is one of today's most popular and performed musicians. His works are programmed worldwide, while his ground-breaking Virtual Choirs have united singers from 129 countries. A graduate of the prestigious Juilliard School of Music, Eric served two terms as Artist in Residence with the Los Angeles Master Chorale concluding in 2020, following five years as Composer in Residence at the University of Cambridge, UK. His compositions have been widely recorded and his debut album as a conductor on Universal, Light and Gold, went straight to the top of the charts and earned them a Grammy.
A popular guest conductor and communicator, he has drawn capacity audiences to concerts with leading orchestras and professional choirs around the globe. Insatiably curious and a lover of all types of music, he has enjoyed collaborations with legendary Hollywood composer Hans Zimmer and British pop icons Laura Mvula, Imogen Heap and Annie Lennox among others. Eric's orchestral work Deep Field became the foundation for a pioneering audio-visual collaboration between NASA, the Space Telescope Science Institute, Music Productions and film-makers 59 Productions. A charismatic speaker, Eric has given keynote addresses for many Fortune 500 companies and global institutions, from Apple, TED.com mainstage and Google to the World Economic Forum in Davos and the United Nations Speaker's Program.
Charles Anthony Silvestri: Poet, author, composer, and speaker Charles Anthony Silvestri has worked with other artists from all over the world to create texts tailor-made for their commissions and specific artistic needs. He enjoys the challenge of solving these creative problems and has provided custom choral texts, opera libretti, program notes and other writing for composers including Eric Whitacre, Ola Gjeilo, Kim André Arnesen, and Dan Forrest, and for ensembles ranging from high schools to the Houston Grand Opera, from the King's Singers to the San Francisco Gay Men's Chorus, from Westminster Choir College to Westminster Abbey.
As a clinician, Silvestri speaks to choirs, classes, and concert audiences about his works, the creative process, the marriage of words and music, and about his collaborative relationships with composers. He is the author of three books, including A Silver Thread (GIA 2019), a retrospective of almost 20 years of his lyric poetry. He teaches Ancient and Medieval History at Washburn University and lives in Lawrence, KS.
> Buy Eric Whitacre's music from our Online Shop
> Further information on Work: The Sacred Veil
Photo: Marc Royce

Boosey & Hawkes Composer News