Eric Whitacre: The Sacred Veil travels to Europe
(September 2019)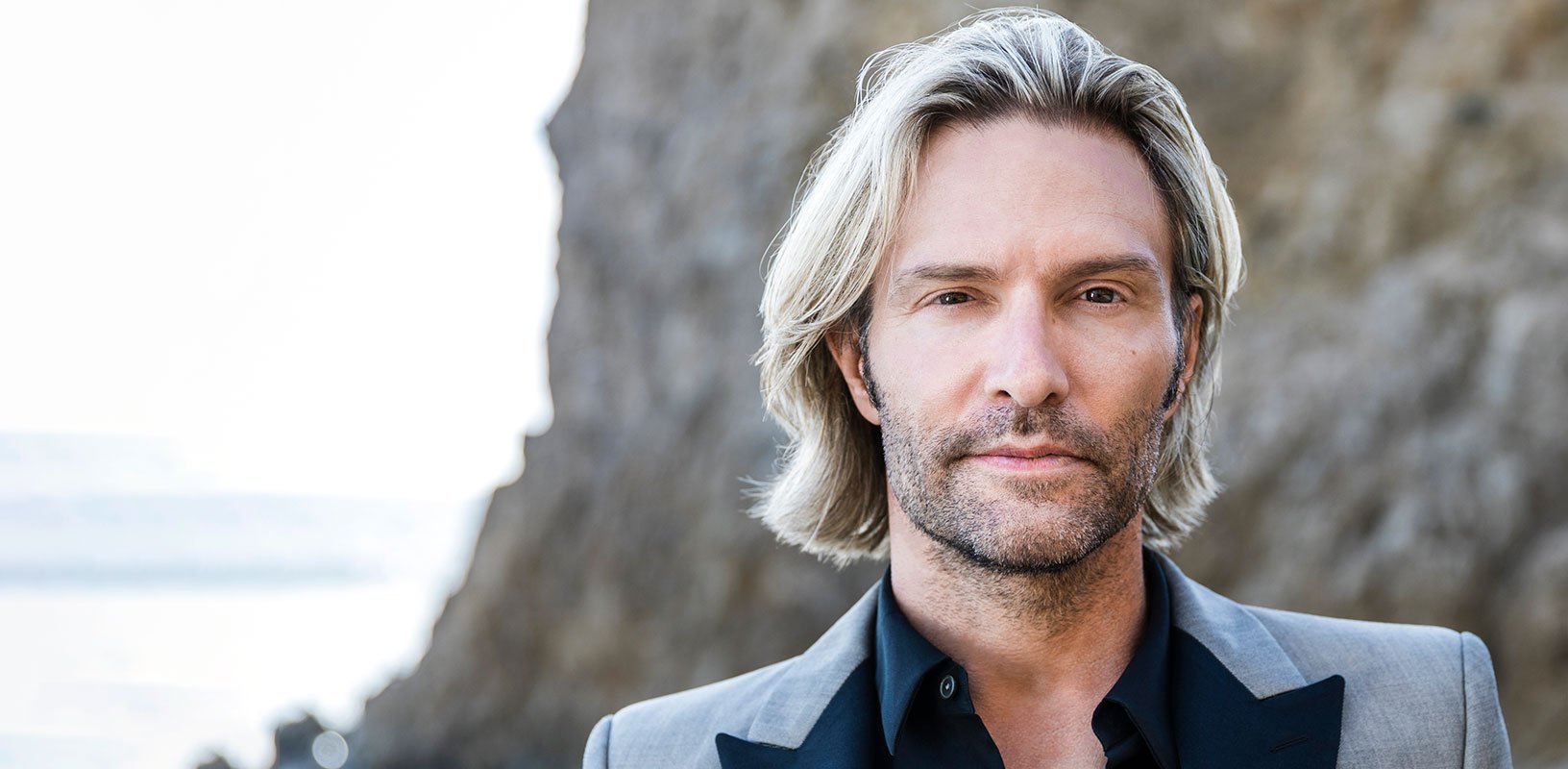 Eric Whitacre introduces his new large-scale choral work The Sacred Veil, receiving first European performances in London and Amsterdam this season.
What led you to create a work based on the themes of love, loss, grief and solace?
I have worked with the historian, poet, artist and my good friend Charles Anthony Silvestri (Tony) many times, but this is our largest project to date and our most sensitive and intimate. Tragically, Tony's wife Julie died of ovarian cancer. Julie, Tony and their two beautiful young children had to cope with her illness, her passing and the unbelievably challenging years that followed. Some ten years after her death, Tony was staying with me in California and he left a poem on my piano. He had finally been able to speak about his grief in the best way he knows how, through poetry. That poem, 'The Veil Opens', is the first of twelve movements that deal with their life, love and loss. The piece is undeniably personal, but Julie is unnamed in the text as the story is universal.
Unusually, you crafted the text in tandem with poet Charles Anthony Silvestri. How did this collaboration work?
We have tried just about every possible combination of working together you could imagine. We've worked side by side like a song-writing team and have even tried exchanging roles, with Tony writing the music to one of my poems! The stakes were especially high with this piece. Normally I like to memorise a poem that I'm setting so that I can live with it for a time before composing, but this time I was moved to start writing almost the second I saw it. The music was there in Tony's text. We started to talk about the ribbon of energy between the world of the living and those who have passed beyond, and how very thin that ribbon or veil becomes at moments of birth and death. This text for The Sacred Veil is more collaborative than any other we've worked on before: Tony created poetry, I wrote some of the material and we even included some of Julie's blogs, taking her powerful posts word for word.
How did you build, order and vary the 12-movement work?
The opening movement, 'The Veil Opens', is structurally germinal for the entire work. The poem has thirteen lines within it that are the seeds for each movement that follows, either rhythmically, melodically or mystically. Some of the movements came more easily than others. 'Home' is the moment that describes the start of their relationship when Tony and Julie were at the beach having a picnic and Tony looked at her and said, "you feel like home". So beautiful and, when I heard him say it, I knew that just the word 'Home' said it all. 'You Rise, I Fall' paints the moment of Julie's passing in such an honest and raw way. I have to admire Tony's strength throughout this process.
I had imagined having a soloist, percussion and other instrumentalists with the scale of the work being much larger but, as I wrote, I realised that the work was becoming so intimate that the forces and sound-world needed to reflect that, and it's scored for just chorus, piano and cello.
Did the subject matter and the work's scale lead you to explore new areas of expression?
Absolutely, but it's hard to define how. The Sacred Veil is a story for us all – everyone has a place of pain that we can hardly bear to touch. It's our hope that through the piece we help people to go to that place, face it, cope with it and support them in coming to terms with it. So many examples of music that help us deal with grieving involve singing, from hymns through to the great Requiems. It can create the common sense of sharing the experience and opening ourselves up to these feelings. If The Sacred Veil helps just a little we would be humbled.
When you compose, do you have an idealised choir in mind?
I have had the honor of being Swan Family Artist in Residence with the Los Angeles Master Chorale over the last few years, and the LAMC not only became the lead commissioners of the piece, but also gave the premiere in Walt Disney Concert Hall in February of this year. I have performances in London with my own choir in October, record with LAMC in Los Angeles in January, and am also conducting it with the Netherlands Radio Choir and at Monash University in Melbourne next year. It's almost inevitable that I have the choirs and performers in mind when I write, and there's no doubt that The Sacred Veil is written for talented, sensitive singers and ensembles. Other pieces I've written have been deliberately crafted to be performed by choirs of all ages and abilities but The Sacred Veil – perhaps a little like The City and the Sea or When David Heard – needs a little more experience and skill. The subject matter is very demanding too, of course.
What projects do you have coming up?
And now for something completely different. I'm currently 'in the cave', working on a chamber opera based on the story of The Gift of the Magi and a new, sparkling orchestral piece called Bounce for premiere in 2020/21.
Interviewed by David Allenby (2019)
Eric Whitacre
The Sacred Veil (2018) 52'
for SATB chorus, solo cello and piano
Commissioned by Los Angeles Master Chorale, Monash University and NTR ZaterdagMatinee for the Netherlands Radio Choir
25 October 2019 (European premiere)
St John's Smith Square, London
Jeffrey Zeigler, vlc/Christopher Glynn, pft/
Eric Whitacre Singers/Eric Whitacre
28 March 2020 (Dutch premiere)
Concertgebouw, Amsterdam
Netherlands Radio Choir/Eric Whitacre
> Further information on Work: The Sacred Veil
Photo: Marc Royce

Boosey & Hawkes Composer News