Europa-Premiere von John Adams' jüngster Oper in Barcelona
(October 2023)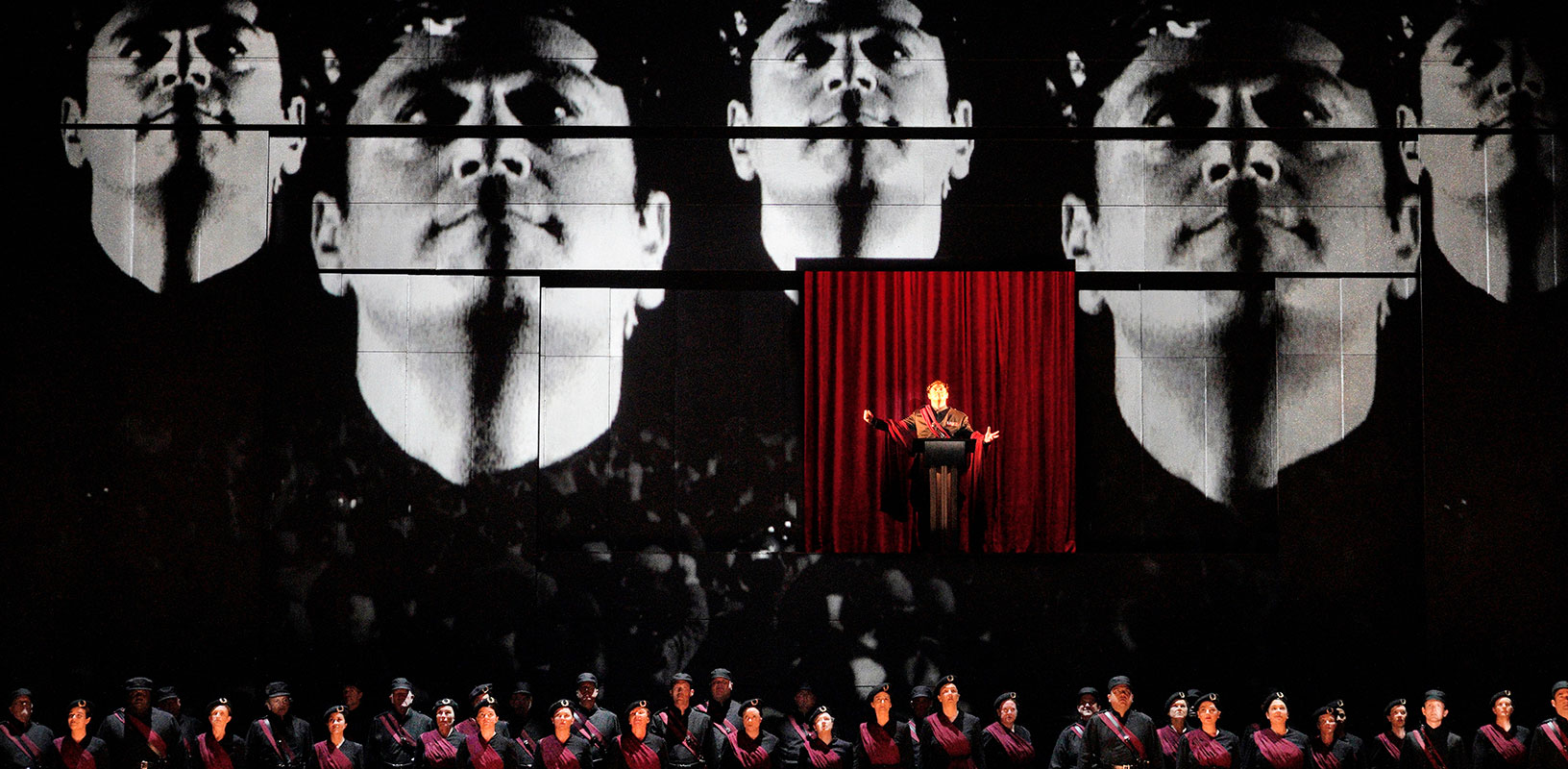 Das Teatre del Liceu in Barcelona präsentiert in diesem Herbst die europäische Erstaufführung von John Adams' Oper Antony and Cleopatra. Sopranistin Julia Bullock übernimmt die Rolle der Kleopatra, und Gerald Finley kehrt als Antonius auf die Bühne zurück in der Uraufführungsinszenierung von Elkhanah Pulitzer, dirigiert vom Komponisten in Person.
Am 28. Oktober hebt sich der Vorhang für die Europa-Premiere von John Adams' jüngster Oper Antony and Cleopatra. Das Teatre del Liceu in Barcelona zeigt sechs Aufführungen unter der musikalischen Leitung des Komponisten in der Uraufführungsinszenierung von Elkhanah Pulitzer vom vergangenen Jahr. Die Titelrollen werden von Gerald Finley und Julia Bullock verkörpert – die ersten Aufführungen mit der vielfach preisgekürten Sopranistin, für die die Rolle komponiert wurde; weiterhin singen Paul Appleby als Octavius Caesar und Elizabeth DeShong als Octavia. Die Oper wurde im September 2023 an der San Francisco Opera unter der Leitung von Musikdirektorin Eun Sun Kim mit großem Erfolg uraufgeführt und wird in einer der nächsten Spielzeiten an der Metropolitan Opera in New York zu sehen sein.
Das englischsprachige Libretto, vom Komponisten selbst auf Grundlage von Shakespeares Tragödie mit ergänzenden Passagen aus Plutarch, Vergil und anderen klassischen Texten eingerichtet, komprimiert das komplexe Drama in zwei dicht gestaltete Akte. In der Inszenierung verwoben Adams und seine Mitstreiterinnen, Regisseurin Elkhanah Pulitzer und Dramaturgin Lucia Scheckner, die mythischen Bilder der Antike mit dem glamourösen Hollywood der 1930er Jahre.
> Besuchen Sie die Website des Liceu
Die Kritiker der Uraufführung in San Francisco lobten die "knackig-dynamische musikalische und theatralische Vision" (San Francisco Chronicle) und das "ständige Brummen der spannungsgeladenen Handlung" (The Telegraph). Bewundert wurde nicht nur Adams' dramatischer Vokalstil, wobei das Wall Street Journal feststellte, dass "der Gesang sorgfältig auf Textverständlichkeit konzipiert ist und jeder der Hauptdarsteller einen ausgeprägten stimmlichen Charakter hat – Kleopatras wogende Verführungskraft, Antonius' Kampf mit sich selbst, Caesars Unerbittlichkeit", sondern auch die orchestrale Meisterschaft des Komponisten, wobei der San Francisco Chronicle beschrieb, dass "Adams' Partitur eine wunderbare Zusammenfassung vom Besten seiner Arbeit aus den letzten mehr als 30 Jahre ist".
"Fein ausgearbeitet, heftig ausdrucksstark ... eine unverwechselbare persönliche Stimme ... Je reicher der Test, desto stärker Adams' kompositorische Reaktion darauf ... Die Kollision mit Shakespeare scheint unvermeidlich gewesen zu sein."
Der New Yorker
"Eine der strahlendsten Partituren im Katalog des Komponisten ... theatralische Erhabenheit vermischt sich mit ausdrucksvoller Intimität in perfekt abgestimmten Proportionen ... Die Musik ist reich, bildhaft und voller kunstvoll ausgearbeiteter Details (unmöglich, Shakespeares berühmte Beschwörung von Kleopatras 'unendlicher Vielfalt' nicht auch dieser Musik zu attribuieren)."
San Francisco Chronicle
"Kaleidoskopisch großartig ... Die Orchestrierung ist einfallsreich und enzyklopädisch, die weit ausgreifende Dramaturgie gut durchdacht, die Textvorlage klar. Die Liebesszenen, in denen Kleopatra Antonius zurück in ihren Bann zieht, haben eine zauberhaft gelassene Heiterkeit. Der Beginn des zweiten Aktes, als sie sich nach dem Desaster der Schlacht bei Actium aussöhnen, wenn die Liebenden erst aneinander vorbeireden und sich dann küssen, hat eine elegante Strawinsky'sche Klarheit. Antonius' Tod ist ein ergreifender, einziger langer Seufzer, der die Welt der martialischen, blechdröhnenden Römer-Passagen wegblendet."
Wall Street Journal
*
Zu den aktuellen Opern-Höhepunkten gehören mehrere internationale Neuproduktionen von Adams' Nixon in China sowie eine konzertante Aufführung von The Death of Klinghoffer in der Amsterdamen Reihe ZaterdagMatinee unter der Leitung des Komponisten. Neben Antony and Cleopatra in Barcelona wird Adams in diesem Herbst in Europa unter anderem mit seinen Opern Doctor Atomic – hochaktuell angesichts des jüngsten Oppenheimer-Films – am Theater Bremen und The Death of Klinghoffer an der Norrlands Opera in Umeå in Schweden präsent sein.
Im kommenden Frühjahr wird sein neues Orchesterwerk Frenzy von Simon Rattle und dem London Symphony Orchestra uraufgeführt. Im Juni folgen Inszenierungen von The Gospel According to the Other Mary als österreichischen Erstaufführung an der Volksoper Wien im Rahmen der Wiener Festwochen sowie von Nixon in China an der Deutschen Oper Berlin, inszeniert vom Kollektiv Hauen und Stechen.
 
> Further information on Work: Antony and Cleopatra
Szenenfoto: © Cory Weaver / San Francisco Opera

Boosey & Hawkes Composer News