Festspiel-Aufführungen Juli 2022
(June 2022)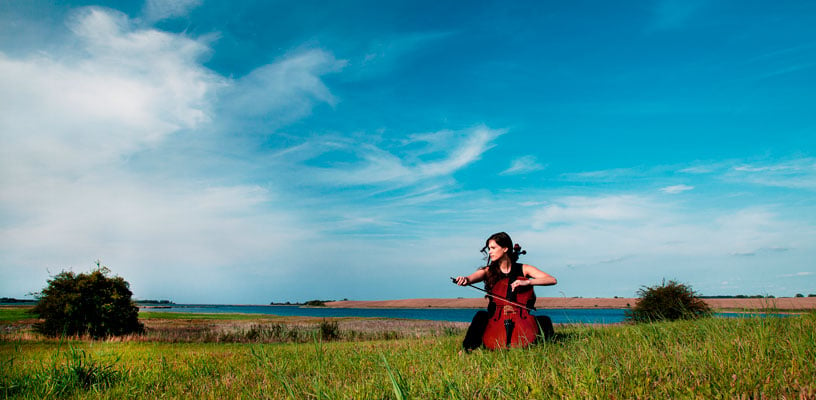 Die Musikfestivals in Deutschland, Österreich und der Schweiz bieten auch in diesem Sommer wieder viel Bemerkenswertes, darunter Uraufführungen neuer Werke, Komponistenresidenzen, Hits und selten zu Hörendes. Wir listen hier einige der kommenden Juli-Termine auf.
Kissinger Sommer
03.07.2022
Manfred Trojahn: Brügge (UA)
Sarah Aristidou, Sopran & Jan Philipp Schulze, Klavier
Außerdem:
01.07.2022 Strawinsky: Three Songs from William Shakespeare (Kozená/Rattle & Friends)
03.07.2022 Bernstein/Crees: Three Dance Episodes from 'On the Town' (In Medias Brass)
06.07.2022 Bartók/Gale: Dance Suite (Ensemble mini / Joolz Gale)
10.07.2022 Strawinsky: Le Sacre du printemps (Lucas & Arthur Jussen)
16.07.2022 Strawinsky: Concerto in D (Die Deutsche Kammerphilharmonie Bremen / Ruth Reinhardt)
Musiques en été
08.07.2022 Genf
John Adams: Saxophonkonzert (CH-EA)
Steve Reich: Runner (CH-EA)
Valentine Michaud / Orchestre de la Suisse Romande / Maxime Pascal
Festspiele Mecklenburg-Vorpommern
09.07.2022 Ulrichshusen
Claude Vivier: Zipangu
Ensemble Resonanz / Patricia Kopatchinskaja
Grafenegg Festival
17. & 24.07.2022
HK Gruber: Charivari & HK Gruber: Passing the Buck (ÖEA)
Mark Simpson: Geysir (ÖEA)
Magnus Lindberg: Ottoni
Steve Reich: Mallett Quartet
Igor Strawinsky: Oktett & Symphonien für Blasinstrumente
Grafenegg Academy Orchestra / Håkan Hardenberger / Colin Currie
Carinthischer Sommer
21.07.2022 Steindorf
Iannis Xenakis: Metastaseis
Igor Strawinsky: Le Sacre du printemps
Wiener Jeunesse Orchester / Christoph Ehrenfellner
Schleswig-Holstein Musik Festival
21.–23.07.2022 Rendsburg/Lübeck/Neumünster
John Adams: Naive and Sentimental Music
Sergej Prokofjew: Skythische Suite
Igor Strawinsky: Le Sacre du printemps
Schleswig-Holstein Festival Orchester / Krzysztof Urbanski
Bregenzer Festspiele
27. & 29.07.2022
Johannes Kalitzke: Kapitän Nemos Bibliothek (ÖEA)
Die jüngste Oper Johannes Kalitzkes fußt auf dem gleichnamigen Roman von Per Olov Enquist über den tragisch verlaufenden "Rück-Tausch" zweier kurz nach der Geburt verwechselter Kinder. Die Schwetzinger UA-Produktion vom Frühjahr, in der Sängerdarsteller, Puppen und Puppenspieler miteinander interagieren, ist nun unter der musikalischen Leitung des Komponisten auch bei den Bregenzer Festspielen zu erleben.
Kammeroper Schloss Rheinsberg
30.07.–13.08.2022
Bedrich Smetana: Die verkaufte Braut
Für Produktionen von Smetanas populärer Oper steht ab sofort das ursprüngliche Duett Esmeralda–Zirkusdirektor (1866) in deutscher Sprache zur Verfügung. Die Kammeroper Schloss Rheinsberg fügt es erstmals in ihre bevorstehende Produktion ein.
Verbier Festival
31.07.2022
Igor Strawinsky: Le Sacre du printemps
Sergej Prokofjew: 3. Klavierkonzert
Alexander Malofeev / Verbier Festival Orchestra / Charles Dutoit
(Die August-Termine stellen wir in einer weiteren Meldung in einigen Wochen vor.)
 
Abb.: Imagebild Festspiele MV © Felix Broede

Boosey & Hawkes Composer News