Finzi's Requiem da Camera now available from B&H
(January 2014)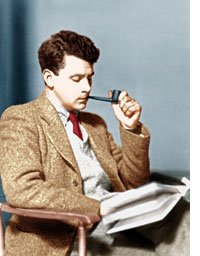 Gerald Finzi's elegiac Requiem da Camera, remembering his teacher killed in the First World War, is now available for performance in a new edition. 
A new edition of Finzi's Requiem da Camera for baritone, chorus and chamber orchestra is now available for performance from Boosey & Hawkes. The 24-minute work provides fitting repertoire for this year's centenary commemorations of the outbreak of the First World War, as Finzi intended it as a tribute to his composition teacher Ernest Farrar, killed in action in 1918. Dating from 1924, this is Finzi's earliest large-scale work with orchestra, while already displaying many of his most personal fingerprints: an elegiac response to the impermanence of life, an affinity with Thomas Hardy's pastoral poetry, and a predeliction for Bachian bass lines and plangent harmonies.
The four movements are a sombre orchestral prelude, a choral version of John Masefield's poem from August 1914, a setting of Hardy's In time of 'The Breaking of Nations' , and Wilfrid Wilson Gibson's Lament which pictures "We who are left…" looking back on lost comrades from a post-War perspective, ending with brief recollections of the Last Post. The original third movement was for male voices and piano, but with no publisher in sight for the work, the composer decided to create a new orchestral version with baritone, a task that remained incomplete at his death in 1956.
The manuscript of the third movement came to light in the Finzi collection at the Bodleian Library in 1982, and an orchestral completion was created by Philip Thomas allowing the entire work to be recorded for Chandos by Richard Hickox. The new version by Christian Alexander includes his own orchestral completion of the Hardy movement and a detailed editorial overhaul. Boosey & Hawkes is publishing a study score of the Requiem da Camera in the Hawkes Pocket Score series, a vocal score, a reduction of the complete work by Francis Jackson for organ performance, and the piano duet arrangement of the opening Prelude by Howard Ferguson.
Other works specifically linked to the First World War include Finzi's Farewell to Arms for tenor and orchestra, Herbert Howells's Elegy for viola and string orchestra, and Karl Jenkins's setting of Laurence Binyon's poem For the Fallen, first published in 1914 by The Times after the Battle of the Marne and familiar from Remembrance Day events. Repertoire exploring the wider themes of war and peace can be explored with audio clips at www.boosey.com/warandpeace, ranging from Britten's War Requiem and Jenkins's The Armed Man: A Mass for Peace to Strauss's Metamorphosen and Reich's Different Trains.
> Further information on Work: Requiem da Camera
Photo: BooseyPrints

Boosey & Hawkes Composer News