Floyd's Of Mice and Men Turns 50
(November 2019)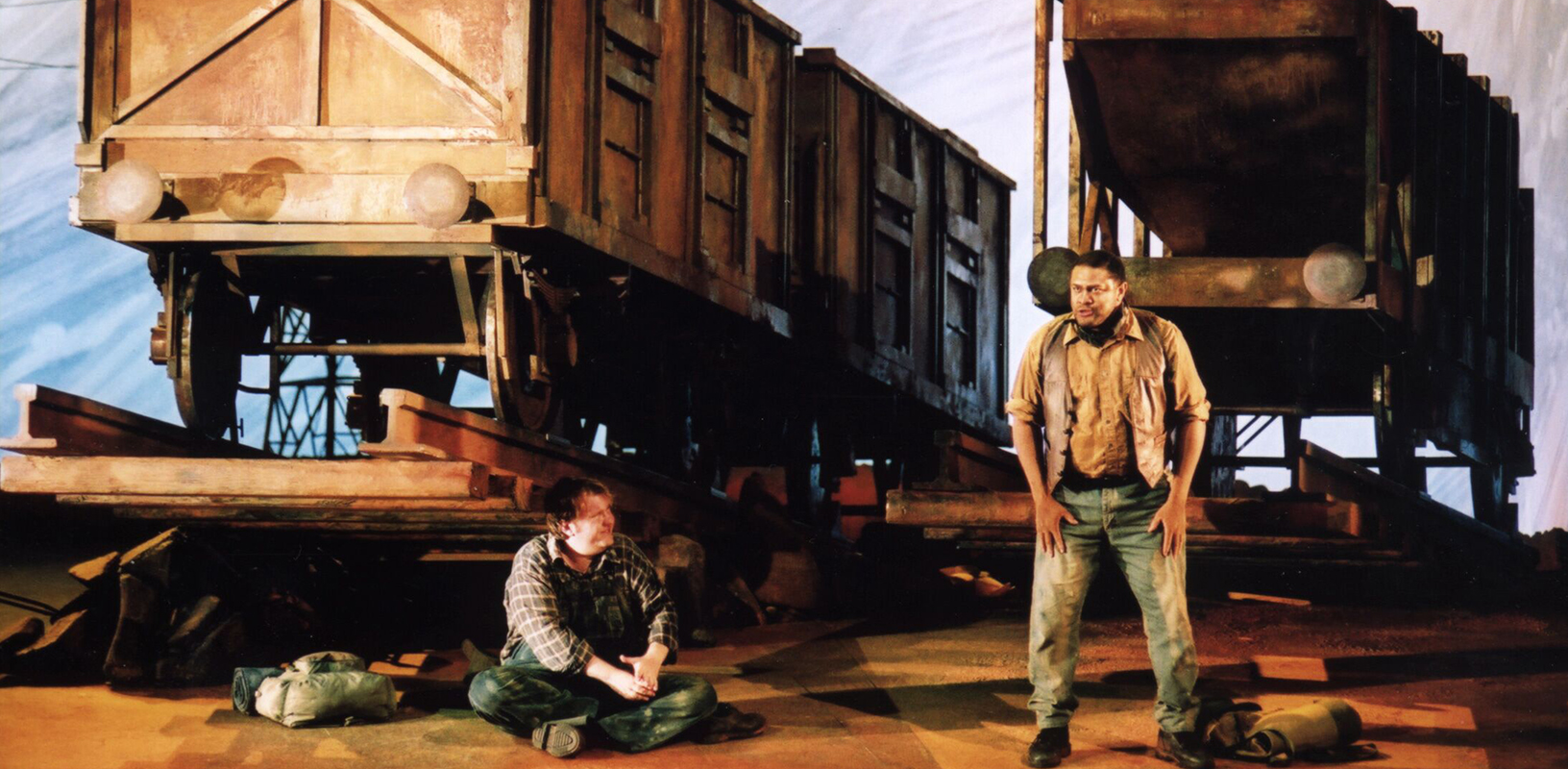 Carlisle Floyd's celebrated 1970 opera Of Mice and Men turns 50 in January.
An "important American opera" with a "powerful, sophisticated, and effective score" (The New York Times), Floyd's Of Mice and Men opera turns 50 years old in January 2020. The classic American work, based on the novel by John Steinbeck, has been treasured in the operatic repertoire for its evocative musical language: rhythms that conjure images of agrarian life, musical textures that imply open spaces, and tart instrumentation that casts shadows over the dramatic arc of the opera.
> Learn more about the scoring, roles, and synopsis for Of Mice and Men.
Of Mice and Men originally premiered at Seattle Opera on January 22, 1970. It was also at the world premiere performance in Seattle that leading opera organization Opera America was born: Glynn Ross, the founder of Seattle Opera, invited 25 American opera companies to gather around the premiere of the opera, and to discuss ways of collaborating on resources and knowledge about producing opera and promoting works of American composers. To mark the anniversary of this historic occasion and the establishment of the organization, Opera America has mounted an exhibit about Of Mice and Men in their New York space, featuring original production photographs and archival images of other productions across the decades, as well as a program from the premiere performance.
Since its world premiere, Of Mice and Men has been performed almost 50 times by opera houses across the country and internationally, including Opera Australia, Glimmerglass Opera, San Diego Opera, New York City Opera, Washington Opera, and Houston Grand Opera. Houston Grand Opera and Patrick Summers also recorded a critically acclaimed album on Albany Records, featuring singers Gordon Hawkins, Anthony Griffey, Joseph Evans, Julian Patrick, Elizabeth Futral, James Maddalena, Tyler Smith, and Scott Scully.
This season, Of Mice and Men will be performed at Madison Lyric Stage in Connecticut, May 31-June 9.
Another celebrated opera by Carlisle Floyd takes center stage in June 2020: Susannah is presented by Opera Theatre of Saint Louis in a new production directed by Patricia Racette—a celebrated Susannah herself—and starring soprano Susanna Phillips in the title role and conductor Gemma New at the podium. Written in 1954, Carlisle Floyd's Susannah ranks as one of the most performed American operas today, exploring themes that continue to resonate powerfully with modern-day audiences: power, privilege, and suppression of victims' voices.
> Learn more about Opera Theatre of Saint Louis's upcoming production of Floyd's Susannah.
> Further information on Work: Of Mice and Men
Photo: Rabanus

Boosey & Hawkes Composer News