Fünfteiliger Podcast 'Strawinsky Connections' zum 50. Todestag 2021
(January 2021)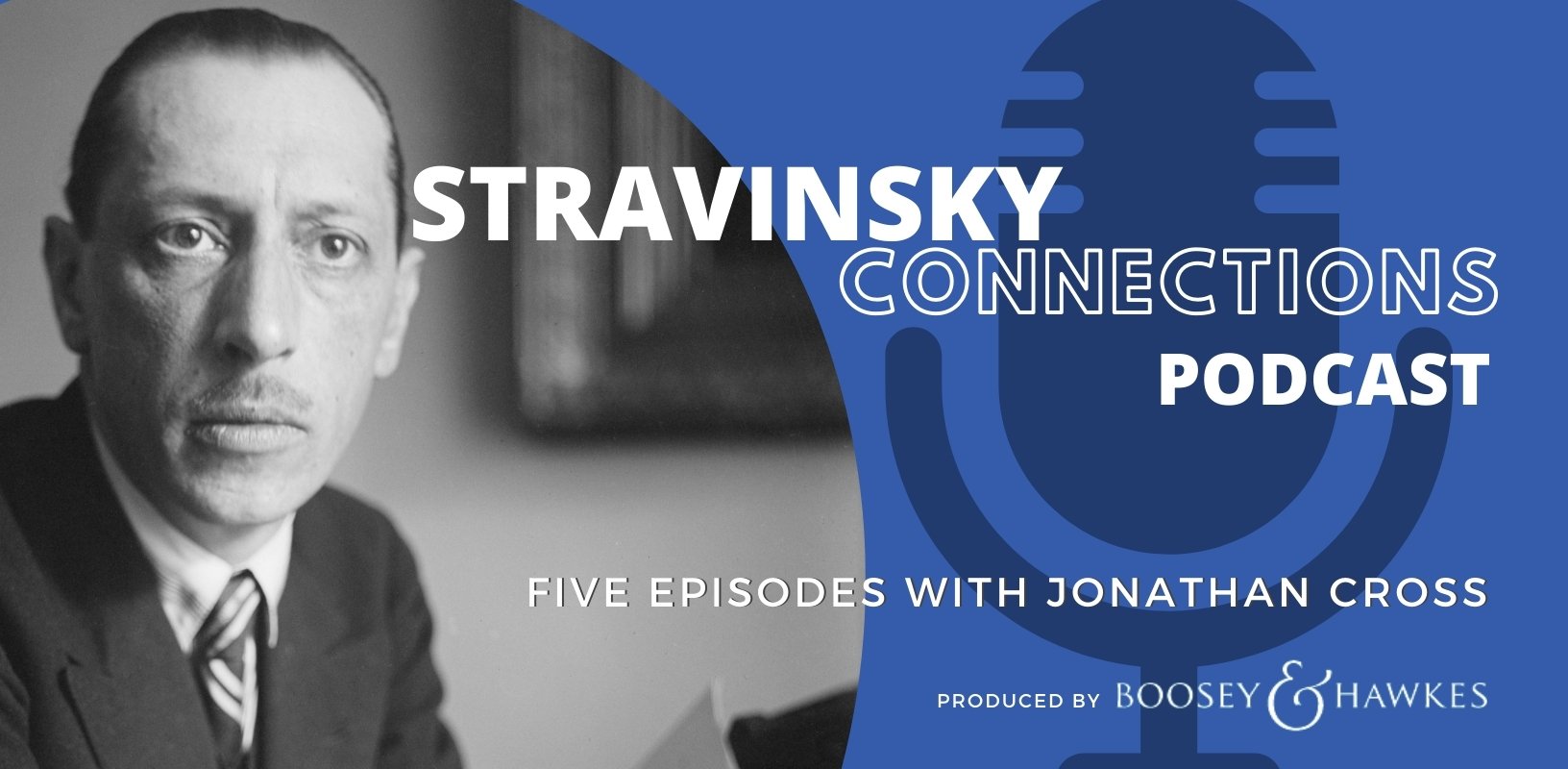 Boosey & Hawkes präsentiert eine Reihe von Audio-Podcasts zu Ehren des 50. Todestages von Igor Strawinsky, einem der wegweisendsten Komponisten des 20. Jahrhunderts. Die fünf wöchentlichen Episoden, die am 29. Januar beginnen, sind in englischer Sprache verfügbar. Sie werden von Jonathan Cross moderiert, einer Autorität in Sachen Strawinsky.
Entdecken Sie die Welt von Strawinsky zum ersten Mal? Oder kehren Sie im Jahr 2021 zur Musik eines lebenslangen Lieblingskomponisten zurück? Wir laden Sie ein, eine neue Serie von Audio-Podcasts anzuhören, die vom Musikverlag Boosey & Hawkes zu Ehren seines 50. Todestages produziert wurde. Jede der fünf kurzen Episoden wird von Jonathan Cross von der Universität Oxford und Autor einer kürzlich erschienenen Biographie des Komponisten moderiert.
Jonathan Cross beleuchtet Strawinskys Schaffen anhand einer Auswahl von Musikbeispielen, die die außergewöhnliche Bandbreite seiner Werke illustrieren. Strawinskys tiefe Faszination für Dauer und Rhythmus wird thematisiert, und die Podcasts erkunden sein umfassendes Interesse für Kunst, Literatur, Mythos, Glauben, Tanz und Jazz. Wir begleiten den Komponisten auf einer Reise von der russischen Romantik des 19. Jahrhunderts über eine Reihe bahnbrechender Ballette und einen neuen Blick auf klassische Traditionen in den 1920er und 30er Jahren bis hin zu einer radikalen Neuerfindung nach dem Krieg in den USA. Strawinskys Vermächtnis wird aus heutiger Perspektive eingeordnet; die komplexen Verbindungen zu anderen Komponisten während seines Lebens und darüber hinaus werden aufgezeigt.
Jonathan Cross bemerkt: "Bei so viel Musik, die heute um die Aufmerksamkeit der Hörer wetteifert, wie kann man ein neues, jüngeres Publikum für Stravinsky interessieren? Und wie kann man diejenigen, die bereits mit der Musik vertraut sind, dazu einladen, sie mit neuen Ohren zu hören? Das Schöne an Strawinskys Schaffen ist seine Vielfalt – in Bezug auf Genre, Stil und Ausdruck. Wir haben versucht, in den Podcasts etwas von dieser bemerkenswerten Bandbreite einzufangen und Strawinskys Werk in seinen Kontext zu stellen. Ich hoffe, sie bieten einen hilfreichen 'Weg' ins Innere der Musik."
Die Podcast-Reihe soll eine fundierte Grundlage für Lehrerende und Lernende darstellen. Sie sind über gängige Apps wie Spotify, Apple Music sowie über www.boosey.com/audiovisual verfügbar.
> Neueste Updates finden Sie auf unser Stravinsky Connections Podcast-Website.
"Stravinsky Connections"
Fr. 29. Januar, ab 17 Uhr
Episode 1: Stravinsky Today
Strawinskys Einfluss und fortdauernde Bedeutung werden ein halbes Jahrhundert nach seinem Tod aus objektiver Distanz neu bewertet.
Mit Hörbeispielen aus Chant funèbre, Requiem Canticles, Le Sacre du printemps.
Fr. 5. Februar, ab 17 Uhr
Episode 2: Stravinsky and the Stage
Strawinskys Beziehung zur Bühne, sowohl zum Ballett als auch zur Oper, einschließlich der Zusammenarbeit mit Diaghilew, Auden und Balanchine.
Mit Hörbeispielen aus Pulcinella, The Rake's Progress, Apollon musagète.
Fr. 12. Februar, ab 17 Uhr
Episode 3: Stravinsky – Myth, Faith and Memory
Die Rolle von Mythos, Glaube und Erinnerung in Strawinskys Werken, vom russischen Kirchengesang bis zum griechischen Klassizismus.
Mit Hörbeispielen aus Mavra, Psalmensymphonie, Oedipus Rex.
Fr. 19. Februar, ab 17 Uhr
Episode 4: Stravinsky in the New World
Diese Folge befasst sich mit Strawinskys Werken, die nach seiner Übersiedlung in die Neue Welt entstanden sind, und den Einflüssen von Jazz, Serialismus und Walt Disney.
Mit Hörbeispielen aus Agon, Ebony Concerto, Le Sacre du printemps.
Fr. 26. Februar, ab 17 Uhr
Episode 5: Stravinsky and the Modern Age
Strawinskys Interaktion mit Komponisten, die das moderne Zeitalter prägten, von Debussy, Prokofieff und Bartok bis hin zur zeitgenössischen Musik.
Mit Hörbeispielen aus De Tijd (Andriessen), Jeux (Debussy), Mikrokosmos (Bartók), Skythische Suite (Prokofjew), Metamorphosen nach Ovid (Britten), Petruschka (Strawinsky).
Musikverwendung mit freundlicher Genehmigung von Chandos Records Limited, Edel Germany GmbH, Naxos Music UK Limited, Nonesuch Records, LSO Live, Telarc International.
> Lauschen Sie allen Stücken auch mit unserer Stravinsky Connections Playlist.
 

Boosey & Hawkes Composer News