Gabriela Ortiz Unveils Two New Works at California Festival
(October 2023)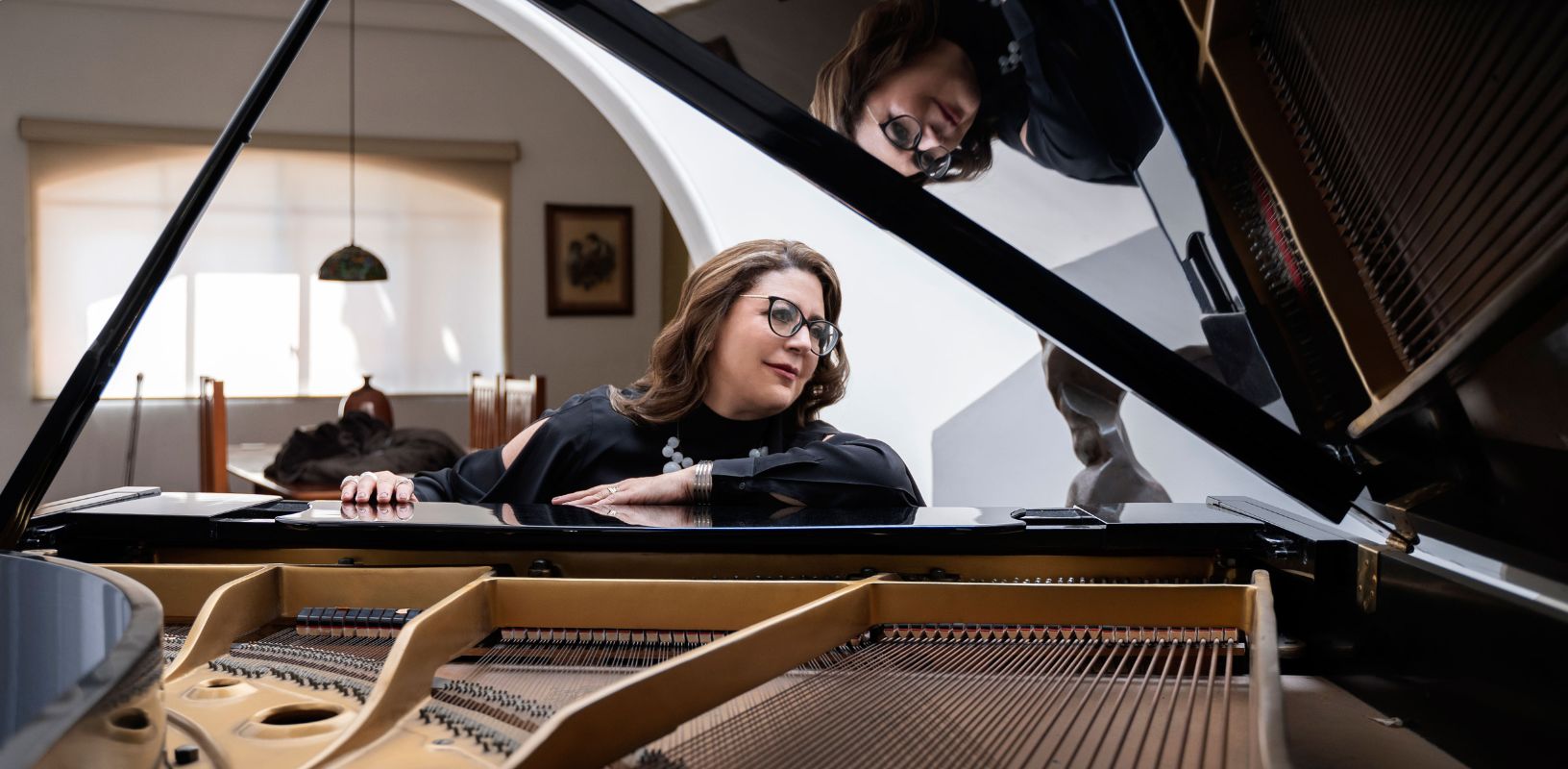 The Los Angeles Philharmonic presents two Gabriela Ortiz premieres as part of the California Festival, a new multi-institutional initiative showcasing works written in the past five years.
This November sees two world premieres by Gabriela Ortiz, both performed by the Los Angeles Philharmonic and Gustavo Dudamel: Seis piezas a Violeta (Nov 10-12), a string orchestra tribute to the great Chilean singer-songwriter and social activist Violeta Parra; and Revolución diamantina (Nov 16-19), a ballet for voices and orchestra with a scenario by Cristina Rivera Garza that centers gender equity.
Ortiz's premieres are presented as part of the inaugural California Festival (Nov 3-19), conceived by LA Phil Music & Artistic Director Gustavo Dudamel, San Diego Symphony Music Director Rafael Payare, and San Francisco Symphony Music Director Esa-Pekka Salonen as a festival that highlights the collaborative and innovative spirit that thrives in California. The two-week initiative showcases 100 organizations and ensembles across the state—symphony orchestras, chamber music groups, jazz ensembles, choirs, and more—presenting over 180 new works (written in the last five years) by more than 140 composers.
Ortiz originally wrote Seis piezas a Violeta for string quintet in 2002, and was commissioned in 2022 by the LA Phil to create an arrangement for string orchestra and piano, to be presented on its "Canto en resistencia" program. The piece is an homage to Violeta Parra, one of the founders of the politically oriented "Nueva Cancion" movement, which embraced awide range of musical styles and trumpeted the causes of socially and economically marginalized people in Latin America. Seis piezas a Violeta is divided into six small pieces—three of them ("Andean Prelude," "Song of the Little Angel," and "Amen") are inspired by the life of Parra; the other three ("Austral Geometry," "Genesic Rhythm," and "Danza Esdrújula") are studies in polyrhythm, as seen in much of Ortiz's music.
Revolución diamantina is Ortiz's new ballet score for orchestra and eight amplified voices, named after the 2019 "Glitter Revolution" in Mexico City where women took to the streets to draw attention to pervasive sexual violence. Collaborating with scenarist Cristina Rivera Garza, Ortiz constructed a ballet in six acts that explore dramatic arcs related to gender equity and hostility towards women, such as harassment in public spaces, manipulation of romantic love that leads to violence against women, and street protests demanding justice.
Ortiz states:
"Cristina developed a poetic dramaturgy that touches on the utmost essential fibers of feminism, passing through various transformative contexts and tracing a dramatic line to be conveyed from both a corporal and sonorous perspective. It was up to me to imagine the music by using not only aesthetic languages already known to me, but by taking risks, learning and experimenting with new tools. In this ballet, it has been my hope that the audience will explore different pathways that radically alter how they listen, feel, and perceive."
Ortiz is a close collaborator of the LA Phil and Gustavo Dudamel, currently serving as the curator of its Pan-American Music Initiative to highlight the diversity and creativity in countries such as her native Mexico, plus Argentina, Brazil, Chile, Peru, Colombia, and more. The orchestra has additionally premiered several of her works in recent years, including Yanga for percussion ensemble and orchestra, Kauyumari for orchestra, and Altar de Cuerda for violin and orchestra.
Concert info:
Friday, November 10 at 8pm PT
Saturday November 11 at 2pm PT
Sunday, November 12 at 2pm PT
Walt Disney Concert Hall | Los Angeles
More info
Los Angeles Philharmonic
Gustavo Dudamel, conductor
Silvana Estrada, singer
GABRIELA ORTIZ Seis piezas a Violeta (World Premiere)
MIGUEL FARÍAS Song Cycle (World Premiere)
SILVAN ESTRADA with the LA Phil
Thursday, November 16 at 8pm PT
Friday, November 17 at 8pm PT
Saturday, November 18 at 8pm PT
Sunday, November 19 at 2pm PT
Walt Disney Concert Hall | Los Angeles
More info
Los Angeles Philharmonic
Gustavo Dudamel, conductor
Leticia Moreno, violin
Cristina Rivera Garza, scenarist
TANIA LEÓN Stride
ASTOR PIAZZOLLA Four Seasons of Buenos Aires
GABRIELA ORTIZ Revolución diamantina (World Premiere)
> Further information on Work: Revolución diamantina
Photo: Mara Arteaga

Boosey & Hawkes Composer News