Ginastera Harp Sonatina Available in Print for the First Time
(August 2020)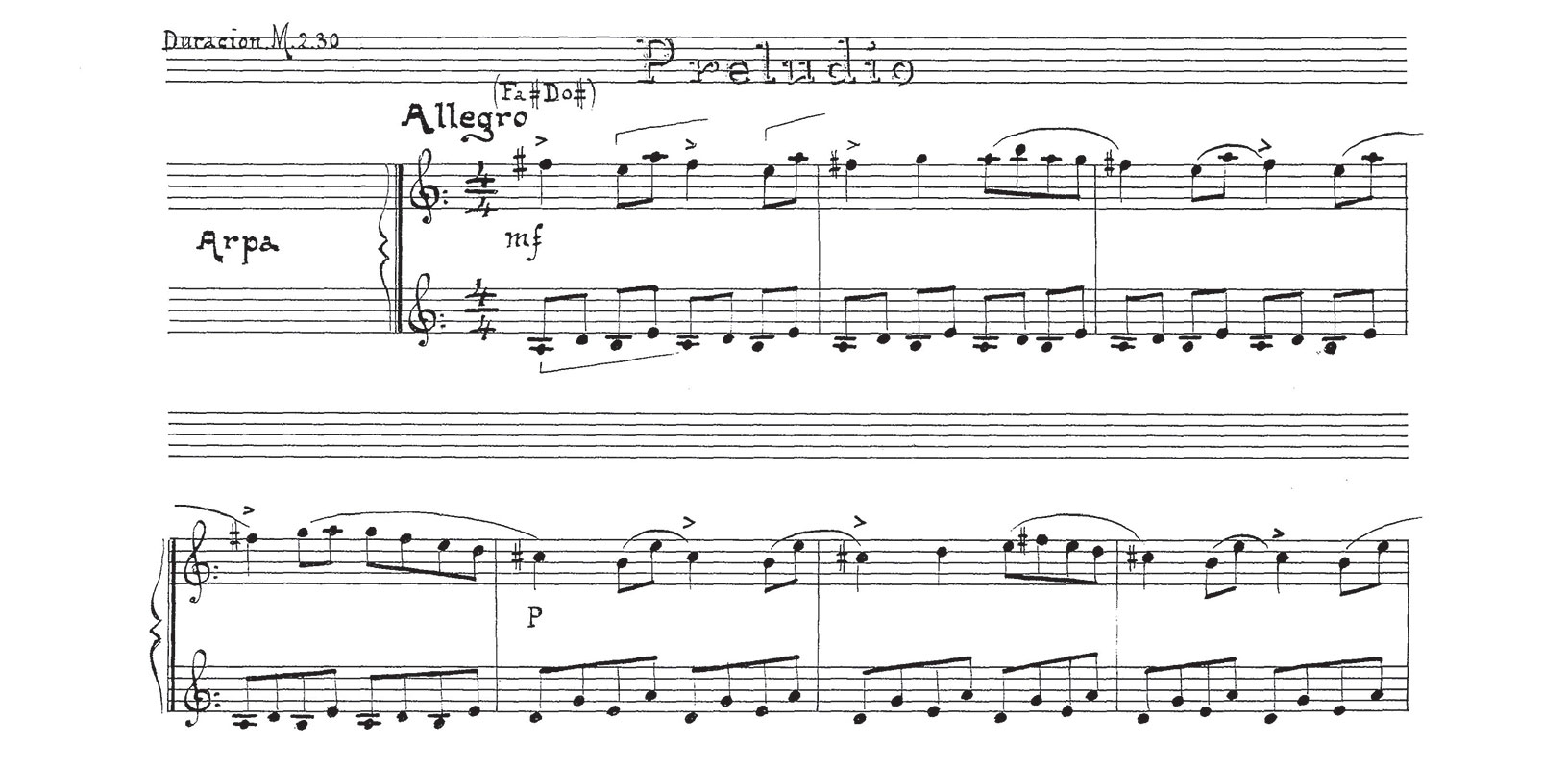 Eighty-two years after its composition, a gem of the harp repertoire is finally available in a published edition by Boosey & Hawkes.
Boosey & Hawkes is proud to present an authoritative printed edition of Alberto Ginastera's Sonatina for harp, more than 80 years after its composition. The beloved work, composed early on in Ginastera's career, has never officially been available in print until now.
> View the print edition of Ginastera's Sonatina
Ginastera composed the Sonatina for harp in 1938, at age 22. Approximately 10 minutes long, it is written in three short movements: "Preludio," "Aria," and "Toccata."
Dr. Felix Meyer, Director of the Paul Sacher Foundation (holder of Ginastera's archives), writes the following note in the foreword of the publication:
"In his early years Alberto Ginastera composed several works that were premiered with considerable success, but did not find their way into his official work catalogue. These include the present Sonatina for solo harp from the year 1938. It was given its first performance by Inés Sebastiani in Buenos Aires on 26 June 1939, and was shortly afterwards awarded the Premio Municipal de Música. Despite this success, Ginastera did not make any effort to have the work published, as he was meanwhile occupied with other, more ambitious projects. But nor did he distance himself completely from it. Not only did he show his early Sonatina to several interested harpists, but he explicitly reworked material from its third movement in the Finale of his Harp Concerto op. 25 (1956-65).
"Moreover, in his final years Ginastera undertook a series of corrections and annotations in a manuscript copy in his possession, which suggests that he may have been considering a retrospective publication of the score. Copies of it had in any case long been circulating among musicians, and 'unofficial' performances of the Sonatina were not uncommon."
Despite sheet music not being available, many harpists—including Gabriela Russo, Saul Davis Zlatkovski, and Anna Loro—persisted in championing the work using archival manuscripts and advocating for a published edition to be created.
> Listen to the Harp Sonatina on Spotify, recorded in 1999 by Gabriella Dall'Olio.
With the permission of the Ginastera estate, Boosey & Hawkes Editorial Senior Director Maggie Heskin collaborated with Dr. Meyer at the Sacher Foundation to create an official published edition that is a faithful representation of the composer's original 1938 manuscript. The edition draws on two primary sources preserved in the composer's archives in the Paul Sacher Foundation: a fair copy, possibly in Ginastera's own hand, and a photocopy of the above-mentioned annotated score. However, the edits and annotations in the latter (often intended to make the work more convenient to perform) were too sketchily notated to reconstruct a reliable "revised edition," and were therefore not incorporated in the present publication, which is based solely on the musical text of 1938.
Heskin also referenced notes from renowned harpist Ursula Holliger, a champion of the work who helped decipher markings that were not clear to the publisher; and consulted with Clinton Nieweg, harpist and former principal librarian of The Philadelphia Orchestra, who proofread the publication and clarified some harp notations.
Heskin states:
"While working on this publication with the Sacher Foundation, we prioritized creating an accurate and practical edition that shows Ginastera's beautiful piece in its original form. I am so proud that Boosey & Hawkes is finally able to publish the Sonatina for the many harpists who already know and love this work, as well as for those who will come to discover it. The writing is refreshingly beautiful and remarkably harpistic. What is extraordinary to me is how naturally Ginastera is able to write for any instrument."
> Further information on Work: Sonatina

Boosey & Hawkes Composer News