Glanert's "Darkly Exuberant" Theatrum Bestiarum Delivers Discord
(May 2010)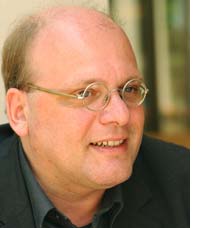 Glanert's "Darkly Exuberant" Theatrum Bestiarum Delivers Discord
Detlev Glanert's "darkly exuberant" Theatrum Bestiarum, dedicated to the memory of Shostakovich, brought the Chicago Symphony Orchestra "one of the finest nights of this season" in its U.S. premiere performance under Semyon Bychkov on May 20 at Orchestra Hall.

John von Rhein of the Chicago Tribune reports:

"Glanert's 'Theatrum Bestiarum' (2005)…is a raucous and uneasy phantasmagoria for big orchestra. Its manic songs and dances are meant to suggest an anatomical theater in which 'man as beast' is being dissected. It is an unsparing view of humanity that Shostakovich shared in certain of his own works, deploying something of the same ironic wit.

"Glanert takes us from the spasmodic yawp that begins the piece through a series of increasingly rambunctious episodes, before coming to rest in a softly elegiac quote from one of the Shostakovich string quartets. The organ plays a prominent role, sounding thick discords that fan out in a haze over the orchestra. Waves of lyricism provide a moment of calm before brass and percussion lead the band on a sharply rhythmic chase.

"As black comedies go, 'Theatrum Bestiarum' packs considerable punch with its deft scoring and wild splashes of instrumental color. …The brawny writing for virtuoso orchestra was made to order for the CSO musicians, who dug into it as if their very lives were at stake."

Lawrence A. Johnson of Chicago Classical Review praises Glanert's "audacious scoring and whipcrack handling of large orchestral forces," calling Theatrum Bestiarum a brilliant, darkly exuberant work that made even jaded 21st-century ears prick up at Orchestra Hall."

"In one of the CSO's finest nights of this season, the orchestra played with remarkable muscle, gleam and expressive nuance...this CSO program is not to be missed
Glanert's Theatrum Bestiarum is a 22-minute symphonic companion piece to Glanert's opera Caligula.…The music is bleak, dense and unremittingly powerful, opening with an extended 25-note chord that immediately catapults us into the twisted mind of the infamous Roman emperor.

"Scored for massive orchestra, Glanert's 'dark and wild series of songs and dances for orchestra' proceeds from that jarring opening to a beast-like lowing in double-basses, set against gentle high solo violin. The music accelerates by fits and starts into an off-kilter Allegro. Harsh and jagged, there is a Shostakovich-like grotesquerie here yet Glanert's style is more lithe and graceful.

"Befitting its title, the music is theatrical but never ginned up purely for ostentatious effect. …Glanert's piece moves with a sense of organic purpose and musical integrity.

"Halfway through, massive organ chords shake the house, followed by a pastoral calm with Buxtehude-like cool balm in the organ passages before the music gathers steam again, leaping woodwinds segueing into a crazed march-like pandemonium. The contrapuntal build-up becomes ever more violent and agitated punctuated by massive irregular chords, receding for a string quartet's pleading phrases, an isle of humanity in a desolate landscape.

"This is terrific music, dynamic and individual, and scored with free-wheeling flair and imagination. Props to Bychkov and the CSO for bringing this American premiere to local audiences and for providing such an imposing debut from a composer whose work we need to hear more of."

Click here to view a score sample.

Boosey & Hawkes Composer News