Golijov's Falling Out of Time Unveiled by Silkroad Ensemble
(September 2020)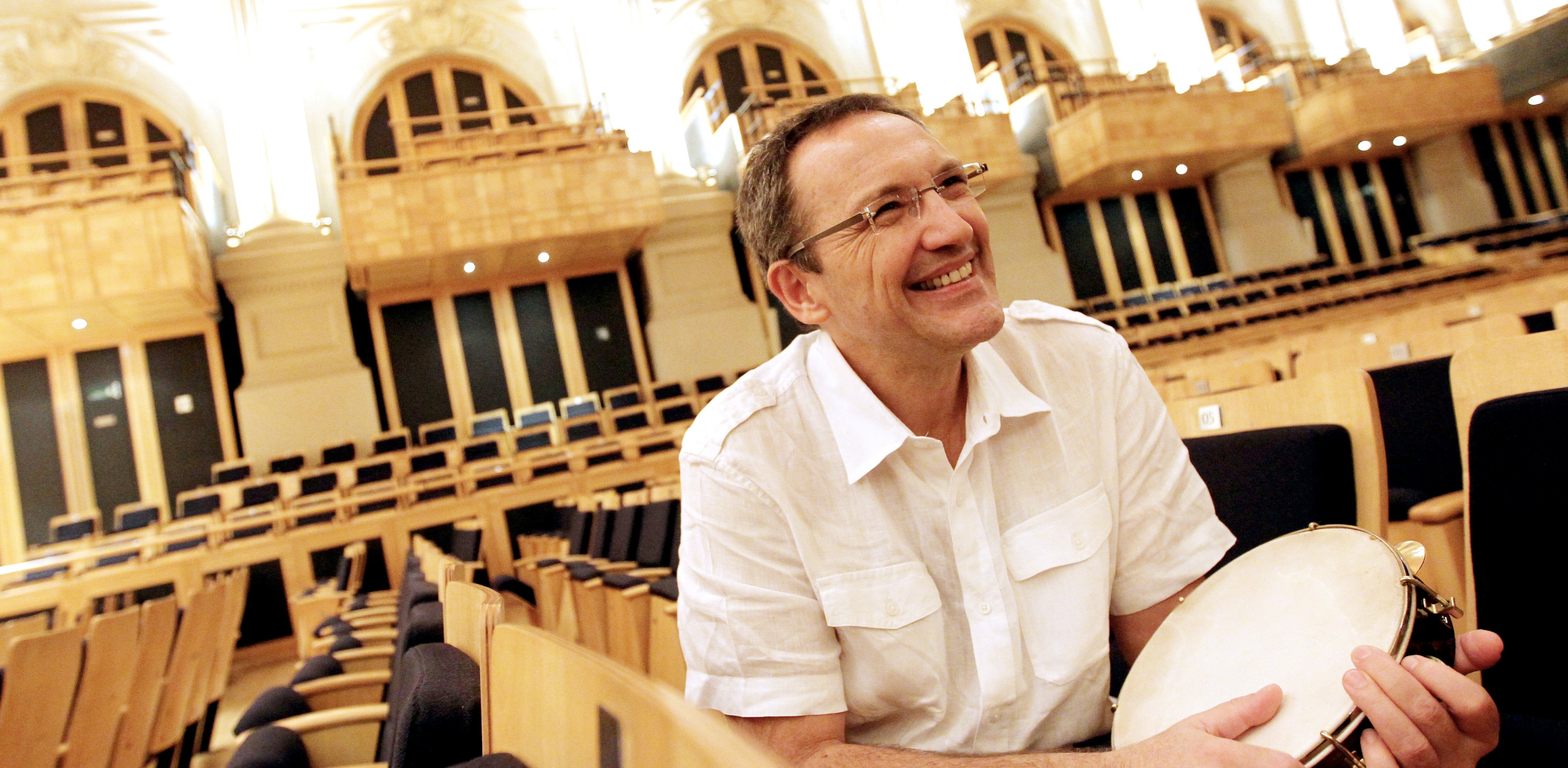 Osvaldo Golijov's new work Falling Out of Time, an 80-minute tone poem inspired by David Grossman's novel, has been toured and recorded by the Silkroad Ensemble. The album releases October 9 on In a Circle Records.
Osvaldo Golijov has composed a major new work for longtime collaborators Silkroad Ensemble: Falling Out of Time, an 80-minute "tone poem in voices," is based on the novel of the same name by Israeli writer David Grossman, about a father who grieves his dead son. The ensemble has recorded the work, to be released on October 9 on In a Circle Records—20 years after Golijov's much-celebrated La Pasión según San Marcos was first debuted.
Golijov's new work adapts Grossman's texts, telling the story of a father who walks impossible, ever-widening circles, driven to go to his dead son in a quest to comprehend a loss beyond words. (The novel was written after Grossman's own son, Uri, was killed in Israel's war in Lebanon in 2006.)
The composer states: "When I first read David Grossman's novel Falling Out of Time, I could think of nothing else. I felt I had to set it to music. And I knew the only people who could manifest in sound the infinitely nuanced world of the book are the musicians of the Silkroad Ensemble."
The resulting piece, written in the form of an "epic lament" and drawing on ballad traditions of Central Asia and early Delta Blues, features the 13 members of the GRAMMY-winning Silkroad Ensemble, the collective whose delicacy of musical expression Golijov describes as like "a harp of a thousand hairs." The work features three singers who perform in Hebrew and English, as well a wide range of brass, string, wind, and percussion instruments.
Over the course of 2017-2019, the composition was workshopped at the Juilliard School in New York City, and in the Joyce Contemplative Center at the College of the Holy Cross, where Golijov has taught in since 1991. The author David Grossman was also in attendance at workshops with the musicians at the College of the Holy Cross.
In the album booklet Grossman writes: "In this work by Osvaldo and the wonderful Silkroad Ensemble, I heard the voice of human pain and grief laid bare—the scream of an animal. Osvaldo's music reached me from inside, from a place that has no words and can probably be reached only by music. It embodies a distilled expression of bereavement, bordering on a shout—or on the border between a shout and utter silence. Because how can one articulate logical, coherent, human speech when the foundations of logic and proper order, the so-called natural order, the order whereby parents should not mourn their children—have foundered?
Golijov adds: "It so happens that we all are, as a world, living in a moment in which the "natural" order of things has been upended. More than ever, we are in need of stories that help us make sense of the broken pieces."
Rhiannon Giddens, who was recently appointed as Artistic Director of Silkroad, describes the album: "The first thing I noticed about Silkroad's new recording of Osvaldo Golijov's Falling Out of Time was its beauty. As I listened more, I was struck by how deeply rooted this
work is—rooted in places, in people, and in relationships. It's rare to hear something that is at once so personal and so interconnected, so specific and so global."
Scheduled Silkroad Ensemble performances at the Tanglewood Music Festival, Carnegie Hall and Boston's Celebrity Series have been postponed until the 2021-2022 season.
View the full press release here.
Learn more and purchase the album here: www.bit.ly/FallingOutofTime
> Further information on Work: Falling Out of Time
Photo: Robson Fernandjes

Boosey & Hawkes Composer News