Górecki's posthumous Sanctus Adalbertus receives first recording
(September 2020)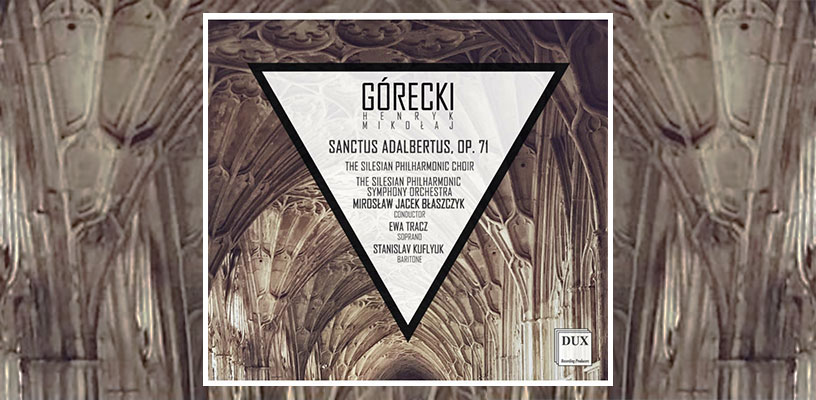 Henryk Mikolaj Górecki's oratorio Sanctus Adalbertus, as heard on the new Dux recording, is a monumental work for soloists, choir and orchestra. This tribute to the Polish saint was completed in 1998 but not published until after the composer's death.
Dux has released the first recording of Henryk Mikolaj Górecki's oratorio Sanctus Adalbertus with Silesian forces from the composer's home city of Katowice. Soprano Ewa Tracz and baritone Stanislav Kuflyuk join the Silesian Philharmonic Symphony Orchestra and Silesian Philharmonic Choir conducted by Miroslaw Jacek Blaszczyk (Dux Classics 7651). This disc is successor to an earlier release of Górecki's Symphony No.4: Tansman Episodes featuring the same orchestra and conductor, recorded in 2016 following the work's Polish premiere, and a recording of Górecki's Symphony No.2: Copernican (DUX Classics 1368). In 2011 the Silesian Philharmonic took the name of Henryk Mikolaj Górecki in honour of the composer's associations with the city of Katowice and his promotion of music in Poland's Silesian region.
> Listen to an audio clip from the recording
> Buy the recording from Amazon
Górecki's 55-minute oratorio is scored for soprano, baritone, mixed choir and orchestra, with similar large-scale forces to his earlier Beatus Vir, also commemorating a Polish saint. Bishop Adalbert (Wojciech in Polish), born in Prague in the 10th century, moved north to convert pagans in what is now Poland. He was killed there in 997, when he was 31, was canonised three years later and became Poland's first patron saint. Górecki had planned a cycle of works on Polish saints and embarked on Sanctus Adalbertus to honour the millennial celebrations for Adalbert's martyrdom, but the planned performance in 1997 fell through and the final movement was not completed until 1998. After Górecki's death in 2010 his son Mikolaj Górecki, also a composer, prepared the full score for publication and the oratorio was premiered posthumously in Krakow in 2015.
Cast in four movements, the work combines texts from Psalm 115 with the composer's own words in Polish, Latin and Czech. The opening Psalm develops from the tolling of bells and chanting of the choir, joined later by the baritone and soprano soloist. In Lauda the unison chorus proclaims the Sanctus praising Adalbertus, with a procession of mounting fervour, leading to harmonic acclamations from the choir supported by wind and brass. The Hymnus is the longest movement with contemplative orthodox-style writing first for strings, then for choir, paying tribute to Adalbertus as patron of the people. The movement ends with a tutti outburst for choir and orchestra culminating in a blazing Alleluia joined by the soloists. Brass take up the medieval chant Bogurodzica (Mother of God), Poland's Christian battle-hymn, in the final Gloria building the work to its major key conclusion with peals of bells and a hushed final invocation from the low basses to Sanctus Adalbertus.
Other recent Górecki recording releases include his third string quartet 'Songs are sung' featuring the Tippett Quartet (Naxos 8.574110). This follows their earlier Naxos recording of String Quartets Nos.1 and 2.
> Further information on Work: Sanctus Adalbertus

Boosey & Hawkes Composer News