Grace-Evangeline Mason: reviews of The Imagined Forest at BBC Proms
(October 2021)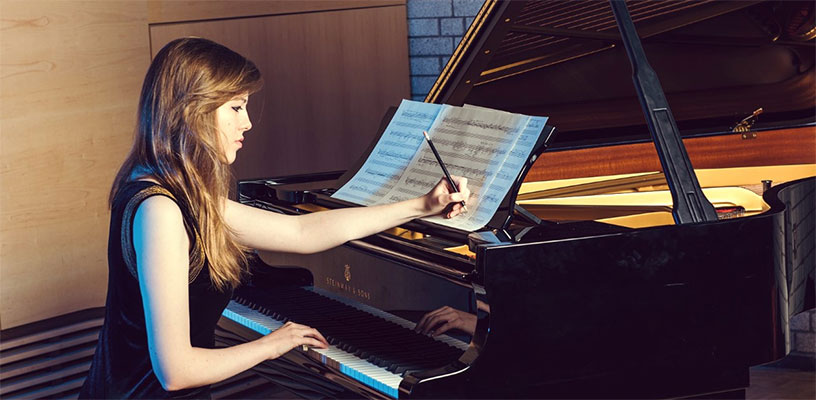 The first work under Grace-Evangeline Mason's new publishing agreement with Boosey & Hawkes, The Imagined Forest, was premiered at the BBC Proms in September attracting critical plaudits. Her close relationship with the Royal Liverpool Philharmonic Orchestra will continue through the coming season.
Young British composer Grace-Evangeline Mason enjoyed positive reviews for her new orchestral work, The Imagined Forest, premiered at the BBC Proms in September. The performance at the Royal Albert Hall in London featured the Royal Liverpool Philharmonic Orchestra under the baton of its new Chief Conductor Domingo Hindoyan and was broadcast on BBC Radio 3. This was the first new work under Mason's recent publishing agreement with Boosey & Hawkes signed in August, and the latest in an ongoing series of scores she has created for the RLPO and its ensembles.
Grace-Evangeline Mason's new piece is inspired by the work of Clare Celeste Börsch, a Berlin-based artist who uses collage techniques to build imagined worlds filled with foliage and fauna. Bringing together thousands of delicate hand cut paper images, she creates intricate and immersive spaces to transform ordinary rooms into magical forests. The work's BBC Proms premiere demonstrated Mason's aural imagination, with sounds delicate to dramatic crafted into an intriguing sylvan journey, as noted in the reviews:
"…an appealing new ten-minute orchestral tone poem, The Imagined Forest, was drawn with pen-and-ink precision and filled with vivid orchestral colour… Glittering surfaces gave way to music of greater emotional power as we drew deeper into the forest. The young British composer, 26, is a name to watch."
The Times
"Mason knows how to move symphonically, and there's even an organically-evolved dance sequence before the music shifts back to its opening trumpet note... I certainly want to hear more of this composer."
The Arts Desk
"…the piece explores a realm of imagination coloured by the natural world… Mason skilfully shapes her attractive material to ensure we experience the sense of a transforming encounter with the imaginary forest."
Evening Standard
"…beginning and ending with a quiet expression (here solo trumpet), and taking us on a journey, although the narrative here is 'the forest of your own imagination' rather something prescriptive. A compelling account was given to this impressionistic music, and its fine and detailed full orchestration were well served by all."
Classical Source
"Mason is a supreme painter in sound. Straight from the gossamer opening, it was clear that this evocation of enchantment would be sonically seductive; Mason also has a fine grasp of structure...The match of emotion and intellect with highly skilful orchestration in Mason's piece is a winning one. A most memorable work."
Seen and Heard International
The RLPO has programmed a further performance of The Imagined Forest on 24 February in Liverpool's Philharmonic Hall and a sequence of Mason performances is spread throughout the rest of its season. Into The Abyss, I Throw Roses for string trio is featured by its Equilibrium ensemble on 8 March and premieres of two choral works follow in May and July: Mahler's Letters was commissioned for the Royal Liverpool Philharmonic Choir and the cantata In Her Own Valley is written for the Liverpool Philharmonic Youth and Children's Choirs.
> Further information on Work: The Imagined Forest
Roscoe/Rutter Ltd

Boosey & Hawkes Composer News